Bible Book:
Psalms
Bible Book Code:
1900400101
Scene no:
1 of 1
Bible Reference & Cartoon Description
Psalms 4:1-8 (ANIV)
1 [For the director of music. With stringed instruments. A psalm of David.]
Answer me when I call to you,
O my righteous God.
Give me relief from my distress;
be merciful to me and hear my prayer.
2 How long, O men, will you turn my glory into shame? [1]
How long will you love delusions and seek false gods? [2]
Selah [3]
3 Know that the Lord has set apart the godly for himself;
the Lord will hear when I call to him.
4 In your anger do not sin;
when you are on your beds,
search your hearts and be silent.
Selah
5 Offer right sacrifices
and trust in the Lord.
6 Many are asking, "Who can show us any good?"
Let the light of your face shine upon us, O Lord.
7 You have filled my heart with greater joy
than when their grain and new wine abound.
8 I will lie down and sleep in peace,
for you alone, O Lord,
make me dwell in safety.
[1]
Or, you dishonour my Glorious One.
[2]
Or, seek lies.
[3]
A word of uncertain meaning, occurring frequently in the Psalms; possibly a musical term, calling for a pause in the music.
DRAWING NOTES:
TIME OF DAY:
Unspecified in Bible Text.
LIGHTING NOTES:
An oil lamp on the figures bedside table illuminates this scene, casting shadows to the right.
CHARACTERS PRESENT:
A man lying on his bed.
RESEARCH/ADDITIONAL NOTES:
This scene shows a man lying on his bed, which illustrates both verse 4b (when you are on your beds,
search your hearts and be silent.) and 8 (I will lie down and sleep in peace,) in the Bible text above. I have given the man a neutral facial expression, so that he relates to both verses, otherwise I'd have had to draw two scenes, one for verse 4 (where the man would look angry) and another for verse 8, where he is sleeping!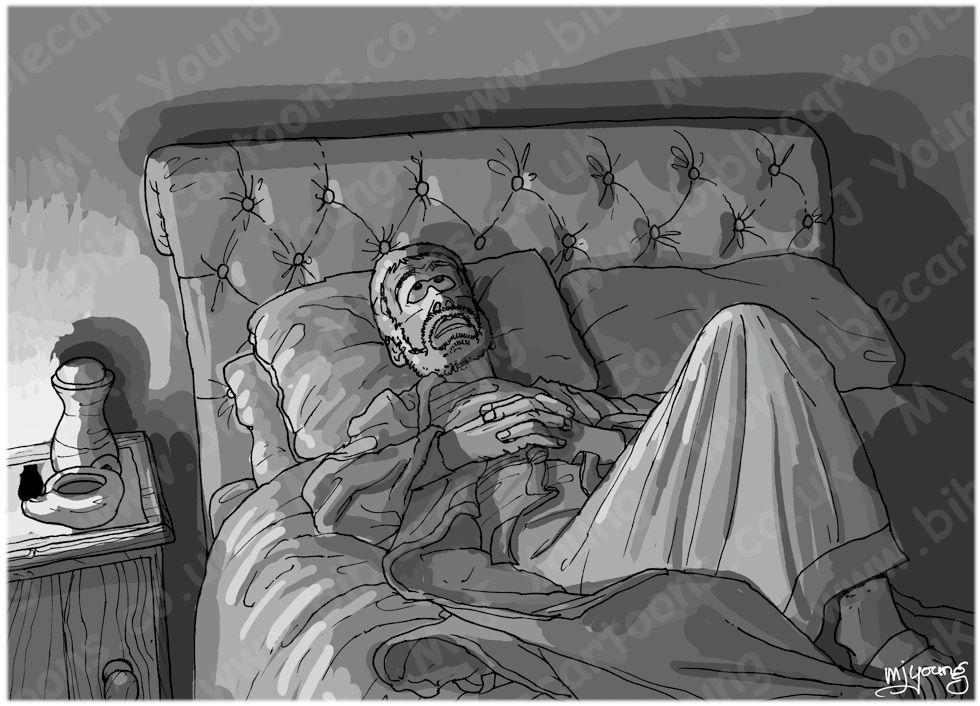 The greyscale image I used to work out the light and shadows in this scene, before colouring up the final picture.