Bible Book:
Numbers
Bible Book Code:
0402202101
Scene no:
1 of 6
Bible Reference & Cartoon Description
Numbers 22:21 (ANIV)
Balaam got up in the morning, saddled his donkey and went with the princes of Moab.
DRAWING NOTES:
TIME OF DAY:
Verse 21 tells us it is morning.
LIGHTING NOTES:
The sun is high & overhead, casting shadows below figures & objects
CHARACTERS PRESENT:
In the foreground is Balaam, son of Beor, in bright green garments, with his donkey.
Behind Balaam are 3 men seated on donkeys, who represent "princes of Moab and Midian" (see verse 15). There were a lot of them, but I decided 3 would suffice for this drawing!
Outside the front door of Balaam's home is his wife (in purple, waving goodbye), a young man carrying a sack, & a young woman carrying a water urn.
RESEARCH/ADDITIONAL NOTES:
This scene shows Balaam just about to set out from his home at Pethor, near the Euphrates river, in his native land on his journey to the plains of Moab, to seek out Balak son of Zippor, who was the current king of Moab (see verses 1-4).
Here's the scene without the figure of Balaam or the 3 princes, but still containing Balaam's wife & the 2 young people.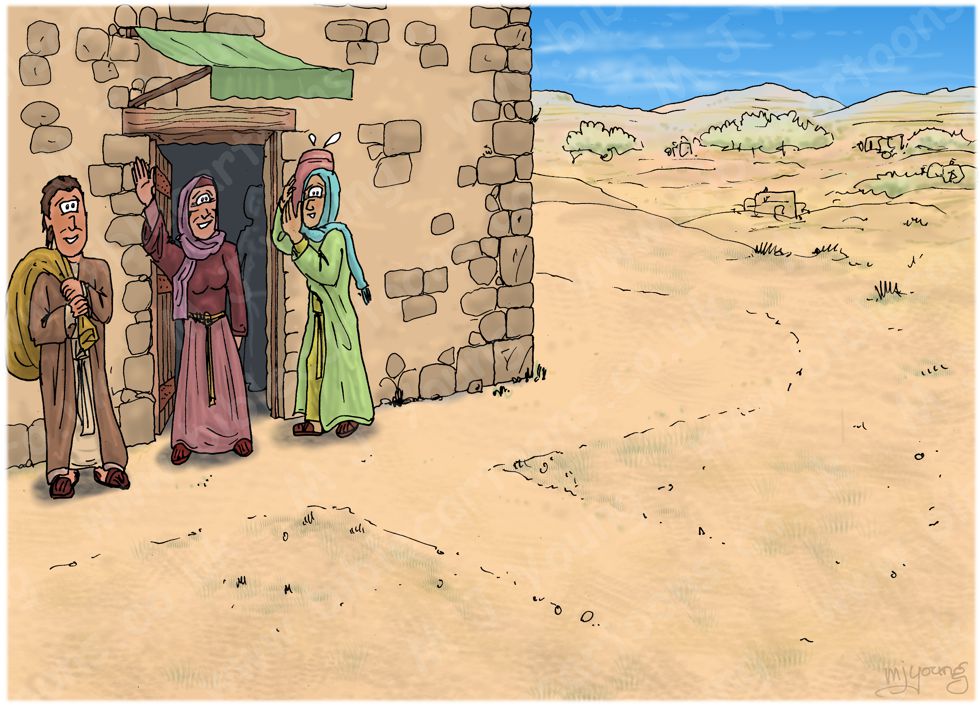 Numbers 22 – Balaam's Donkey – Scene 01 – Saddling up – Landscape