Bible Book:
Numbers
Bible Book Code:
0401604601
Scene no:
12 of 12
Bible Reference & Cartoon Description
Numbers 16:46-50 (ANIV)
46 Then Moses said to Aaron, "Take your censer and put incense in it, along with fire from the altar, and hurry to the assembly to make atonement for them. Wrath has come out from the Lord; the plague has started." 47 So Aaron did as Moses said, and ran into the midst of the assembly. The plague had already started among the people, but Aaron offered the incense and made atonement for them. 48 He stood between the living and the dead, and the plague stopped. 49 But 14,700 people died from the plague, in addition to those who had died because of Korah. 50 Then Aaron returned to Moses at the entrance to the Tent of Meeting, for the plague had stopped.
DRAWING NOTES:
TIME OF DAY:
The Bible doesn't specify the time of day for this scene. I image it being mid morning, just after the previous scene.
LIGHTING NOTES:
Sunlight (above and to the right) illuminates this scene, casing shadows to the left of the figures.
CHARACTERS PRESENT:
Aaron (in brown outer robe).
Various Hebrew people in and around their tents.
RESEARCH/ADDITIONAL NOTES:
This is a rather sombre scene to end the story of Korah's Rebellion. It shows various Hebrew people dead or dying from the plague which the Lord God sent on the Israelites for their communal rebellion/grumbling against Moses.
Notice the little boy in purple, crying in the nearest tent in the right foreground, as his parents become ill with the plague – how sad is that?
Aaron is the figure in the middle, holding up his bronze censer, which I first drew in a previous Bible Cartoon (Numbers 16 – Korah's rebellion – Scene 05 – Gathered at the Tent of Meeting). He is praying and atoning for the sins of the community. In this way he caused the plague to cease (see verse 48-49).
Here's the scene without the figure of Aaron, but still containing the tents & Hebrew people.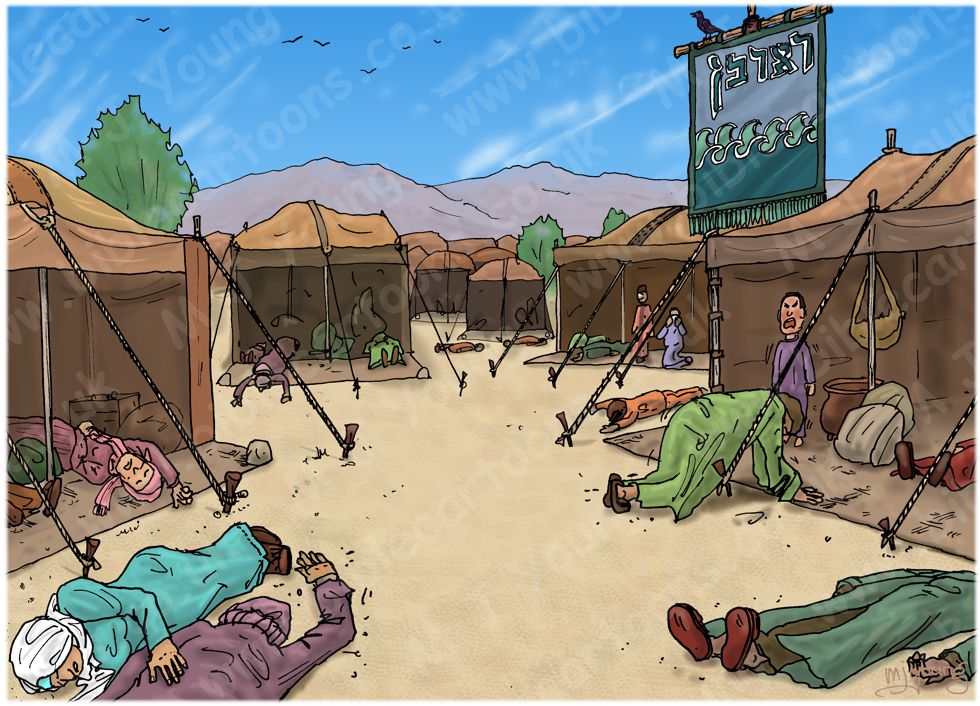 Numbers 16 – Korah's rebellion – Scene 12 – Aaron atones for the Israelites – Landscape