Bible Book:
Matthew
Bible Book Code:
4001403101
Scene no:
5 of 6
Bible Reference & Cartoon Description
Matthew 14:31 (ANIV)
Immediately Jesus reached out his hand and caught him. "You of little faith," he said, "why did you doubt?"
DRAWING NOTES:
TIME OF DAY:
"during the fourth watch"; between the hours of three and six in the morning.
LIGHTING NOTES:
There is very early morning sunlight, coming from the left of the picture, which is illuminating the scene. Notice Jesus' sleeves & hair have yellow sunlight o there edges. The yellow sunlight is also visible as a feint yellow glow in the clouds.
The lamp at the top of the mast casts a warm yellow glow on the mast, sails & disciples below.
CHARACTERS PRESENT:
Jesus is reaching out & grabbing Simon/Peter, who is disappearing into the sea. Some of Jesus' other disciples are looking from the boat. From left to right, they are: Judas Iscariot, (holding an oar & scowling at Jesus & Simon/Peter!), Matthew/Levi, looking green with seasickness!, Thomas/Didymus (doubting, as he is famous for!) & Philip. On the right of the boat we have John (son of Zebedee & brother of James), Andrew & James ( son of Zebedee & brother of John) who is holding another oar.
RESEARCH/ADDITIONAL NOTES:
This was originally the single scene which told this story, drawn in July 2010. I have now (May 2013) added the other scenes to complete the set & tell this story more fully.
I like the way Jesus is standing on the water, with reflections of his robes under him. Simon/Peter is looking terrified as he sinks in the water, but Jesus' cheerful smile will give him confidence as he grabs Simon/Peter's wrist & stops him from sinking any further.
The other disciples are looking concerned, awed, doubtful, or alarmed.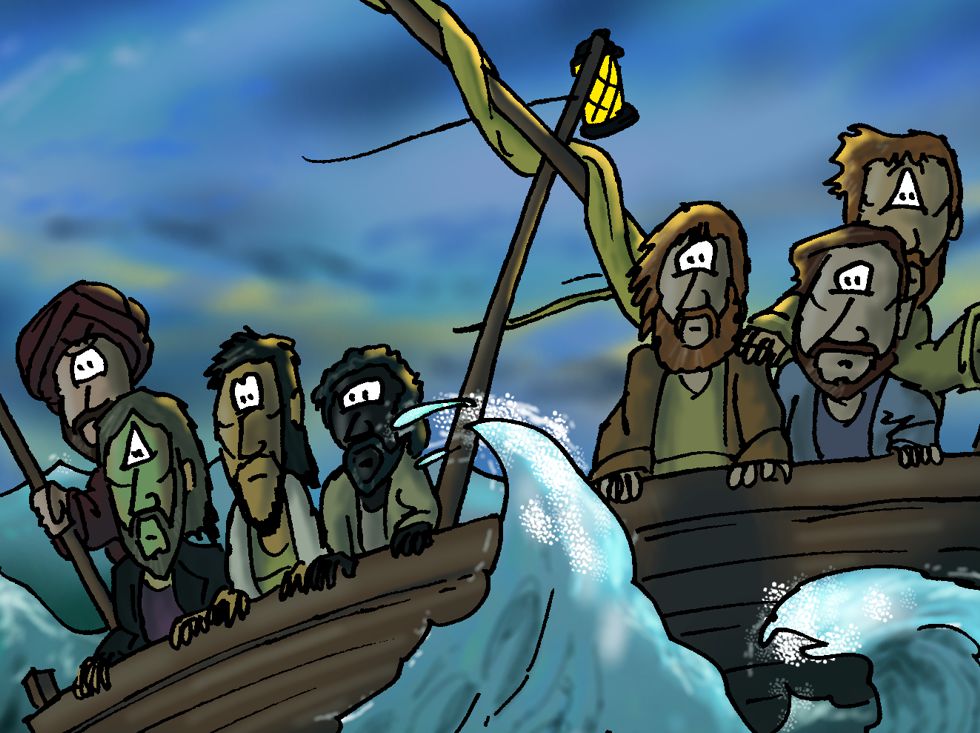 Matthew 14 – Jesus walks on water – Scene 05 – Jesus saves – PARTIAL
Here's a close-up of the disciple's facial expressions.

By the way, the fish is a red herring!