Bible Book:
Matthew
Bible Book Code:
4000500301
Scene no:
2 of 5
Bible Reference & Cartoon Description
Matthew 5:3-4 (ANIV)
3 [Jesus said] "Blessed are the poor in spirit, for theirs is the kingdom of heaven.
4 Blessed are those who mourn, for they will be comforted."
DRAWING NOTES:
TIME OF DAY:
I've set the scene in the late morning.
LIGHTING NOTES:
The sun is high in the sky, on the left of the scene.
CHARACTERS PRESENT:
Jesus, sitting on a rock, with 5 of the Apostles visible (the others are there too, behind the viewer!)
There is a large crowd of people in the background.
RESEARCH/ADDITIONAL NOTES:

This cartoon is one of many, which together will illustrate the complete "Sermon on the Mount".
Matthew chapters 05:01–08:01 is called "the Sermon on the Mount" because Jesus gave it on a hillside near Capernaum, which was a town/city on the north coast of the Sea of Galilee (Lake Kinneret.) This sermon probably covered several days of preaching, if not more, & the content was probably repeated by Jesus (at least in part) many times, as the message contained in the sermon is central to his gospel message.
I decided I would create a "thought bubble" in the top right hand corner of the scene, and illustrate the various people Jesus describes in his famous sermon on the mount. This scene shows a man comforting a woman who is crying, representing the phrase "Blessed are those who mourn, for they will be comforted."
For notes on the possible location of Capernaum, see Matthew 05 – The Beatitudes – Scene 01 – Blessed are you.

Here's the scene without the figures.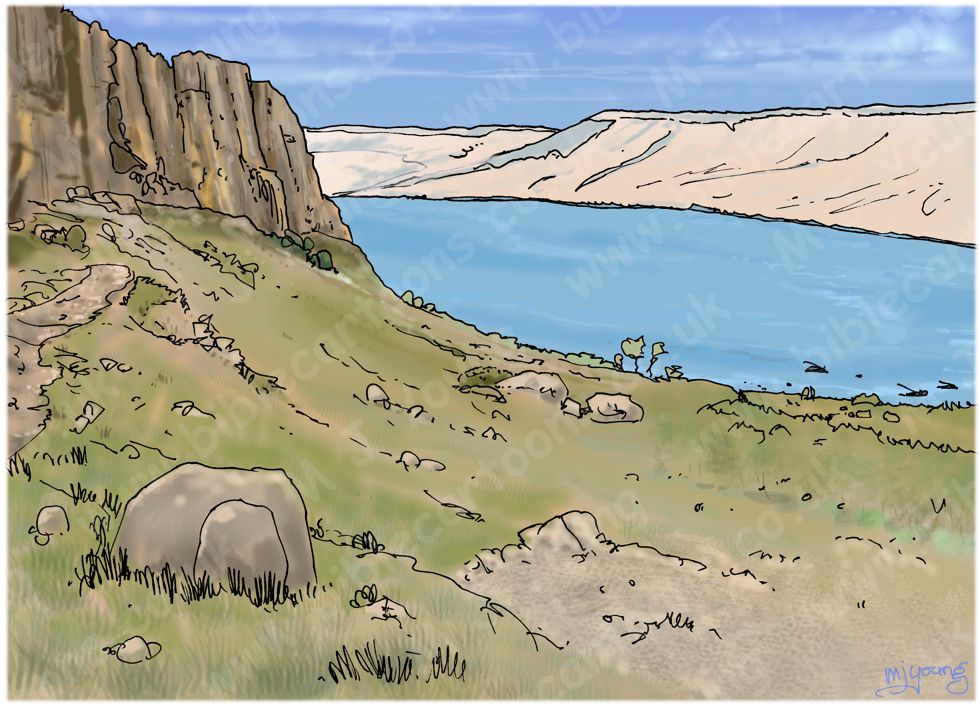 Matthew 05 – The Beatitudes – Scene 01 – Blessed are you – Landscape