Bible Book:
Matthew
Bible Book Code:
4000400201
Scene no:
2 of 6
Bible Reference & Cartoon Description
Matthew 4:2 (NLT)
For forty days and forty nights he ate nothing and became very hungry.
DRAWING NOTES:
TIME OF DAY:
I have set this scene late in the day, with the sun descending on the left of the scene.
LIGHTING NOTES:
The sun provides the lighting for this scene, from the left. Since the Judean wilderness is a hot, arid desert I have used warm browns, oranges & greys to depict the direct lighting of this scene, with cooler blues & violet shades providing contrasting shadow areas.
CHARACTERS PRESENT:
Jesus the Christ, the small figure in blue is standing on an outcrop of rock, which is bathed in warm sunlight.
RESEARCH/ADDITIONAL NOTES:
This scene is based on two photographs I found of the Judean wilderness.
Unlike the previous scene I decided to include clouds in the sky.
I have made the figure of Jesus small in this scene to contrast the vastness of the desert he was walking in, & to highlight his isolation from human contact, during this temptation period.
Here's the scene without the figure.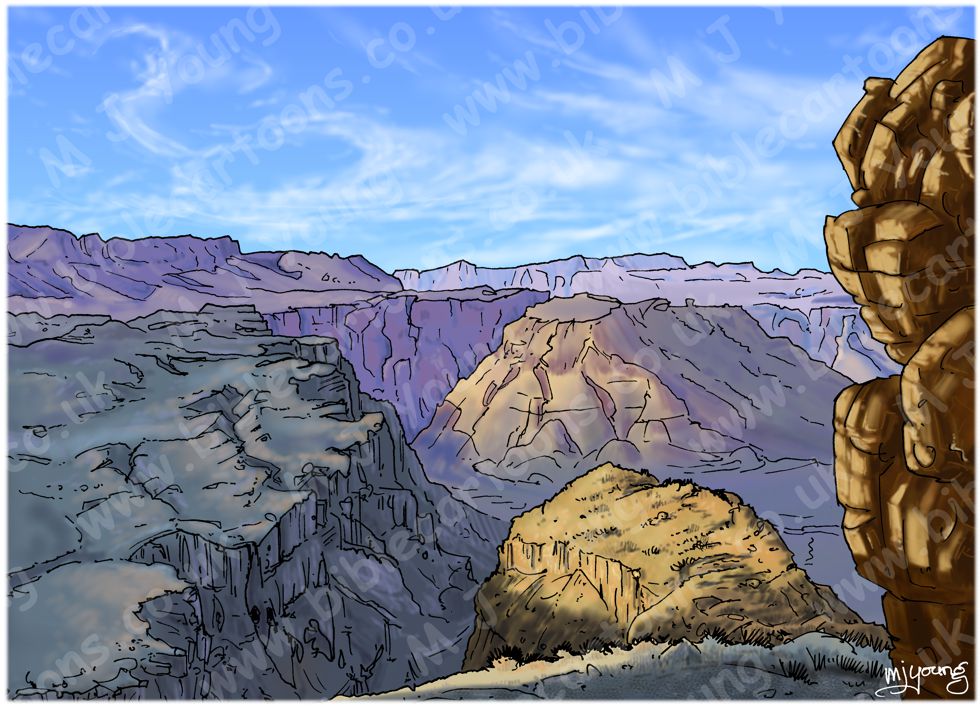 Matthew 04 – The temptation of Jesus – Scene 02 – Fasting – Landscape