Bible Book:
Mark
Bible Book Code:
4100504001
Scene no:
8 of 8
Bible Reference & Cartoon Description
Mark 5:40-43 (NLT)
40 [The crowd laughed at him, but he told them all to go outside.] Then he took the girl's father and mother and his three disciples into the room where the girl was lying. 41 Holding her hand, he said to her, "Get up, little girl"! [1] 42 And the girl, who was twelve years old, immediately stood up and walked around! Her parents were absolutely overwhelmed. 43 Jesus commanded them not to tell anyone what had happened, and he told them to give her something to eat.
[1]
Greek text uses Aramaic, "Talitha cumi" and that translates it as "Get up, little girl".
DRAWING NOTES:
TIME OF DAY:
Unspecified in the Bible narrative. I have set this scene in the mid afternoon, shortly after the previous scenes.
LIGHTING NOTES:
There are two sources of light in this picture. The main one is sunlight shining in from a small window high up on the wall of the girl's bedroom in Jarius's house. Shadows are falling below & to the left of Figures & objects in the bedroom. The second source of light is a small oil lamp in an alcove in the left hand wall, behind Simon/Peter.
CHARACTERS PRESENT:
Jesus (in his usual blue outer robe) is in the middle of the room, holding the left hand of the girl, who has come back to life & is sitting up on a table.
To the right of Jesus is Jarius & his wife.
To the left the girl is Simon/Peter, with John (the son of Zebedee) praying behind him. James (the son of Zebedee) is in the foreground with an expression of shock & amazement on his face having just witnessed this miracle.
RESEARCH/ADDITIONAL NOTES:
This is the final scene in the series & is set in the bedroom of Jarius's daughter, where her body has been laid out on a covered table. The scene follows on almost immediately from the previous one (Scene 07). We know from verse 40 that Jesus only allowed the girl's father and mother and his three disciples to go with him into the girl's room. I imagine that was because he didn't want the laughing mourners & their unbelief anywhere near him as he performed this miracle.
After the girl was brought back to life verse 42 informs us that Her parents were absolutely overwhelmed. What an understatement that is! They knew that their daughter had died, & suddenly she is brought back to life again. I have drawn Jarius's facial expression as one of shock & amazement, whereas I wanted to show Jarius's wife starting to rush forward, to embrace her daughter.
Notice that the girl has been wrapped in pale funeral/burial clothes. She has a cloth doll by her side. In the background there is another cloth doll, a rock (she has collected) & a pink ceramic jar, all sitting in an alcove in the girl's bedroom wall.

Here is the scene without the figures in the foreground.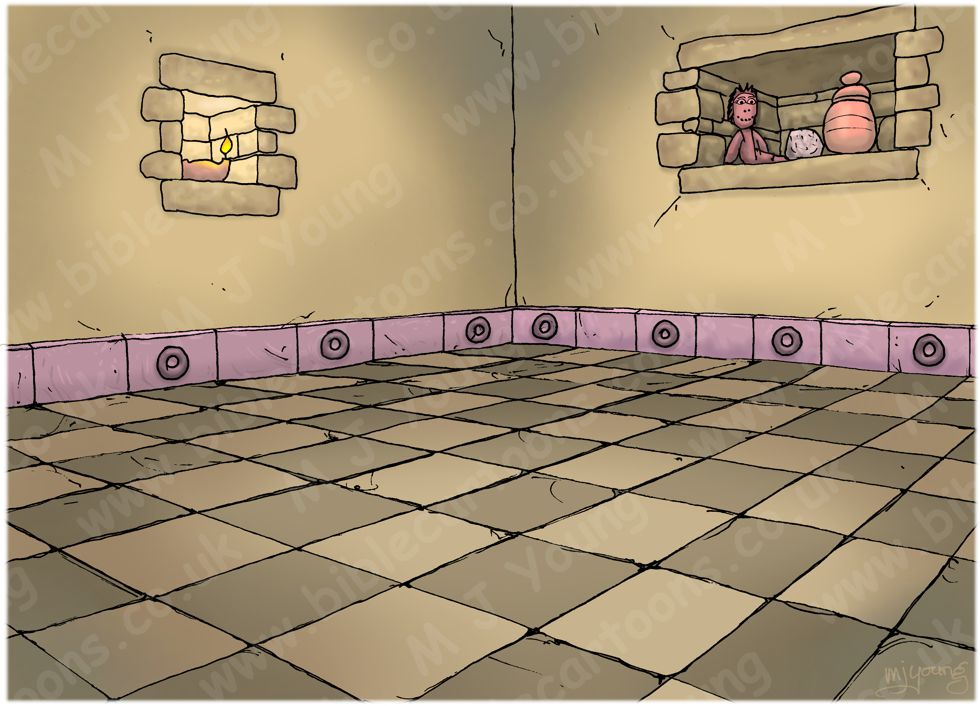 Mark 05 – Woman healed and girl resurrected – Scene 08 – Get up little girl – Background

I drew this greyscale version to work out where the highlights & shadows occur in this picture.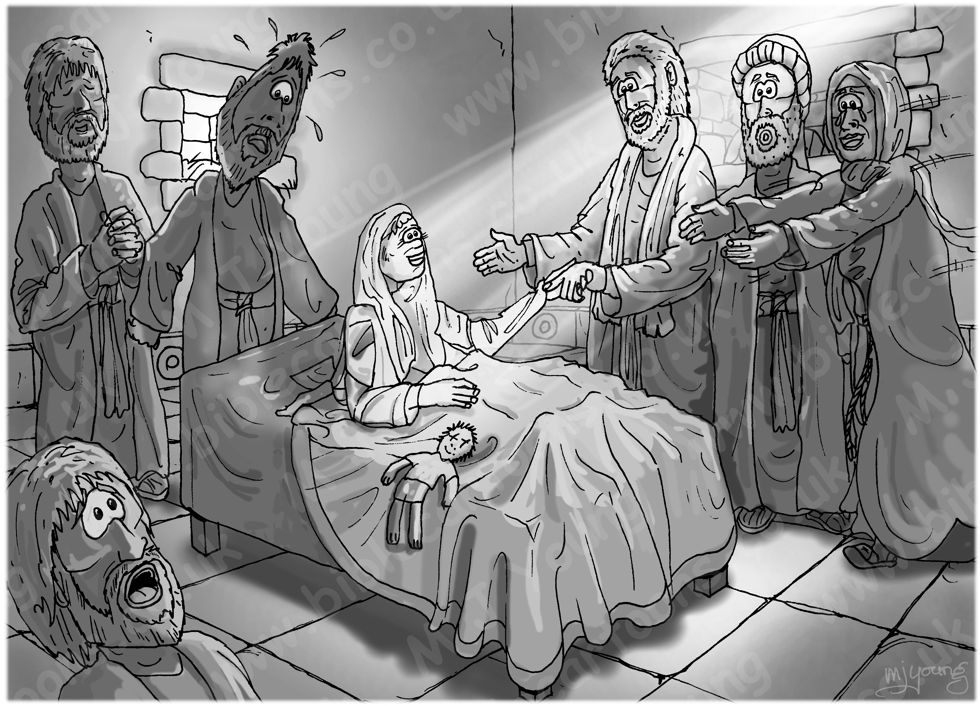 Mark 05 – Woman healed and girl resurrected – Scene 08 – Get up little girl – Greyscale