Bible Book:
Mark
Bible Book Code:
4100503501
Scene no:
6 of 8
Bible Reference & Cartoon Description
Mark 5:35-37 (NLT)
35 While he [Jesus] was still speaking to her [the woman who had been healed of bleeding], messengers arrived from Jairus's home with the message, "Your daughter is dead. There's no use troubling the Teacher now." 36 But Jesus ignored their comments and said to Jairus, "Don't be afraid. Just trust me."
37 Then Jesus stopped the crowd and wouldn't let anyone go with him except Peter and James and John.
DRAWING NOTES:
TIME OF DAY:
Unspecified in the Bible narrative. I have set this scene in the mid morning, just after the previous scenes.
LIGHTING NOTES:
The sun (unseen, high on the right) illuminates this scene, casting shadows left & below figures & objects.
CHARACTERS PRESENT:
From left to right: the un-named woman (in salmon pink outer robe) who has just been healed of her hemorrhage (bleeding), Jesus (wearing his usual blue outer robe), Jarius, a messenger from Jarius's house.
RESEARCH/ADDITIONAL NOTES:
This scene shows the un-named woman (just been healed of her hemorrhage (bleeding)) looking upwards & praising God. The young man in the green robe is one of the messengers who has come from Jarius's house, & is telling him that his daughter has died.
As with the previous scenes, I have shown the shoreline covered with rounded Basalt rocks, which is a heavy, dark stone, rounded by the wave action of the sea of Galillee.

Here is the scene without the figures in the foreground.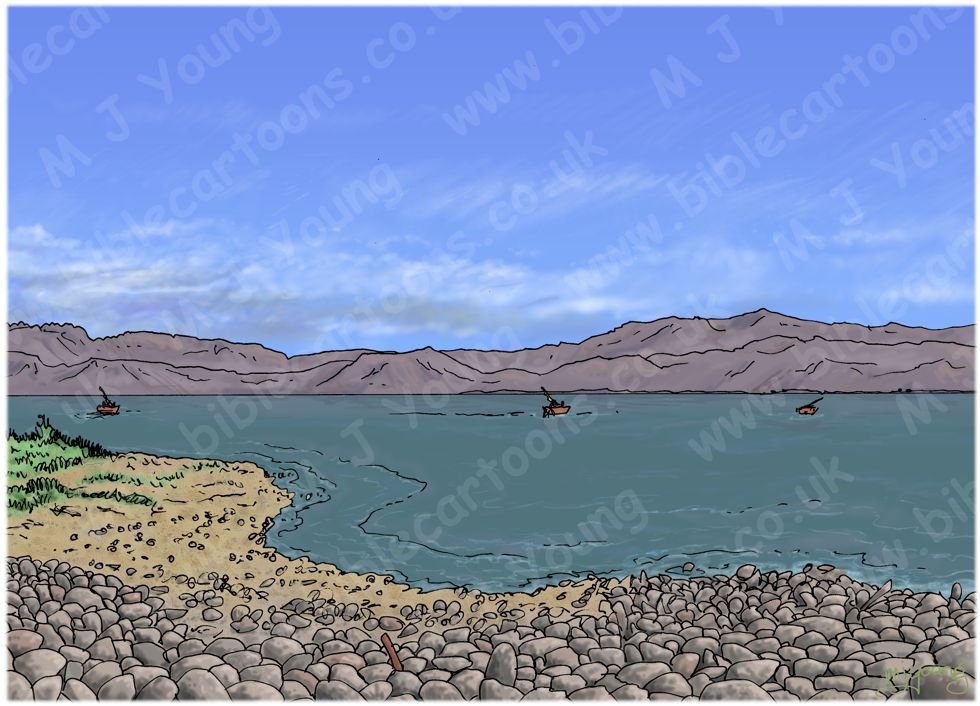 Mark 05 – Woman healed and girl resurrected – Scene 06 – Daughter dies – Background