Bible Book:
Mark
Bible Book Code:
4100502101
Scene no:
1 of 8
Bible Reference & Cartoon Description
Mark 5:21-23 (NLT)
Jesus heals in response to faith
21 When Jesus went back across to the other side of the lake [Galilee], a large crowd gathered around him on the shore. 22 A leader of the local synagogue, whose name was Jairus, came and fell down before him, 23 pleading with him to heal his little daughter. "She is about to die," he said in desperation. "Please come and place your hands on her; heal her so she can live."
DRAWING NOTES:
TIME OF DAY:
Unspecified in the Bible narrative. I have set this scene in the mid morning.
LIGHTING NOTES:
The sun (unseen, high on the right) illuminates this scene, casting shadows left & below figures & objects.
CHARACTERS PRESENT:
From left to right in the foreground: 2 men talking by a fishing boat, men & women with their backs to the viewer.
In the main figure group, a man with a staff, a woman in pink, Andrew, James (son of Zebedee), Simon/Peter, John (son of Zebedee), Matthew/Levi (just the top of his head!), Jesus (in blue outer robe) Jarius the synagogue leader (kneeling before Jesus), various people in the crowd.
RESEARCH/ADDITIONAL NOTES:
This scene shows Jesus, his disciples & various people in a crowd, on the shore of the sea of Galilee (aka lake Tiberius). Jarius (a synagogue leader) has rushed up to Jesus, & knelt before him, pleading with the Messiah to heal his dying daughter.
Notice the fishing boats at work out on the sea of Galillee. The shore is littered with Basalt, a heavy, dark igneous rock, rounded by wave action.

Here is the scene without the figures in the foreground.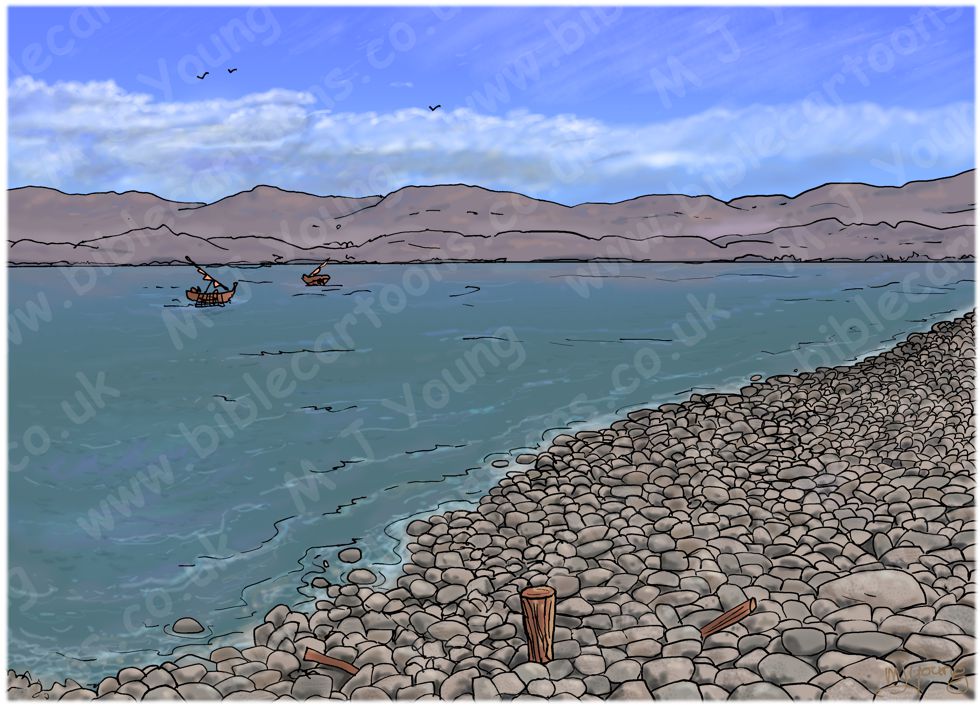 Mark 05 – Woman healed and girl resurrected – Scene 01 – Jarius pleads – Background
Here is the original pencil sketch I drew to design this scene.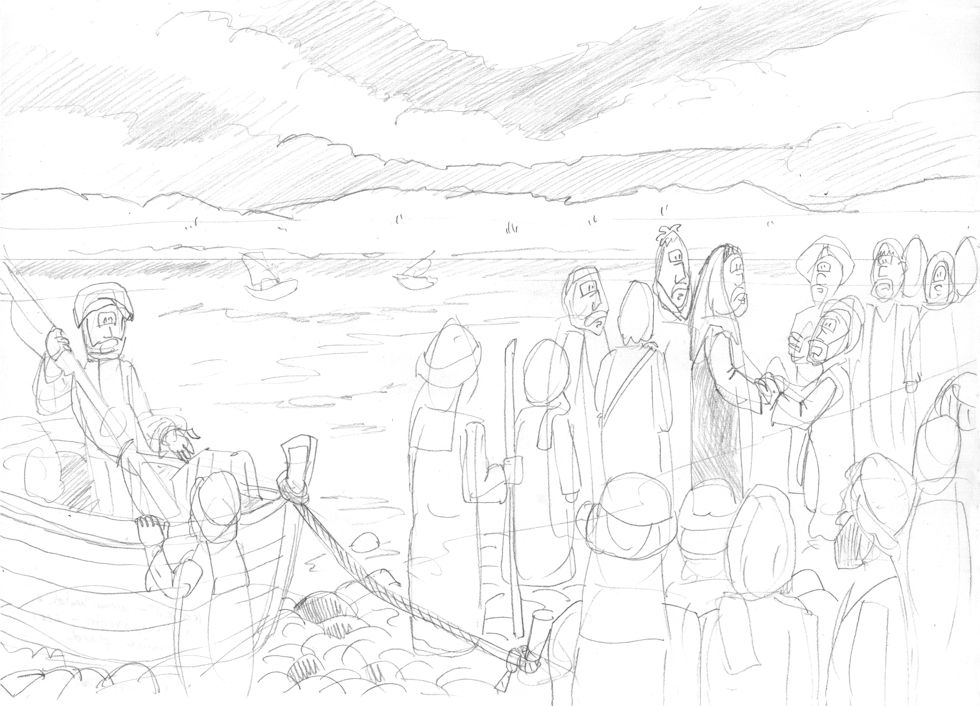 Mark 05 – Woman healed and girl resurrected – Scene 01 – Jarius pleads – Greyscale