Bible Book:
Luke
Bible Book Code:
4201900702
Scene no:
6 of 7
Bible Reference & Cartoon Description
Luke 19:7 (NLT)
But the people were displeased. "He [Jesus] has gone to be the guest of a notorious sinner," they grumbled.
DRAWING NOTES:
TIME OF DAY:
The time of day is not specified in the verse above. I have set this scene in the early afternoon.
LIGHTING NOTES:
Sunlight from above left illuminates this scene, casting shadows to the right. The foreground figures are partially in the shadow of the building behind them, which is Zacchaeus' house.
CHARACTERS PRESENT:
Jesus (in blue) is in the background, with Zacchaeus.
Four Hebrew people (unnamed) are standing in the foreground. They are the grumblers of the title!
RESEARCH/ADDITIONAL NOTES:
There are two versions of this scene:
01) (Previous page) Luke 19 – Zacchaeus the tax collector – Scene 06 – Grumblers (Colour version). This version doesn't have the strong cast shadows and sunlight present on the foreground figures.
02) (This page) Luke 19 – Zacchaeus the tax collector – Scene 06 – Grumblers (Sunlight version). This scene contains strong sunlight and cast shadows covering the foreground figures.
I enjoyed drawing the grumpy looking expressions on the people in the foreground of this scene. I had to take photo's of myself in those postures to get them right! The woman with raised fist & murderous expression came out very well!
I also enjoyed drawing the deeper colours and shadows in this version of the scene. The shadow that is falling across the foreground figures is cast by the walls of Zacchaeus' house. Some sunlight is just catching the edges of the figures.
You can see Zacchaeus about to gesture for Jesus to follow him in through the front gate.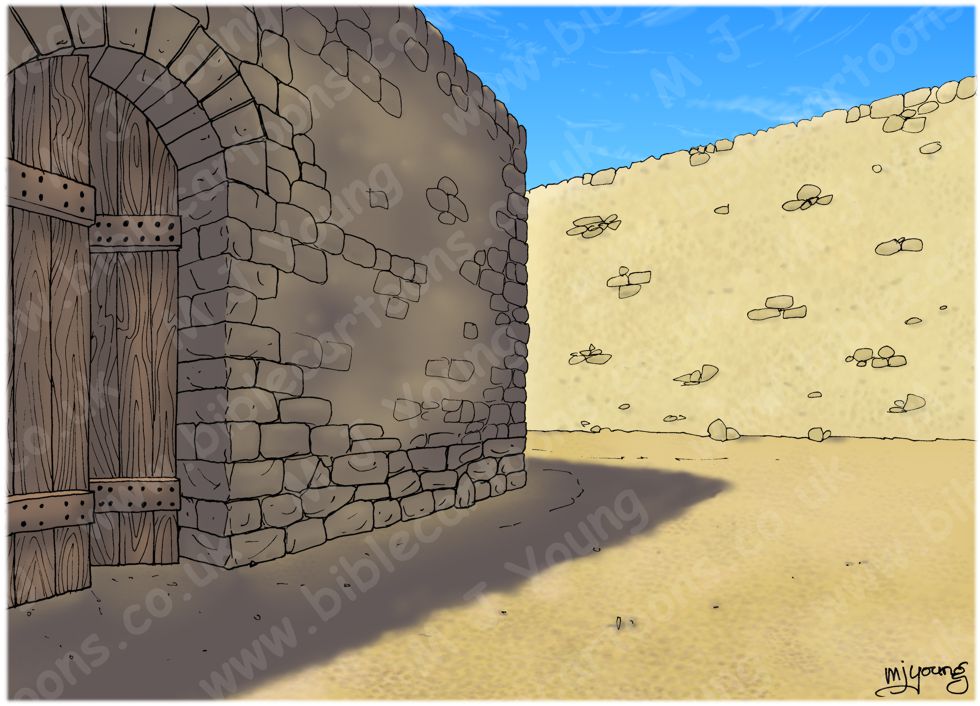 Townscape without figures present.