Bible Book:
Luke
Bible Book Code:
4200202301
Scene no:
2 of 6
Bible Reference & Cartoon Description
Luke 2:23-24 (NLT)
23 The law of the Lord says, "If a woman's first child is a boy, he must be dedicated to the Lord." [1] 24 So they offered the sacrifice required in the law of the Lord—"either a pair of turtledoves or two young pigeons." [2]
[1]
Exodus 13:2.
[2]
Leviticus 12:8.
DRAWING NOTES:
TIME OF DAY:
Unspecified by Bible. Mid morning.
LIGHTING NOTES:
Sunlight from the east (right hand side of this scene) can be seen on the right hand side of the figures. Shadows are cast to the left of figures and objects.
CHARACTERS PRESENT:
Joseph is handing over a coin to buy two white pigeons, from a bird seller, in the court of the Gentiles. Mary (carrying the baby Jesus) can be seen behind Joseph. There are various people milling about the holy family.
Notice the young boy, pointing up at the caged birds.
RESEARCH/ADDITIONAL NOTES:
This scene shows Joseph buying 2 young pigeons from a seller of birds, I the court of the Gentiles. From here Mary, Joseph and Jesus would have gone into the court of the women, where Mary could make her sacrifice of the birds.
See notes in Scene 01 – To Jerusalem, for notes about the nature of the sacrifice.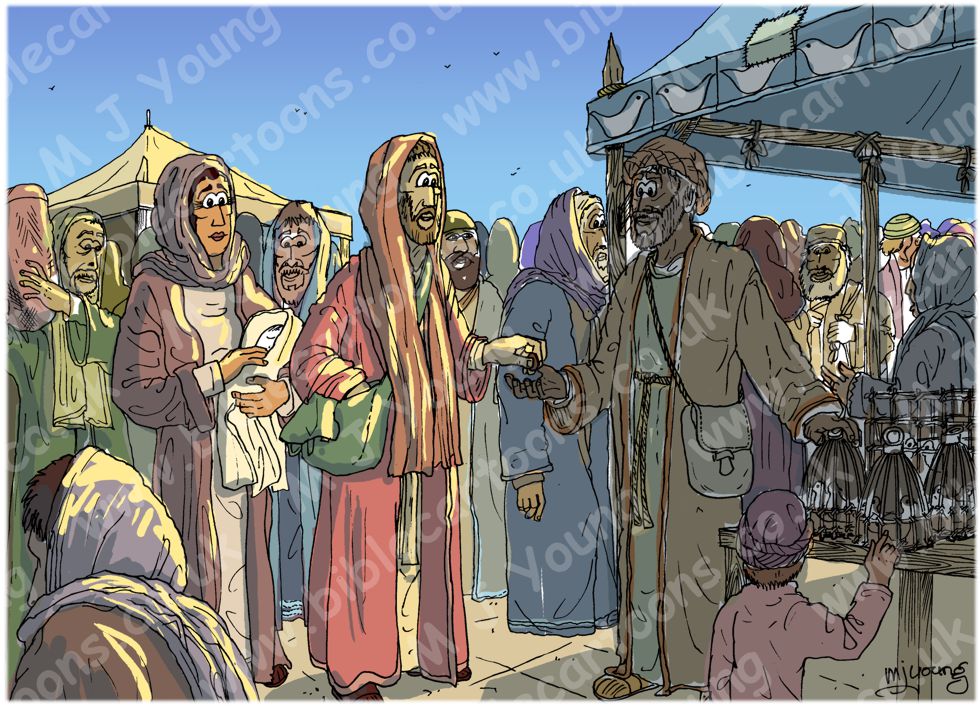 Rough colour sketch for Luke 02 – Prophecies about Jesus – Scene 02 – Buying sacrifice
This is the sort of quick, rough colouring up I do to work out colours and tones for one of my pictures.