Bible Book:
Luke
Bible Book Code:
4200201301
Scene no:
5 of 10
Bible Reference & Cartoon Description
Luke 2:13-14 (ANIV)
13 Suddenly a great company of the heavenly host appeared with the angel, praising God and saying, 14 "Glory to God in the highest, and on earth peace to men on whom his favour rests."
DRAWING NOTES:
TIME OF DAY:
Night
LIGHTING NOTES:
The campfire provides a warm light that is reflected off the shepherds. The star & the angels also provide a glowing halo of light to the scene. The cave where Jesus was born (on the hillside below Bethlehem & the angels) also has a glow from a campfire.
CHARACTERS PRESENT:
3 shepherds & lots of angels.
RESEARCH/ADDITIONAL NOTES:
Google Earth location & orientation = 31° 42' 37.18" N 35° 12' 52.46" E looking SW towards Bethlehem, which can be seen in this cartoon on the background hilltop.
I decided to focus this scene on the shepherds & angelic host. Jesus' birthplace is often depicted as being in a wooden stable, but there is also reference to Him being born in a cave. I have selected this option for this cartoon. You can see the glow of the campfire in the entrance to the cave, (with 2 dark caves to the right) on the hillside, below Bethlehem.
I like the contrast between the warm campfire colours & the cold, blues & purples of the surrounding landscape, & also between the campfire & the cooler, white/yellow glow of the angelic host.
I wanted one ewe (sheep) to have woken up & witnessed the angelic host, in this picture!
Here's the scene in greyscale form, which I create before I colour up a scene, to get the tone (light and shade) right.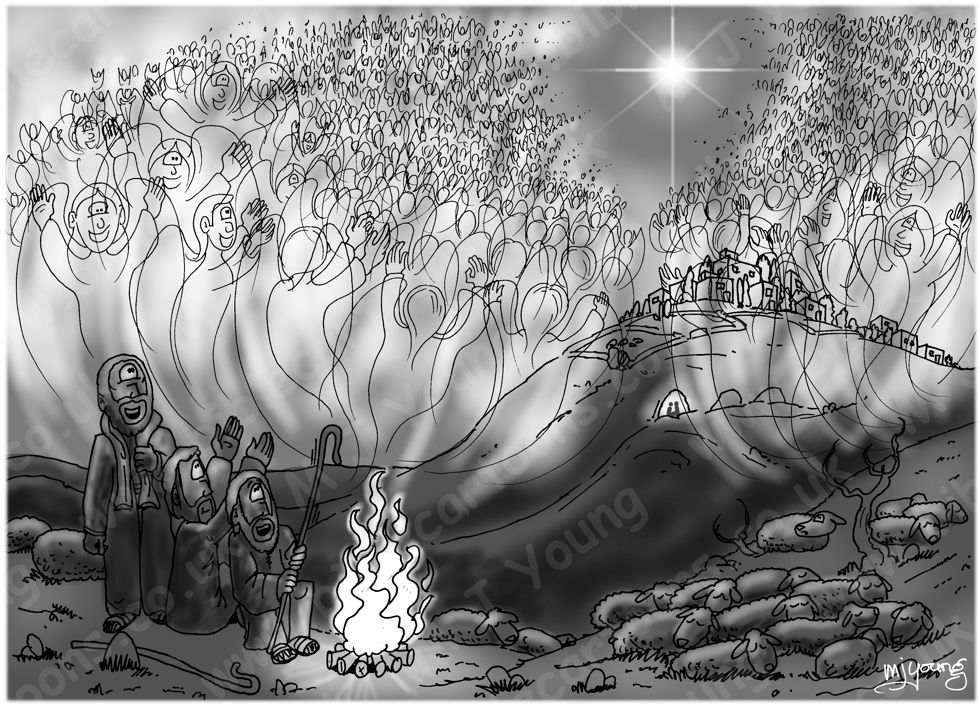 Luke 02 – Nativity SET01 – Scene 05 – Angelic host – Greyscale