Bible Book:
Luke
Bible Book Code:
4200200603
Scene no:
2 of 10
Bible Reference & Cartoon Description
Luke 2:6-7 (NLT)
6 And while they [Joseph & Mary] were there [in Bethlehem in Judea], the time came for her baby to be born. 7 She gave birth to her first child, a son. She wrapped him snugly in strips of cloth and laid him in a manger, because there was no room for them in the village inn.
DRAWING NOTES:
TIME OF DAY:
Night.
LIGHTING NOTES:
Lighting for this scene comes from the campfire & the stars.
CHARACTERS PRESENT:
Joseph, Mary & Jesus, donkey, sheep (ewe) & lamb.
RESEARCH/ADDITIONAL NOTES:
Google Earth position & orientation – 31°42'18.86"N 35°12'39.40"E looking WSW, towards the Dead Sea 13.7 miles (22 Km) away. Bethlehem is behind the viewer & further up the hillside.
I have set this scene a mere .2 miles (.3 Km) away from the church of the Nativity, in Bethlehem, the traditional site of the birth of Jesus. My scene is further down a hill, which gives me a higher angled slope on which to establish the cave mouth! I wanted the viewer to be able to see the Dead Sea, as a reference point.
Verse 1: "The Roman emperor, Augustus, decreed that a census should be taken"… this meant that people had to return to the place of their birth to register themselves. Joseph was a descendant of king David, who was born in Bethlehem. Thus he had to return to Bethlehem to register in the census. Mary & Joseph knew she would have the baby during the time Joseph was gone, and perhaps she accompanied him as they did not want to be separated at this time. Additionally, both of them knew that the child was the Messiah & also would have known that the Messiah was to be born in Bethlehem.
Luke's account states that the inn was full (of other people returning to Bethlehem to register in the census, no doubt) &, according to tradition, Joseph & Mary found refuge in a cave near the inn. The child was placed in a manger, which could have been a shallow depression in the ground, from which livestock fed. Joseph & Mary may have filled the manger with hay to make a soft bed. Stables were often caves with feeding troughs (mangers) carved into the rock walls or ground. In my scene the couple have a camp fire burning, to keep warm during the night.
The "swaddling clothes" were long cloth strips used to keep babies' limbs straight so they could grow properly.
Note: This cave scene can also be seen in the distance of my recent cartoon: Luke 02 – Nativity SET01 – Shepherds & angelic host.
Here's the scene in greyscale form, which I create before I colour up a scene, to get the tone (light and shade) right.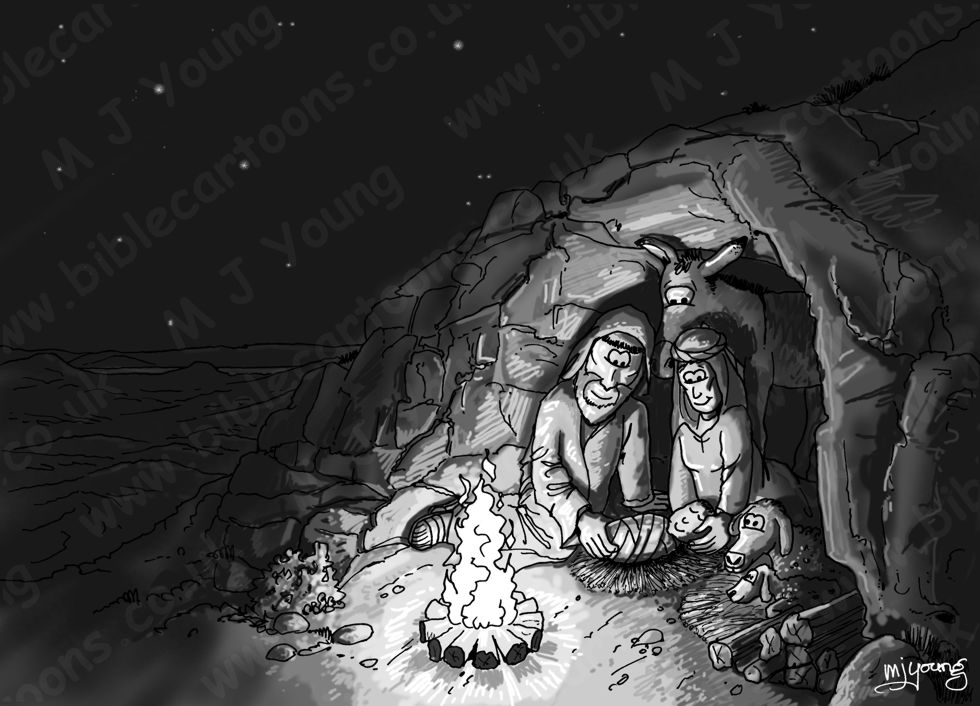 Luke 02 – Nativity SET01 – Scene 02 – Stable (Cave version) – Greyscale