Bible Book:
Judges
Bible Book Code:
0701602301
Scene no:
1 of 4
Bible Reference & Cartoon Description
Judges 16:23-28 (ANIV)
The Death of Samson
23 Now the rulers of the Philistines assembled to offer a great sacrifice to Dagon their god and to celebrate, saying, "Our god has delivered Samson, our enemy, into our hands."
24 When the people saw him, they praised their god, saying, "Our god has delivered our enemy into our hands, the one who laid waste our land and multiplied our slain."
25 While they were in high spirits, they shouted, "Bring out Samson to entertain us." So they called Samson out of the prison, and he performed for them. When they stood him among the pillars, 26 Samson said to the servant who held his hand, "Put me where I can feel the pillars that support the temple, so that I may lean against them."
27 Now the temple was crowded with men and women; all the rulers of the Philistines were there, and on the roof were about three thousand men and women watching Samson perform. 28 Then Samson prayed to the Lord, "O Sovereign Lord, remember me. O God, please strengthen me just once more, and let me with one blow get revenge on the Philistines for my two eyes."
DRAWING NOTES:
TIME OF DAY:
Unspecified in the Bible verses above. I have set this scene in the daytime.
LIGHTING NOTES:
Diffused sunlight from above lights this scene.
CHARACTERS PRESENT:
Samson, in chains, praying to God.
Philistine men and women, laughing at Samson.
RESEARCH/ADDITIONAL NOTES:
Verse 25 yells us that the Philistines in the temple of Dagon were in high spirits. I have drawn many Philistine people laughing and enjoying themselves. They are amused by Samson's prayers to God.
You can see the two main support pillars of the temple, just behind Samson.
I drew the next scene (Judges 16 – Death of Samson – Scene 03 – Temple collapse) in 2011, it was the 74th Bible Cartoons I drew (currently I'm up to 761!)… and my style has changed quite a bit between then and now! Nevertheless, I wanted the figure of Samson to be similar to the one I drew all those years ago. To maintain continuity I have Samson in a loincloth, just as I drew in the earlier scene.
Here's the rough pencil sketch I drew to help me design this scene.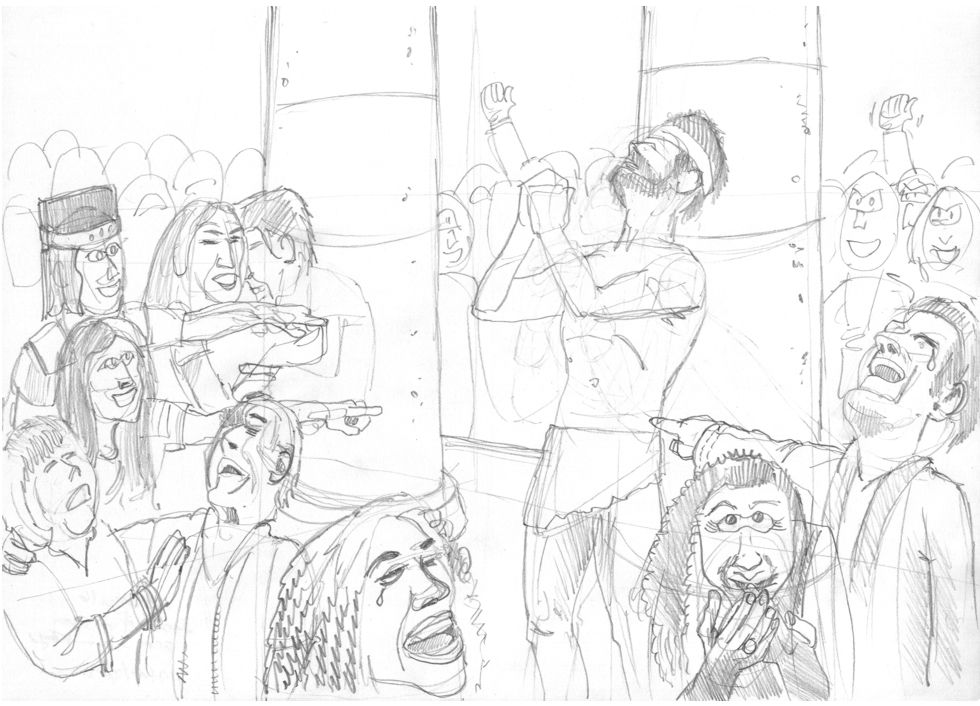 Judges 16 – Death of Samson – Scene 01 – Samson prays – greyscale