Bible Book:
Jonah
Bible Book Code:
3200100101
Scene no:
1 of 13
Bible Reference & Cartoon Description
Jonah 1:1-2 (NLT)
Jonah runs from the Lord
1 The LORD gave this message to Jonah son of Amittai: 2 "Get up and go to the great city of Nineveh! Announce my judgment against it because I have seen how wicked its people are."
DRAWING NOTES:
TIME OF DAY:
Early morning, just before dawn. This is not expressed in the scriptures, but allows me to make the "message of God", in the form of light rays from heaven, stand out against the dark background.
LIGHTING NOTES:
Principle light source is the rays of light representing God talking to Jonah. Notice also the sun's rays just colouring the edges of the clouds in the sky. The sun rises in the east, which is behind the viewer, based on this scenes orientation (see Research notes below.)
CHARACTERS PRESENT:
Jonah & some early risers in Gath-hepher, which can be seen behind Jonah, & was his home town.
RESEARCH/ADDITIONAL NOTES:
Jonah, son of Amittai, was of Gath-hepher, in the tribe of Zebulun, in lower Galilee.
Google Earth position & orientation – 32°44'20.60"N 35°19'23.56"E looking NW, towards Haifa Bay & the Mediterranean, 17 miles away.
The Sea of Galilee is behind the viewer, approximately 12 miles distant. Nazareth is approx. 3 miles SSW of Gath-hepher.
The hill/mountain on the right is Mount Azmon, approx. 6.5 miles away.
Incidentally, Nineveh is 510 miles (820 km) NE, in a straight line, from Gath-hepher!
Geological maps of the region reveal it to be an area of Chalk, marl & clay. Hence I have coloured the foreground a light chalky yellow.
The foreground plants are Notobasis syriaca, the Syrian thistle.

Here's the scene in greyscale form, which I create before I colour up a scene, to get the tone (light and shade) right.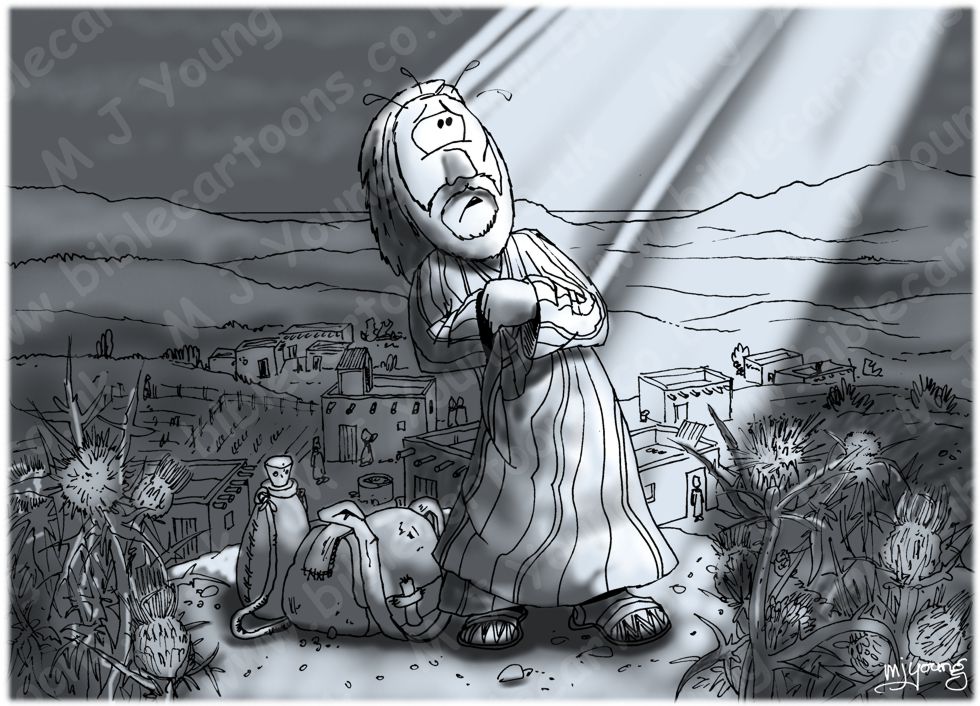 Jonah 01 – Scene 01 – Lords command – Greyscale