Bible Book:
Isaiah
Bible Book Code:
2304100802
Scene no:
2 of 2
Bible Reference & Cartoon Description
Isaiah 41:8-10 (ANIV)
8 "But you, O Israel, my servant,
Jacob, whom I have chosen,
you descendants of Abraham my friend,
9 I took you from the ends of the earth,
from its farthest corners I called you.
I said, 'You are my servant';
I have chosen you and have not rejected you.
10 So do not fear, for I am with you;
do not be dismayed, for I am your God.
I will strengthen you and help you;
I will uphold you with my righteous right hand.
DRAWING NOTES:
TIME OF DAY:
Not specified in Bible text.
LIGHTING NOTES:
The main source of light is the glowing hand of God.
CHARACTERS PRESENT:
An unnamed man in the hand of God.
RESEARCH/ADDITIONAL NOTES:
There are two versions of this scene:
01) (This page) Isaiah 41v8-10 – The Helper of Israel – Hand of God.
02)
(Next page)
Isaiah 41v8-10 – The Helper of Israel – Hand of God (Text version).
Please note: Because this design has quite small text on it, I would recommend that you purchase the High Quality version, rather than the Medium Quality version, in order to be able to read the lettering.
The second version has 59 words or phrases included in the picture, and the background colours are muted, so that the words show up a little more clearly.
I had the idea of drawing the hand of God like a boat, with a person sitting, or in this case kneeling in His palm. The storm raging all around is clearly worrying the man, but the Bible verse tells him "So do not fear, for I am with you; do not be dismayed, for I am your God. I will strengthen you and help you; I will uphold you with my righteous right hand."
The idea is that the person is in a terrible sea storm, and probably fearful of his life. What he doesn't realise is that, in fact, he is held in the hand of God and protected from the storm – he will literally be lifted out of danger by God's mighty, righteous right hand.
The idea behind the second version, with all those words and phrases on it, is to remind us of a few of the situations, temptations and things which can affect us, or threaten to overwhelm us. By including the words I am not trying to make a point about specific sins we fall foul of, but rather I am drawing the viewer's attention to the fact that God's mighty right hand supports us, and can lift us out of the "sea of dangers" we might find ourselves in. The focus should not be on the sins, but on the supportive, loving, helpful hand of God, in the midst of our troubles and temptations.
In case you are wondering what the 59 words of phrases actually are, they are listed here, in alphabetical order…
Abortion, Adultery, Arguing, Blaspheming, Boasting, Breaking promises, Bribery, Cheating, Corruption, Coveting, Cursing, Deceit, Defrauding, Despitefulness, Dishonesty, Dishonouring Parents, Divisions, Drunkenness, Enmity, Envy, Extortion, Fighting, Filthy talk, Fornication, Gluttony, Gossiping, Greed, Hate, Hypocrisy, Idle words, Lust, Idolatry, Impurity, Jealousy, Lying, Materialism, Murder, Not keeping the Sabbath holy, Pornography, Rage, Reveling, Rioting, Rivalries, Sexual immorality, Slander, Sloth, Stealing, Sorcery, Speaking evil of others, Spreading rumours, Strife, Substance abuse, Swearing, Temptation (which covers everything really!), Unforgiving heart, Unrighteous anger, Witchcraft, Withhold all of the truth, Wrath.
Of course this is not an exhaustive list of sins, wrong doings, temptations or things that can affect us; there are many, many more that I could have used, but I ran out of space on the sea to insert new words!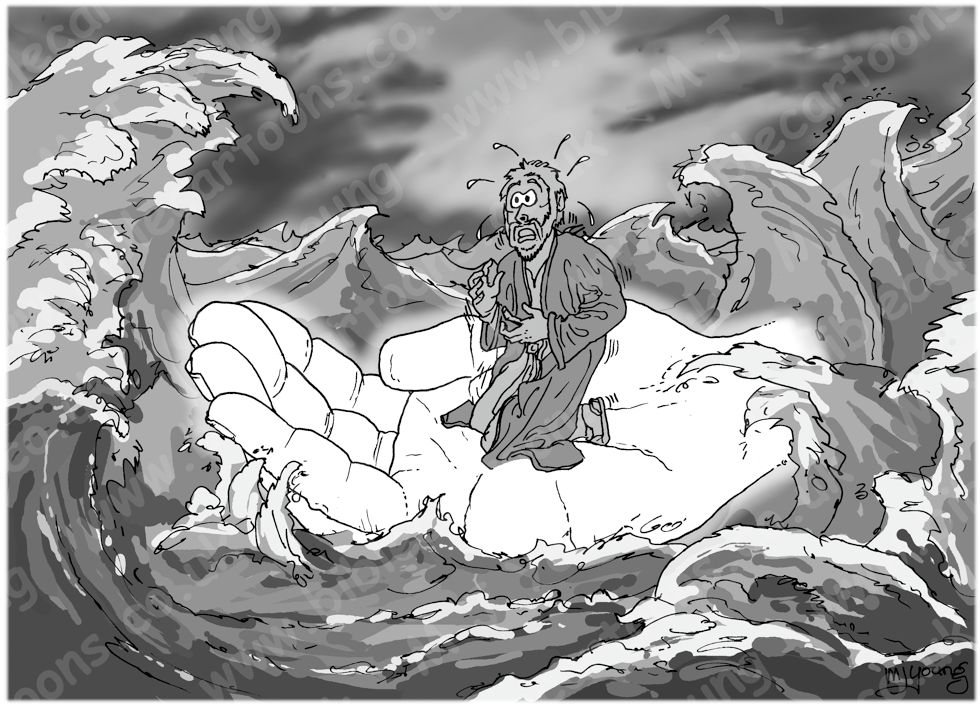 Greyscale sketch of sea storm, and man in God's hand.

Bible references relating to the Hand, or arm of God
Psalms 89:13-14 (ANIV)
13 Your arm is endued with power;
your hand is strong, your right hand exalted.
14 Righteousness and justice are the foundation of your throne;
love and faithfulness go before you.
Jeremiah 32:17 (ANIV)
17 "Ah, Sovereign Lord, you have made the heavens and the earth by your great power and outstretched arm. Nothing is too hard for you.
Job 12:10 (ANIV)
10 In his [God's] hand is the life of every creature and the breath of all mankind.
Joshua 4:23-24 (ANIV)
23 For the Lord your God dried up the Jordan before you until you had crossed over. The Lord your God did to the Jordan just what he had done to the Red Sea when he dried it up before us until we had crossed over.
24 He did this so that all the peoples of the earth might know that the hand of the Lord is powerful and so that you might always fear the Lord your God."
Isaiah 43:1-2a (ANIV)
1 But now, this is what the Lord says—
he who created you,
O Jacob, he who formed you,
O Israel: "Fear not, for I have redeemed you;
I have summoned you by name; you are mine.
2 When you pass through the waters,
I will be with you;
and when you pass through the rivers,
they will not sweep over you.