Bible Book:
Ezekiel
Bible Book Code:
2603700101
Scene no:
1 of 1
Bible Reference & Cartoon Description
Ezekiel 37:1-2 (NLT)
1 The Lord took hold of me, and I was carried away by the Spirit of the Lord to a valley filled with bones. 2 He led me [Ezekiel] all around among the bones that covered the valley floor. They were scattered everywhere across the ground and were completely dried out.
DRAWING NOTES:
TIME OF DAY:
None specified in the Bible verse above. I have set the scene in the mid afternoon.
LIGHTING NOTES:
Sunlight from above & right illuminates this scene, casting shadows to the left.
CHARACTERS PRESENT:
The prophet Ezekiel.
RESEARCH/ADDITIONAL NOTES:
This scene shows the prophet Ezekiel "carried away by the Spirit of the Lord to a valley filled with bones."
In the right lower foreground you can see a pair of Blandford's foxes ((Vulpes cana) aka Afghan fox, corsac, dog fox, hoary fox, steppe fox).
I researched pictures of human bones on the internet to help me draw the bones strewn all over the valley floor.
Verse 1 tells us that this picture is actually a vision that the prophet Ezekiel had. As such I could have drawn a dream-like or fantastic scene, but I decided to make it realistic. I used a photograph from the internet of the Makhtesh Ramon, a long & thin geological "crater" found in the Negev desert of southern Israel. This valley is wedge-shaped, with its point (at mount Ramon) in the south west. The crater is about 25 miles long (40 km), ranging from 1 to about 8 miles wide (1.6 – 12.8km) & has a maximum depth of 1,640 ft (500 metres).
A makhtesh seems to be a unique feature to Israel. It is a steep walled valley of resistant rock which is usually drained by a single wadi (seasonal river).

Here's the scene without the figure, bones or foxes.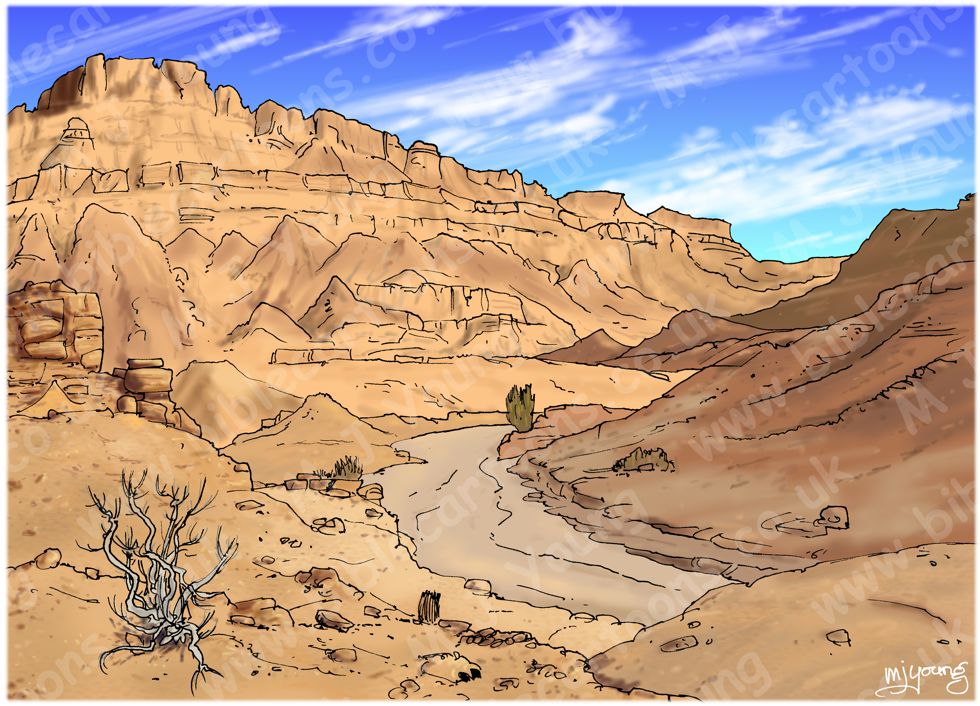 Ezekiel 37 – Valley of bones – Scene 01 – Dry bones – Landscape