Bible Book:
Exodus
Bible Book Code:
0200400101
Scene no:
4 of 7
Bible Reference & Cartoon Description
Exodus 4:1-3 (ANIV)
1 Moses answered, "What if they do not believe me or listen to me and say, 'The Lord did not appear to you'?"
2 Then the Lord said to him, "What is that in your hand?"
"A staff," he replied.
3 The Lord said, "Throw it on the ground." Moses threw it on the ground and it became a snake, and he ran from it.
DRAWING NOTES:
TIME OF DAY:
As in Exodus 04 – Burning Bush – Scene 02, I have set the time in the late afternoon.
LIGHTING NOTES:
The sun lights the scene from the left.
Notice there is an additional yellow glow on the ground & the left side of the figure of Moses, from the burning bush off to the left.
CHARACTERS PRESENT:
Moses.
Three of his goats in the middle distance.
RESEARCH/ADDITIONAL NOTES:
This scene is looking back from the burning bush ground, towards the rock where Moses was sitting in scene Exodus 03 – Burning Bush – Scene 01 – Wonder. You can see that rock behind the dropping wooden staff, with grass around its base.
I used some photographs of Mount Sinai in Egypt to give me some ideas for the design of the landscape.
Here's the scene without the figure.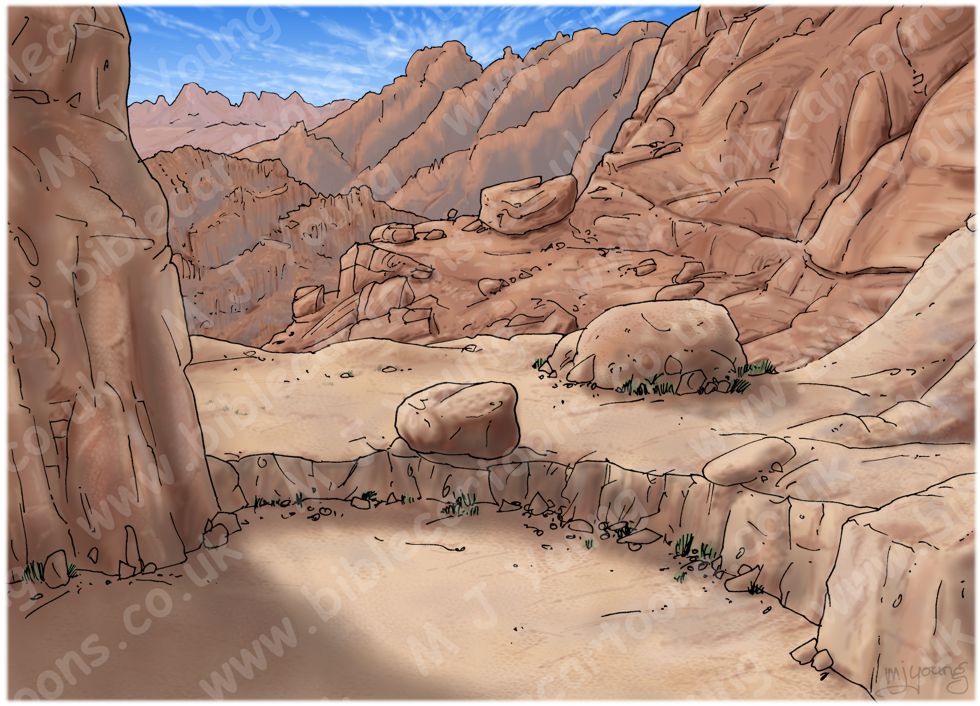 Exodus 03 – Burning Bush – Scene 04 – Staff – Landscape