Bible Book:
2 Samuel
Bible Book Code:
1001600501
Scene no:
1 of 1
Bible Reference & Cartoon Description
2 Samuel 16:5-8 (ANIV)
5 As King David approached Bahurim, a man from the same clan as Saul's family came out from there. His name was Shimei son of Gera, and he cursed as he came out. 6 He pelted David and all the king's officials with stones, though all the troops and the special guard were on David's right and left. 7 As he cursed, Shimei said, "Get out, get out, you man of blood, you scoundrel! 8 The Lord has repaid you for all the blood you shed in the household of Saul, in whose place you have reigned. The Lord has handed the kingdom over to your son Absalom. You have come to ruin because you are a man of blood!"
DRAWING NOTES:
TIME OF DAY:
Unspecified in Bible text. Mid morning.
LIGHTING NOTES:
Sunlight from above and left casts shadows to the right of people and objects in this scene.
CHARACTERS PRESENT:
Shimei (son of Gera) is in the top left, throwing stones and dirt at the men in the bottom right of the picture.
King David is the man in the middle witha blue cloth covering his head.
Abishai (son of Zeruiah, nephew of David) is the man with a teal blue helmet, and drawn sword. He has raised his shield to protect the king from the stones and dirt that Shimei is throwing.
Ittai (a Gittite/native of Gath) one of David's captains is the man to the right of David, with green sleeves and carrying a spear.
Various court officials, troops/soldiers, etc are walking along behind king David.
RESEARCH/ADDITIONAL NOTES:
I've been meaning to draw this scene for several years, but only now got to it! The idea of a man throwing stones and dirt at the king sounds quite funny to our western minds. Nevertheless, to lift a fingure against a king would no doubt have been considered an act of treason. Fortunately for Shimei, David later forgave his stone-throwing antics (see 2 Samuel 19:15-23).
Here's the scene without the figures.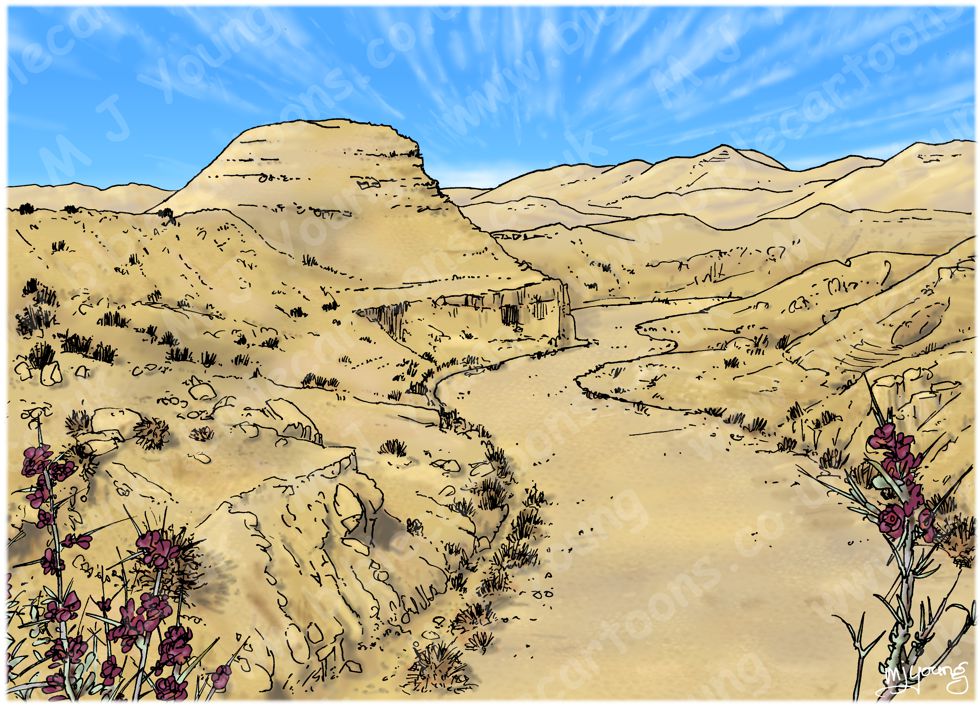 2 Samuel 16 – Shimei curses David – Scene 01 – Stone pelting – Landscape

Historical context
Absalom was born about 1008 BC.
Absalom's conspiracy to usurp David occurred about 979 BC , when Absalom was 29 years of age and his father David was 61 years old.
[Source: http://www.bible.ca/archeology/bible-archeology-maps-timeline-chronology-2samuel13-22-tamars-rape-absaloms-mutiny-984-973bc.htm]
A note on the characters present in this scene.
David
Although I have drawn king David before (as a young man) I haven't ever drawn him as an older man – in this scene he is aged 61 years. So this scene will be the visual reference I use in future renderings of David at this age.
Abishai
I have only drawn Abishai once before (see 1 Samuel 26 – David spares Saul again – Scene 03 – David takes spear (NOTE: there are 2 versions of that scene)), in which Abishai accompanied David (then a fugitive from king Saul) into Saul's camp.
Abishai was one of three a sons of Zeruiah, sister of David (by an un-named father), and brother to Joab and Asahel (see 1 Chronicles 2:16). He was given command of a third of David's army (see 2 Samuel 18:2).
At the end of 2 Samuel, we read this regarding Abishai:
2 Samuel 23:18-19 (ANIV)
18 Abishai the brother of Joab son of Zeruiah was chief of the Three. [1] He raised his spear against three hundred men, whom he killed, and so he became as famous as the Three. 19 Was he not held in greater honour than the Three? He became their commander, even though he was not included among them.
[1]
Most Hebrew manuscripts (see also 1 Chronicles 11:20); two Hebrew manuscripts and Syriac, Thirty.
Since Abishai was the commander of David's Mighty men, I have drawn him with a different coloured helmet turban (teal blue coloured, unlike the rest of the soldiers) and have gold braid on his tunic sleeves, to help denote his rank.
Shimei
I have not drawn Shimei (son of Gera), the Benjamite, of the family of Saul, before. I wanted to show his outrage and anger, and di so by putting a red star pattern behind his head, which accentuates the red in his cheeks. I have him flying off his feet and in the air, in his rage, as he hurls stones and dirt at David and his men! The comic book movement lines help to illustrate his rapid arm movements.
Shimei accused king David of being a man of bllod, responsible for the death of Saul and his family. This was untrue, of course, for David had not raised his hand against Saul, even when he had the chance to kill Saul (see 1 Samuel 26). Indeed, David regarded Saul as the anointed of the Lord, and had taken great pains to deal graciously with Saul's survivors. Shimei's real complaint was that David sat on the throne of Saul ("Saul, in whose place you have reigned" – see verse 8), a fact which had certainly reduced Shimei's own power and influence in the land.
Ittai
Ittai (a Gittite/native of Gath) is another character I haven't drawn before, so this picture of him will also be the benchmark I return to if and when I draw him again in the future. Like Abishai, Ittai was also given command of a third of David's army to counter Absalom's treasonous actions (see 2 Samuel 18:2).
Where was Bahurim?
BAHU´RIM (ba-hur´im; "young men"). A town of Judah on the road from Jerusalem to the Jordan, E of Olivet (2 Samuel 3:16). David had trouble here with Shimei, and his spies hid here (2 Samuel 16:5; 2 Samuel 17:18). Azmaveth is the only other native of this place, except Shimei, mentioned in Scripture (2 Samuel 23:31; 1 Chron. 11:33). It is identified with Râs et-Tmîm, just E of Mt. Scopus, near Jerusalem.
[Source: New Unger's Bible Dictionary]
When looking at the location of the town of Bahurim and comparing it's probable location with a map of the climatic regions of modern Israel, it seems the town is in a Shrub-Steppe climatic zone.
In his book "Vegetation of Israel and neighboring countries" Prof. Avinoam Danin has this to say about Shrub-Steppes…
"In most areas of the Negev Highlands, the Judean Desert [where Bahurim is located], Sinai, and southwestern Jordan that receive 80-250 mm. mean annual rainfall, semi-shrubs grow in a diffused pattern, creating shrub-steppes. The most common dominants in these steppes are Artemisia sieberi, Noaea mucronata, and Gymnocarpos decander. During the spring of rainy years, the shrub-steppes may look like ornamental gardens with flowering tulips (Fig. 1.3.64, 1.3.65), Iris species and others. The phytomass produced by annuals in these plant communities on stony-rocky shallow soils is always rather small when compared with that of fine-grained, deep soils (Fig. 1.3.66). The latter soil types hold much of their water close to the soil surface; hence a lot of it is lost through direct evaporation."
[Source: http://flora.org.il/books/vegetation-of-israel-and-neighboring-countries/chapter-a/local_veg_a9b/]
Geology of Bahurim
Bahurim is on a region of the Menuha Formation (Chalk, chert 164m), an Upper Cretaceous (Santonian-Early Campanian) chalk, marly chalk and conglomeratic chalk unit exposed throughout the Makhtesh Ramon region of southern Israel and parts of northern Israel (Avni, 1991). the Menuha Formation contains fossils of several shark and fish teeth, oysters, trace fossils, phosphatic peloids, and foraminiferans. The isolated teeth represent at least ten different species…
[Source: https://www.revolvy.com/main/index.php?s=Menuha+Formation]
I have coloured the ground and rocks a limestone yellow, to match the chalky nature of the Menuha Formation, in my scene.
Plants in this scene
Having read the chapter in Prof. Danin's book (see above) I decided to include the thorny flowering plant in the foreground of my scene, which is Noaea mucronata (aka thorny saltwort, bedouin sirr, pig weed). As the professor points out, Noaea mucronata is a characteristic plant of the Shrub-steppes environment. The spiky plant flowers in August-September; is a common plant, widely used as a fuel for cooking and heating, but only because there is often very little other woody biomass available in such arid areas. In harsh, dry end-of-season periods Noaea mucronata will be eaten by camels, sheep, goats and other browsing animals.
The low lying ball-like shrubs in this scene are Artemisia sieberi (aka Wormwood, mugwort, Motherwort, Bulwand, green-ginger, Sailors tobacco), which occurs in most habitats of the middle east: The Mediterranean Woodlands and Shrublands, Semi-steppe shrublands, Shrub-steppes, Deserts & extreme deserts.. which is almost everywhere! This 2nd plant is also mentioned in professor Danin's chapter on the Shrub-steppes of Isarel (above).