Thorn in the flesh
---
Posted 30 Mar 2010
These pictures are my rather literal interpretation of 2 Corinthians 12:7 (ANIV), "To keep me [Paul] from becoming conceited because of these surpassingly great revelations, there was given me a thorn in my flesh, a messenger of Satan, to torment me." The apostle Paul was writing to the early Christian church in Corith, Greece. Many commentators have speculated about what the term "thorn in my flesh" might refer to. Some think Paul suffered from severe ear aches, or head aches, or some other physical pains. Other commentators think that the phrase refers to false teachers (from Satan) who had entered the Corinthian church & were trying to tempt the Christians away from what they had learned & believed about Jesus Christ.
My illustration is simply a very literal picture of a thorn in the side of Paul. I don't suggest for one moment that Paul actually had anything like this sticking out of his side! Notice that the thorn has barbs which make it difficult or impossible to remove. I've used sickly yellows & greens to colour the thorn, making it seem poisonous & dangerous. Those greens contrast strongly with Paul's living skin tones.
I've provided 4 different background colour schemes here, which can change the way you respond to the same scene. For me, the dark, blood red background is the most effective one: perhaps its the strong colour contrast between the warm blood red & the thorn's sickly, poisonous greens that work the best.
What is your "Thorn in the flesh"? It could be a physical problem: migraine headaches, recurring back problems, irritable bowel syndrome, there are lots of possibilities – lots of recurring medical problems that can sap your strength & get you down. Your particular "thorn" could be a mental problem: recurring depression, insomnia, anxiety, worries, etc. It could be a recurring habit that you just can't seem to break. Your particular "thorn" could be someone who just doesn't "get" you, or else someone who delights when you fail, fall or are in doubt or error.
Whatever, or whoever, your particular "thorn in the flesh" I hope & pray that you manage to get it removed. But remember, in the apostle Paul's case, three times he asked the Lord God to remove his "thorn", but God, in his wisdom did not do it. As we read in verse 9, 'But he [God] said to me [Paul], "My grace is sufficient for you, for my power is made perfect in weakness." Therefore I will boast all the more gladly about my weaknesses, so that Christ's power may rest on me.' Paul realised that God would not remove the "thorn", but that He would give His divine grace, such that Paul would be able to endure it.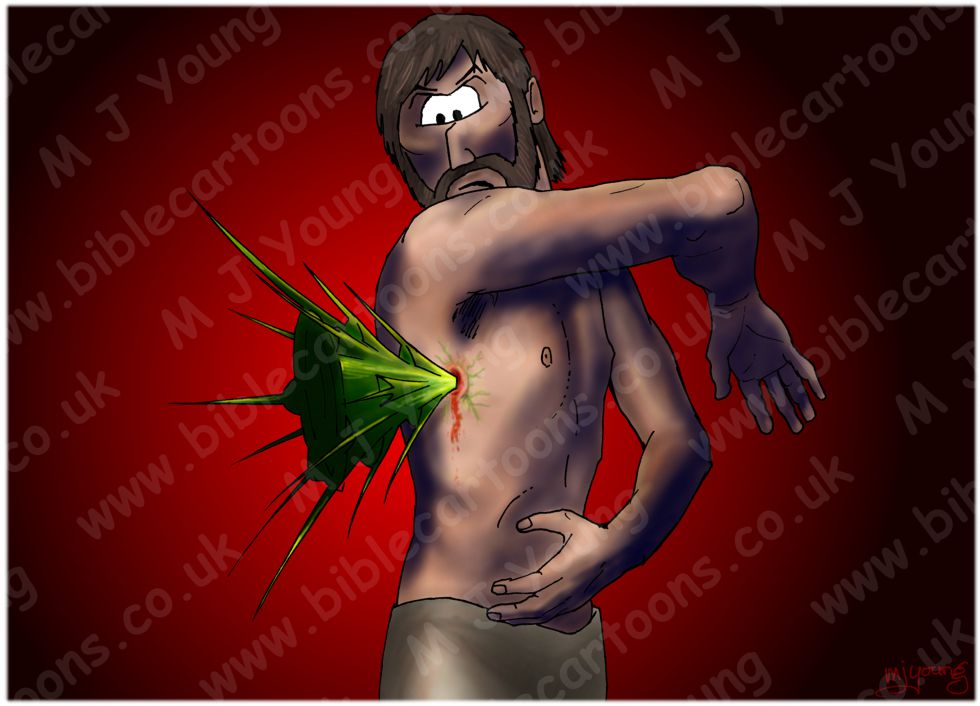 2 Corinthians 12 – Thorn in the flesh – red

Follow this link to see this Bible Cartoon on the BC Gallery page, with download & purchase options:
Bible Cartoon: 2 Corinthians 12:7-10 – Thorn in the flesh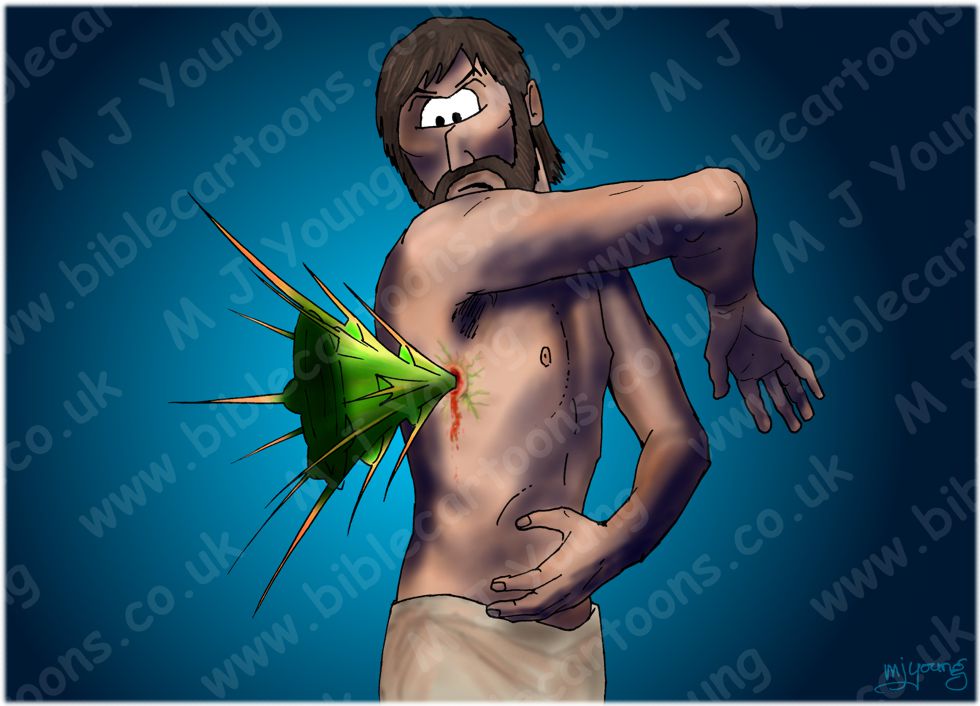 2 Corinthians 12 – Thorn in the flesh – blue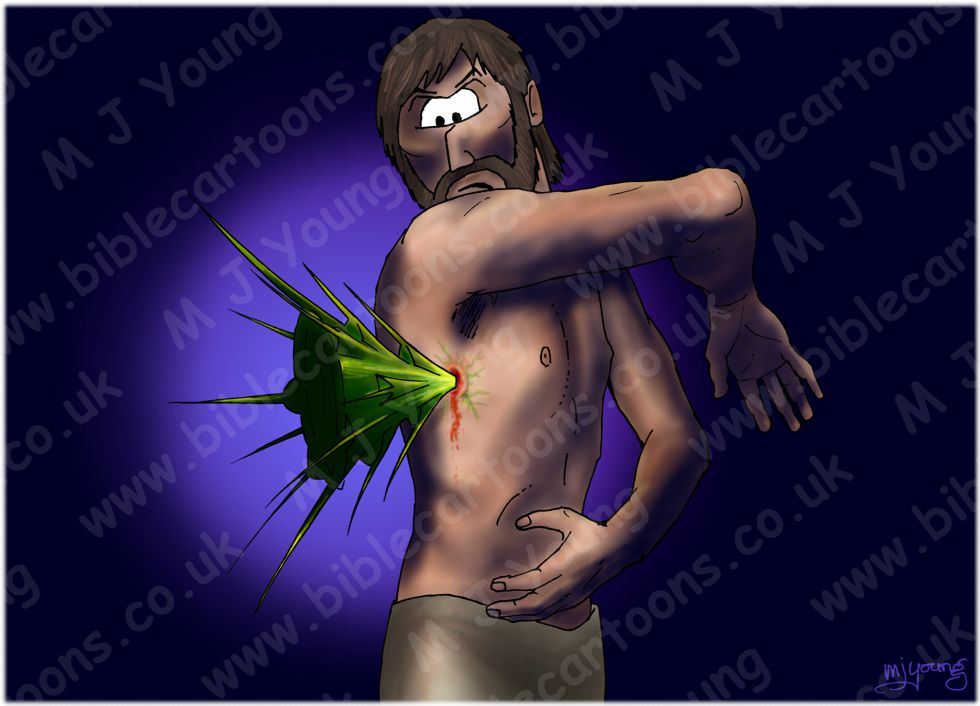 2 Corinthians 12 – Thorn in the flesh – purple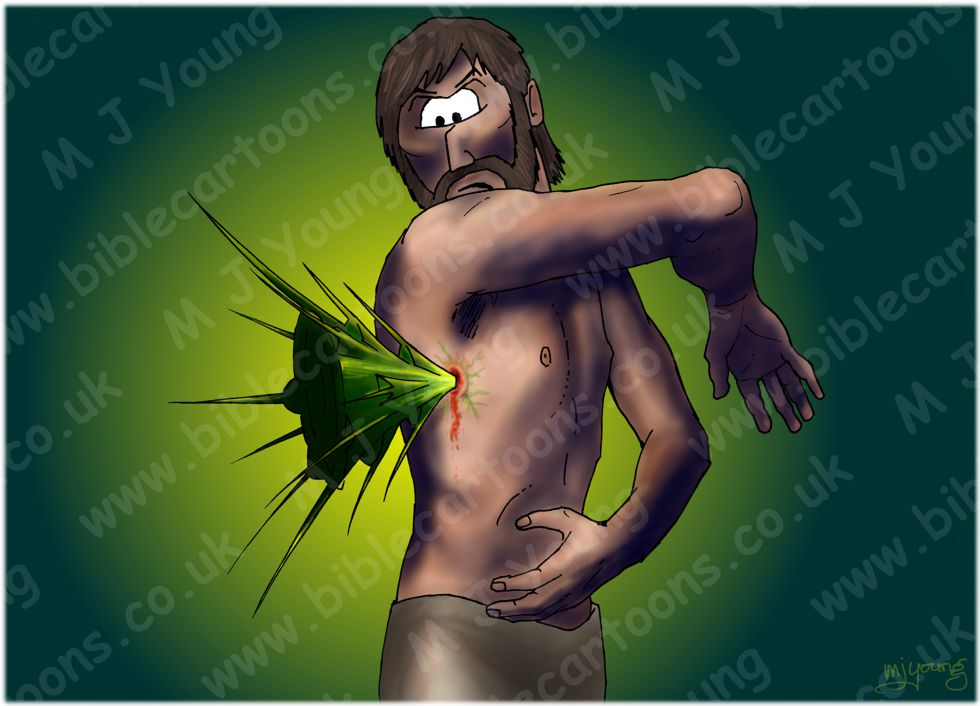 2 Corinthians 12 – Thorn in the flesh – green


Comments
Comments are turned off for this article
---
Go to Blog Archive page