Death of King Saul scene
---
Posted 13 Jul 2012
I have just uploaded my latest cartoon illustration, based on 1 Chronicles 10:1-3, which says this (in the NIV Bible version), 'Now the Philistines fought against Israel; the Israelites fled before them, and many fell slain on Mount Gilboa. The Philistines pressed hard after Saul and his sons, and they killed his sons Jonathan, Abinadab and Malki-Shua. The fighting grew fierce around Saul, and when the archers overtook him, they wounded him.'
You can see the final version of the scene below, along with close-up views of the scene, which you might notr see in the Gallery version.
As I wrote in the notes that accompany the new cartoon, I was very pleased with the final version of this picture. It was quite like the picture I had in my imagination to begin with. I have used a limited palette for this scene, mostly dark greens & blues. I really like the sense of drama that a limited palette coupled with strong lighting can create.
The dark tones & possibly rather grim colouration reflects the seriousness & sadness of the story of Saul's death. The dim lighting for the scene comes from the pale sunlight, hidden behind a bank of clouds directly ahead of the viewer.
King Saul & his sons occupy centre stage, although I haven't defined which son is which. Saul has an arrow in his body & is lying on his back to the right of the figures. One of Saul's sons is still holding Saul's family banner aloft, in lifeless hands. I decided not to put any discernable design on the banner, so that it wouldn't detract from the figures below.
A note about illustrating violence in my cartoons.
I usually avoid showing any shocking & unnecessarily violent deaths in my cartoons. I think that sort of gratuitous violence is beyond the scope of my work. Having said that, the Bible does quite often describe particularly nasty deaths, so I suppose that at some point I'll have to show them! I managed to avoid illustrating lots of blood in the scene showing David beheading the giant Goliath (see 1 Kings 17) with a careful placement of red flowers, which acted as symbols of the giants blood.
I am always rather careful about showing unnecessary violence in my cartoon illustrations, after all I do not want the subject matter to offend or shock people, particularly younger viewers.
As I pointed out in the cartoon notes, I doubt that this will be a popular scene with paying customers (though they may prove me wrong!) since the colours are so subdued & the subject matter isn't light-hearted, as in many other of my cartoons. We'll just have to see if it turns out to be liked or not.
Here is the finished cartoon: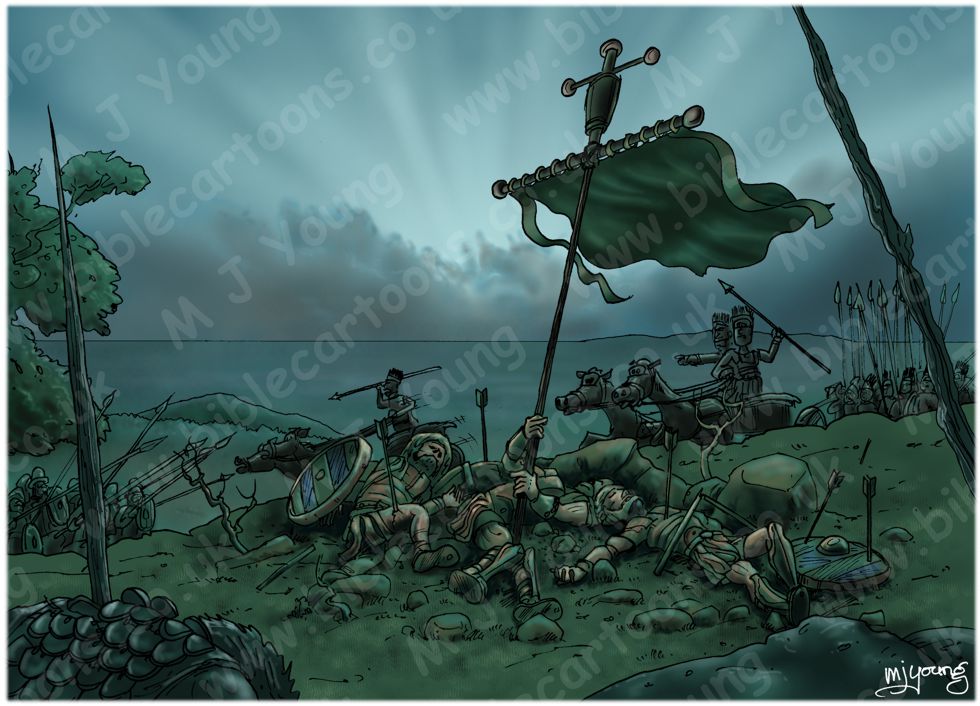 1 Chronicles 10 – King Saul takes his life – Scene 01 – Fierce fighting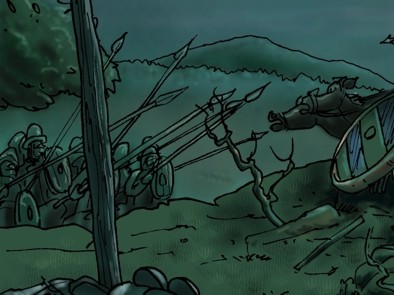 Close-up of the Hebrew army in the left background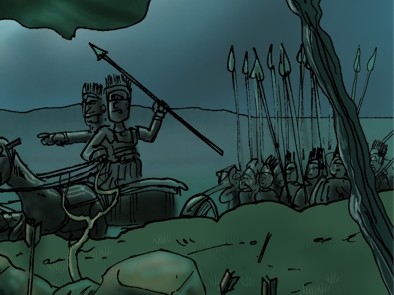 Close-up of the Philistine army in the left background
The Philistine's had spiky, hairy helmets for their heads apparently!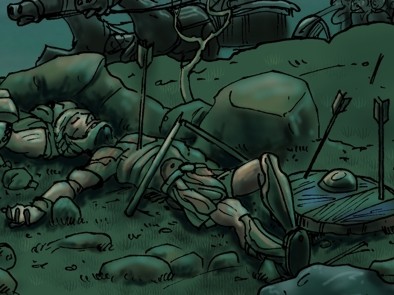 Close-up of King Saul, lying wounded by a Philistine arrow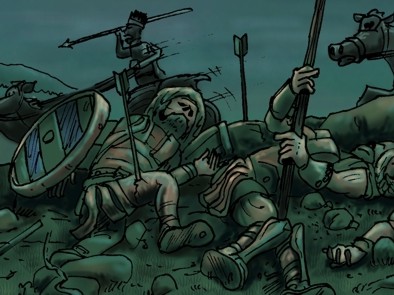 Close-up of Saul's 3 slain sons

Follow this link to see this Bible Cartoon on the BC Gallery page, with download & purchase options:
Bible Cartoon: 1 Chronicles 10 – King Saul takes his life – Scene 01 – Fierce fighting


Comments
Comments are turned off for this article
---
Go to Blog Archive page