Away in a manger animation
---
Posted 27 Nov 2009
Last year a friend at our church & I produced some short animations that were projected on to the side of a building for our church's outdoor Christmas carol service. This year I have been asked to illustrate the Christmas carol "Away in a manger." I have produced 6 scenes, one for each of the song's verses.
Verse 01: "Away in a manger, No crib for His bed, The little Lord Jesus, Laid down His sweet head."
This scene will not have any animation, it is just to set the scene.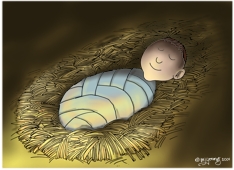 Away In A Manger – Scene 01 – JC in manger

Verse 02: "The stars in the bright sky, Looked down where He lay, The little Lord Jesus, Asleep on the hay."
The observant amongst you will realise that this is a copy of a scene I did for the Nativity (Luke's gospel, chapter 02) a few weeks ago. The main star will twinkle & move across the sky, whilst the fire's flames will also be animated. If we had lots of time, it would be nice to animate shifting shadows behind Mary, Joseph, Jesus & the animals, but I don't think we'll be able to do that.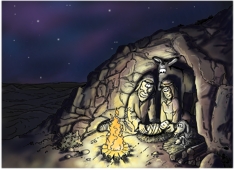 Away In A Manger – Scene 02 – Caves

Verse 03: "The cattle are lowing, The poor Baby wakes, But little Lord Jesus, No crying He makes."
The cows will have heads that sway from side to side, & at the end of the verse, the sleeping baby's eyes will open (as you can see in this cartoon.)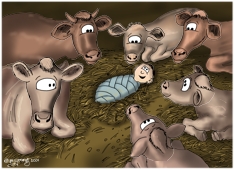 Away In A Manger – Scene 03 – Cows

Verse 04: "I love Thee, Lord Jesus, Look down from the sky, And stay by my side, 'Til morning is nigh."
The flames of the 2 candles by the children's bedsides will be animated, & possibly the Christmas tree lights outside the window, maybe even the stars!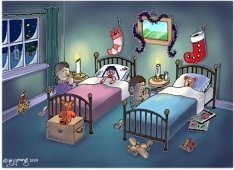 Away In A Manger – Scene 04 – Children praying

Verse 05: "Be near me, Lord Jesus, I ask Thee to stay, Close by me forever, And love me I pray."
The figure of Jesus will slowly fade into view, but I imagine he will remain translucent, so that viewers will be able to see the girl's bed behind Jesus' body.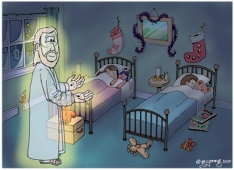 Away In A Manger – Scene 05 – Jesus in bedroom

Verse 06: "Bless all the dear children, In Thy tender care, And take us to heaven, To live with Thee there."
The background image will scroll upwards, as this verse is sung, culminating in the appearance of Jesus & the 4 children, hovering in the starlight.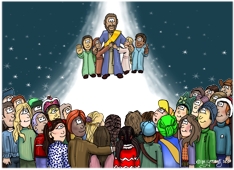 Away In A Manger – Scene 06 – Jesus & children
Comments
Comments are turned off for this article
---
Go to Blog Archive page