Total no. of cartoons on this website: 421
---
Bible Book: Genesis
Scene no: 1 of 1
Bible Book Code:
0101100101
Title:
Genesis 11 - Tower of Babel - Scene 01 - Tower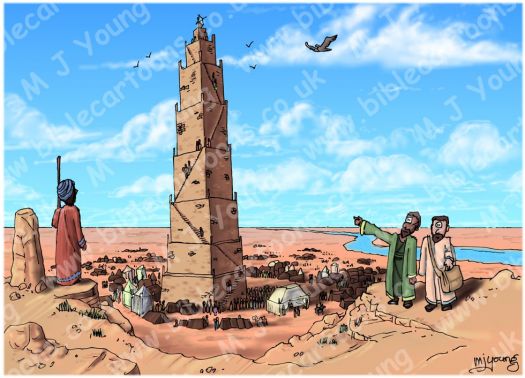 Bible Reference & Cartoon Description
Genesis 11:1-9 (NLT)
At one time the whole world spoke a single language and used the same words. As the people migrated eastward, they found a plain in the land of Babylonia and settled there.
They began to talk about construction projects. "Come," they said, "let's make great piles of burnt brick and collect natural asphalt to use as mortar. Let's build a great city with a tower that reaches to the skies—a monument to our greatness! This will bring us together and keep us from scattering all over the world."
DRAWING NOTES:
Scene 01 – Tower
TIME OF DAY:
Scene 01 – Tower
LIGHTING NOTES:
Scene 01 – Tower
CHARACTERS PRESENT:
Scene 01 – Tower
Unknown peoople in foreground & in the camp below the tower. Nimrod shooting arrow into the clouds on top of the tower.
RESEARCH/ADDITIONAL NOTES:
Scene 01 – Tower
Google Earth position & orientation – 32 deg 32' 36.13" N 44 deg 25' 02.26" E. Between the Euphrates river (tributary seen on the right of this cartoon) & Tigris river (unseen on left, approx. 34 miles away). Approximate position shown on Thompson/WORDsearch Life Application maps, & also exactly indicated in a search on Google Earth.