Click on Add to cart button below shopping cart.
Purchased Gospel Illustrations do not have watermarks. Links to Illustrations provided on email once purchase is completed.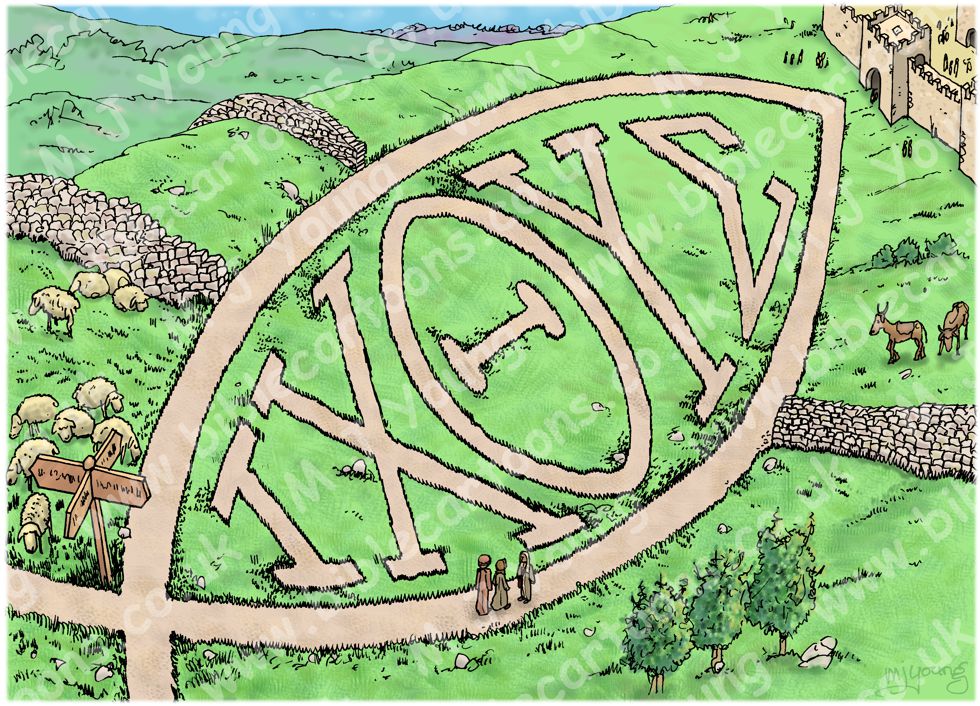 Illustration code:
7000700201
Scene no:
1 of 1
Illustration Description
This was a special commission for an American customer.
DRAWING NOTES:
TIME OF DAY:
This Gospel Illustration has no particular time of day
LIGHTING NOTES:
The source of light in this scene is from the sun, high above.
CHARACTERS PRESENT:
Jesus, James/Cleopas (son of Alphaeus), doctor Luke.
RESEARCH/ADDITIONAL NOTES:
An American customer contacted me & requested some scene to show the events just after the death of Jesus, with the 2 disciples meeting the resurrected Jesus on the road to Emmaus. This particular scene (with the Greek word "Ichthys" & the outline of a fish, made out of various tracks/pathways/roads on the ground) doesn't appear anywhere in the Bible. That is why I have included it in the Gospel Illustrations section on the BC website.
Notice there are three small figures near the bottom of the lower curve of the fish symbol. These are the resurrected Jesus, James/Cleopas (son of Alphaeus), & doctor Luke (the gentile physician who wrote the books of Luke & Acts). In the upper right is one of the gates that leads into Jerusalem. There are various sheep, cows, bushes walls & other landscape features in the scene.
Click the link below to see the first scene in Luke's Gopel, depicting the walk to Emmaus story:
Bible Cartoon: Luke 24 – Walk to Emmaus – Scene 01 – Jesus appears