The Devil, Satan character design sheet
---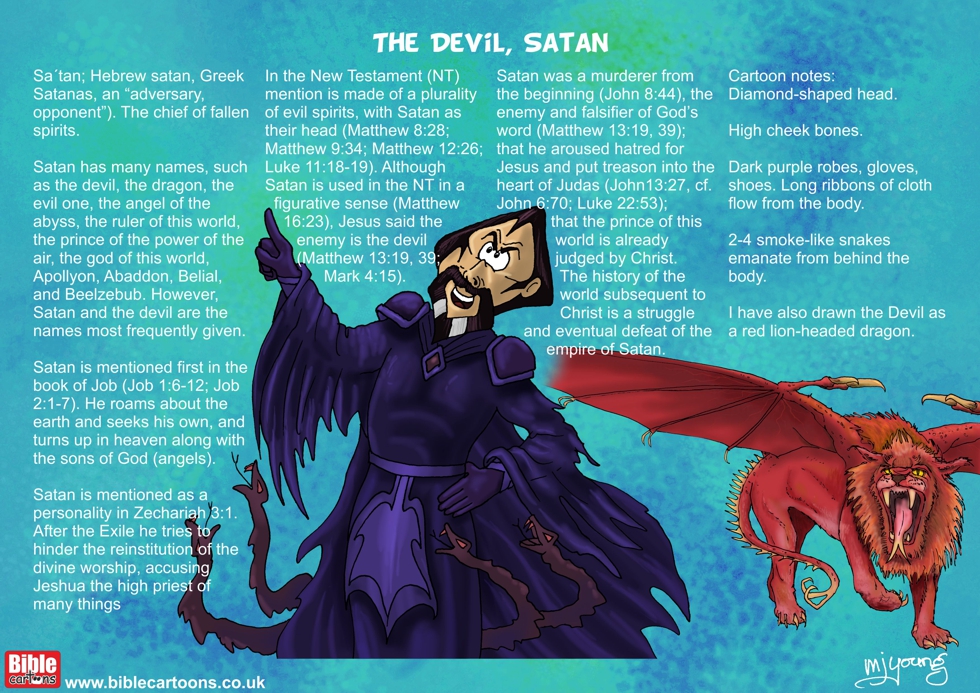 This is my character sheet, or design specification, for The Devil, Satan. The purpose of this sheet is to keep a record of the attributes or characteristics of my drawing, so that I can draw a similar-looking cartoon in all future scenes showing The Devil, Satan.
I first drew my version of The Devil, Satan in Feb 2012, with the "Matthew 04 – The temptation of Jesus – Scene 03 – Stones" picture. I have drawn a representation of The Devil, Satan in Genesis (as the tempting snake), Job (as the human-like dark figure we see in Matthew chp 4) & in 1 Peter chp 5 )as a red, lion-headed dragon). Incidentally, I have drawn a similar human-like dark figure in Matthew 13, but here I have given him dark, bat-like wings. No doubt I will draw The Devil, Satan in some other guises, from other books of the Bible in time.
Although my style has changed a bit since that early cartoon in Feb 2012, I try to maintain the same facial features, colouring and clothing style, so that the figure is recognizably that of The Devil, Satan, even when months or years have elapsed between drawings. However, I realise that it is quite possible that I could draw different versions of The Devil, Satan, since He could appear in a wide variety of ways to us! Indeed, he is described as masquerading as an angel of light (2 Corinthians 11:14), so perhaps I ought to draw him in that way!
Return to BC Encylopaedia Index page