On - son of Peleth character design sheet
---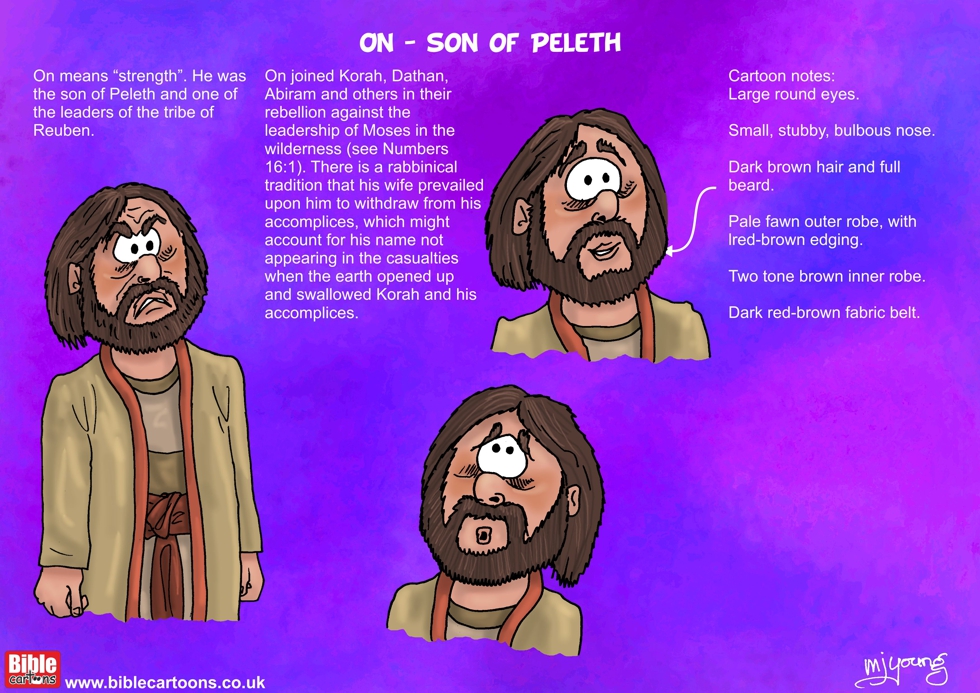 This is my character sheet, or design specification, for On – son of Peleth, who was a leader of a rebellion against the leadership of Moses and Aaron after the Exodus and during the wilderness years.
The purpose of this sheet is to keep a record of the attributes or characteristics of my drawing, so that I can draw a similar-looking cartoon in all future scenes showing On. I have included a brief personal history on the sheet as well.
I first drew my version of On in March 2021, with the "Numbers 16 – Korah's rebellion – Scene 01 – Korah opposes Moses" picture.
Personal History
The name On means "strength".
On was a Reubenite, i.e. a member of the Israelite tribe of Reuben. In fact On was a leader amongst that tribe. Quite how he came to stand with the other rebels in opposing Moses' leadership is not recorded in the Bible. But that was what happened (see Numbers 16).
I have included him (along with his wife, children, tent and possessions) in the Bible Cartoon entitled "Numbers 16 – Korah's rebellion – Scene 06 – Move back from the tents". But none of these people are seen in the next scene, which shows Korah falling into a huge hole when the earth cracks open and swallows him. Apparently there is a rabbinical tradition which suggests that On discussed the rebellion with his wife, who successfully prevailed upon him to withdraw his support from Korah, Dathan, Abiram and the other rebels. That would mean that On didn't die either when the earth opened up (see Numbers 16:31-33), or when God's holy fire burned up 250 rebels (see Numbers 16:35).
Return to BC Encylopaedia Index page