John the Baptist character design sheet
---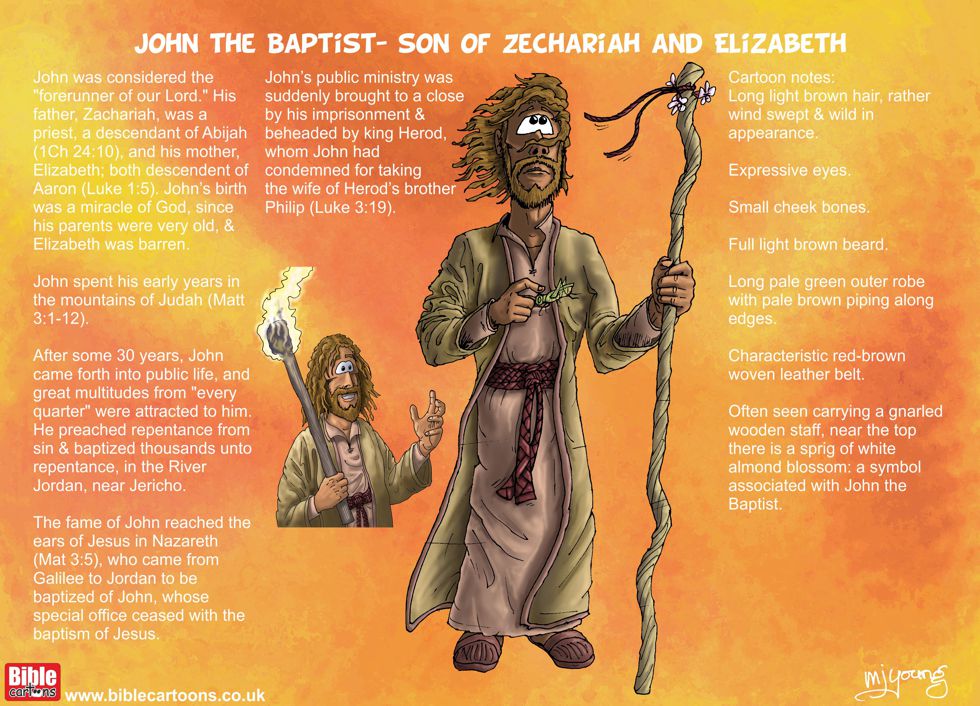 This is my character sheet, or design specification, for John the Baptist, the son of Zechariah & Elizabeth. The purpose of this sheet is to keep a record of the attributes or characteristics of my design, so that I can draw a similar-looking cartoon in all future scenes including John the Baptist.
I first drew my version of John the Baptist in February 2009, very early on in the history of Bible Cartoons. Those early pictures were for stories found in John's gospel.
By formalising my ideas on a character design sheet in this way I would have a simple and accessible design reference point, which would remind me of what I had drawn in previous cartoons. By referring to this sheet every time I drew a scene including John the Baptist I hoped I would be able to draw and colour him to match previous cartoons, ensuring great similarity and therefore continuity between Bible Cartoons featuring John the Baptist, even if these cartoons were drawn months or even years apart.
Without this character sheet to refer to I might very well accidentally draw a scene where the John the Baptist character is quite different from previous drawings, which would be a problem if someone views and/or buys several Bible Cartoons and the same person looks quite different in each scene! There is a very real danger of this happening since my abilities and style gradually change and evolve over time, especially as I learn new art techniques and want to incorporate new ideas into my Bible Cartons. By referring to the character sheet I can be confident that I will draw a similar-looking person, even if my artistic skills have undergone change and development over time.
Personal History
John the Baptist is considered the "forerunner of our Lord." His father, Zacharias, was a priest, a descendant of of the course of Abia (1Ch 24:10), and his mother, Elisabeth, was of the daughters of Aaron (Luke 1:5). John's birth was a miracle of God, since his parents were very old, & Elizabeth was barren.
The mission of John was the subject of prophecy (Mat 3:3; Isa 40:3; Mal 3:1). His birth, which took place six months before that of Jesus, was foretold by the angel Gabriel (Luke 1:19).
John was a Nazarite from his birth (Luke 1:15; Num 6:1-12). He spent his early years in the mountainous tract of Judah lying between Jerusalem and the Dead Sea (Matt 3:1-12).
After some 30 years, John came forth into public life, and great multitudes from "every quarter" were attracted to him. He preached repentance from sin. He denounced the Sadducees and Pharisees as a "generation of vipers."
John's doctrine and way of life attracted people from all parts, who flocked to the place where he was baptizing thousands unto repentance, on the River Jordan, near Jericho.
The fame of John reached the ears of Jesus in Nazareth (Mat 3:5), who came from Galilee to Jordan to be baptized of John, whose special office ceased with the baptism of Jesus, who must now "increase" as the King come to his kingdom. John pointed Jesus out to his disciples, saying, "Behold the Lamb of God." His public ministry was suddenly (after about six months probably) brought to a close by his being thrown into prison by king Herod, whom John had condemned for taking the wife of Herod's brother Philip (Luke 3:19). John was kept prisoner in the castle of Machaerus, a fortress on the southern extremity of Peraea, 9 miles east of the Dead Sea, and here he was beheaded.
John's disciples, having consigned the headless body to the grave, went and told Jesus all that had occurred (Mat 14:3-12). John's death occurred apparently just before the third Passover of our Lord's ministry. Our Lord himself testified regarding John that he was "a burning and a shining light" (John 5:35).
Return to BC Encylopaedia Index page