Elisha - son of Shaphat character design sheet
---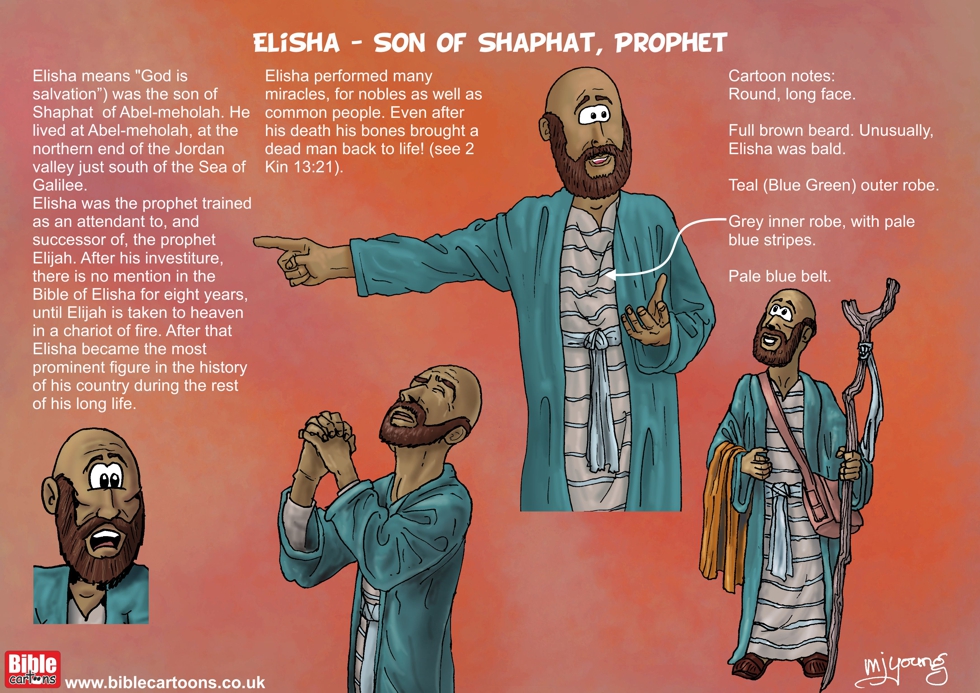 This is my character sheet, or design specification, for Elisha, son of Shaphat, probably the most famous Old Testament prophet, after Elijah. The purpose of this sheet is to keep a record of the attributes or characteristics of my drawing, so that I can draw a similar-looking cartoon in all future scenes showing Elisha.
I first drew my version of Elisha in June 2012, with the "2 Kings 02 – Elijah taken into heaven – Scene 06 – Chariot of fire" picture. Although my style has changed a bit since those early cartoons, I try to maintain the same facial features, colouring and clothing style, so that the figure is recognizably that of Elisha, even when months or years have elapsed between drawings.
Personal History
Elisha means "God his salvation". He was the son of Shaphat of Abel-meholah, a city east of the Jordan river.
The Lord God told Elijah (about 900 B.C.) to "anoint Elisha son of Shaphat from Abel-meholah to replace you as my prophet." (1 Kings 19:16), which he duly did. Elijah put his cloak about Elisha's shoulders as a means of investing him as his attendant or disciple. Elisha was ploughing a field with 11 other people at the time. Elisha killed the two ox team he was ploughing with, used the plough to cook the meat & gave it to his friends, before following after Elijah.
There is no mention of Elisha for a further 7-8 years in the Bible, but then he sees Elijah taken up into heaven on a chariot of fire, & Elisha receives a double portion of Elijah's spirit (see 2 Kings 2:9). For the long period of about sixty years (892-832 B.C. ) Elisha then held the office of "prophet in Israel" (see 2 Kings 5:8).
There is a great contrast in the natures of Elisha, compared to Elijah. The former was a man of the city, civilized & at home there, whereas the later visited civilization to deliver God's word & then returned to the wilderness.
I draw Elisha carrying a staff, with pale blue ribbon on it, which matches the belt & stripes on his inner robe. Based on the mockery of the youths near Jericho, I imagine that Elisha was bald (they chanted "Go away, you baldhead!" (see 2 Kings 2:23) although it may have been that he simply had short hair, or wore it tied in some way. I draw him bald, but with a full beard.
Later on in the Bible narrative, Elisha assists Jehoram the king of Israel, and the kings of Judah and Edom, from their difficulty in the campaign against Moab. These men & their armies had no water, but Elisha is in their midst, able to call on the Lord';s power & provide pools of water (see 2 Kings chp 3).
Next Elisha helps a poor widow, advising her to gather many jars & pour her little oil into them… she does, and receives so much that she is able to pay off her dead husband's debts, and avert he two sons from being taken away as slaves by his creditor.
The next miracle happens at Shunem, where Elijah is hospitably entertained by a woman of substance, whose son dies, and is brought to life again (see 2 Kings 4:8-37).
At Gilgal he purifies the pot of food, accidentally poisoned by the inclusion of gourds (see 2 Kings 4:38-41). Immediately Elisha performs a wondrous miracle of multiplying bread loaves (see 2 Kings 4:42-44), which is a striking forerunner of Jesus' miracles with five loves and two fish (see the Feeding of the 5000 in Matthew 14:13-21, Mark 6:30-44, Luke 9:10-17, John 6:1-16).
Next follows the healing of Naaman, the army commander of the king of Aram. Elisha sent a message advising him to dip his body seven times in the Jordan river, after which he was cured of leprosy (see 2 Kings 5:1-19). It was as a result of his own greed in asking for clothes and silver that Gehazi (Elisha's servant) received the leprosy Naaman had just been cured of (see 2 Kings: 20-27)
Elisha then causes an iron axe to float 7 be recovered by its borrower. This miracle probably occurred at Jericho (see 2 Kings 6:1-7). Immediately afterwards, Elisha traps an Aramean army, who are struck blind & lead by the prophet to Samaria (see 2 Kings 6:8-23).
Some time later Ben-Hadad, the king of Aram besieged Samaria, which lead to a famine in the city. Elisha prophesied incredible plenty (see 2 Kin 7:1-2) which was soon fulfilled. The Lord God caused the Aramean army to panic & flee, leaving all their possessions behind. The people of Samaria rushed out & took all the plunder (see 2 Kings 7:3-20).
Elisha next visits Damascus, where Israel's enemy Ben-Hadad the king is ill. He sends Hazael (possible a high ranking courtier in Ben-Hadad's court) to fetch Elisha to find out what will become of the king's illness. Elisha prophesies the king's death, and announced to Hazael that he would succeed to the throne, & further prophesied the terrible destruction Hazael would inflict on Israel.
We are told that Elisha suffered bouts of illness himself (see 2 Kings 13:14), and in his last bout he met King Jehoash of Israel & commanded the king to shoot an arrow in prophecy of the kings success in a battle with Aram at Aphek. The king failed to strike the ground many times with the remaining arrows, which meant Israel would defeat Aram only three times in battle.
After filling the position of Israel's prophet for about sixty years, 2 Kings 13:20 reports that Elisha died, but even in death he performed a miracle! 2 Kings 13:20-21 tells of a man's body hastily thrown into Elisha's tomb when Moabite raiders invaded Israel. When the man's dead body touched Elisha's bones, he instantly came back to life.
Return to BC Encylopaedia Index page