Apostle Simon/Peter character design sheet
---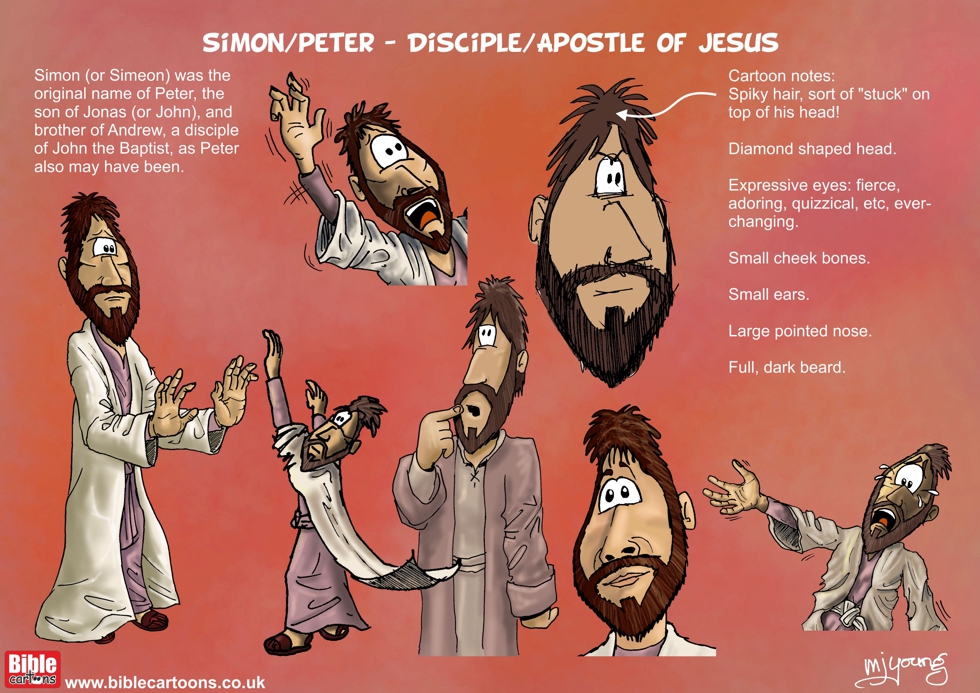 This is my character sheet, or design specification, for the apostle Simon/Peter. The purpose of this sheet is to keep a record of the attributes or characteristics of my drawing, so that I can draw a similar-looking cartoon in all future scenes including Simon/Peter.
I first drew my version of Simon – Peter in March 2009, very early on in the history of Bible Cartoons. Those early pictures were for stories found in John's gospel.
By formalising my ideas on a character design sheet in this way I would have a simple and accessible design reference point, which would remind me of what I had drawn in previous cartoons. By referring to this sheet every time I drew a scene including Simon/Peter I hoped I would be able to draw and colour him to match previous cartoons, ensuring great similarity and therefore continuity between Bible Cartoons featuring Simon/Peter, even if these cartoons were drawn months or even years apart.
Without this character sheet to refer to I might very well accidentally draw a scene where the Simon/Peter character is quite different from previous drawings, which would be a problem if someone views and/or buys several Bible Cartoons and the same person looks quite different in each scene! There is a very real danger of this happening since my abilities and style gradually change and evolve over time, especially as I learn new art techniques and want to incorporate new ideas into my Bible Cartons. By referring to the character sheet I can be confident that I will draw a similar-looking person, even if my artistic skills have undergone change and development over time.
Personal History
A resident of Bethsaida on the Sea of Galilee, Simon Peter was a commercial fisherman before Jesus called him to be a disciple.
In a discussion between Jesus and his disciples (Matthew 16:13-19), Jesus asks, "Who do people say that the Son of Man is?" The disciples give various answers. When he asks, "Who do you say that I am?" Simon Peter answers, "You are the Messiah, the Son of the living God."
At the Last Supper Jesus foretold that Peter would deny him 3 times before the cock crowed. Following his resurrection Jesus reinstated Peter (John 21:15-19).
Apart from Jesus himself, Simon Peter is the only other person known to have walked on water! (Matthew 14:22-34)
Return to BC Encylopaedia Index page