Ahab - son of Omri, king of Israel (divided kingdom) character design sheet
---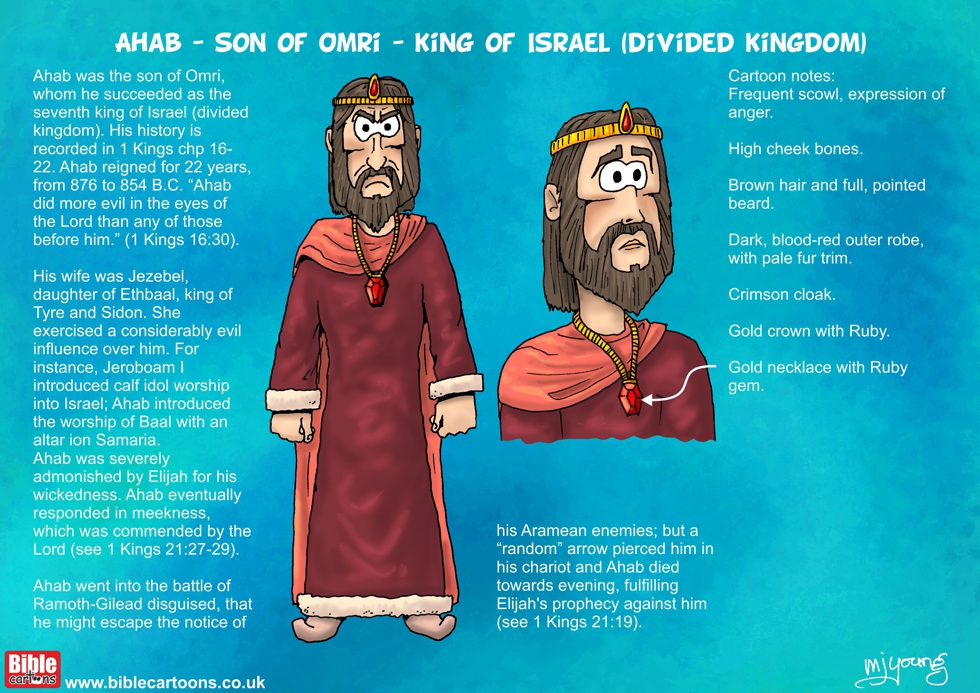 This is my character sheet, or design specification, for Ahab – son of Omri, king of Israel (divided kingdom). The purpose of this sheet is to keep a record of the attributes or characteristics of my drawing, so that I can draw a similar-looking cartoon in all future scenes showing Ahab – son of Omri.
I first drew my version of Ahab in January 2016, with the scene "1 Kings 17 – Elijah fed by ravens – Scene 01 – No rain". Although my style has changed a bit since those early cartoons, I try to maintain the same facial features, colouring and clothing style, so that the figure is recognizably that of Ahab, even when months or years have elapsed between drawings.
Personal History
The name Ahab means "father's brother". He was the son of the seventh king of Israel, Omri. He succeeded his father in the 38th year of Asa (the king of Judah). Ahab reigned for 22 years from Samaria (874-853 B.C.)
Ahab married Jezebel, a Sidonian princess, who was the daughter of Ethbaal, king of Sidon, to cement their peace treaty.
Jezebel urged her husband Ahab, and together they established the worship of the Phoenician idols, and especially of the storm god Baal-Melcarth. Ahab built Baal a temple and an altar in Samaria and made a grove for the worship of the goddess Asherah (see 1 Kings 16:29-33).
Elijah the prophet (from Tishbe) was raised up by the Lord to opposed the Ahab's desertion to foreign gods. Elijah succeeded in retaining many of his countrymen in the worship of the true God (see Elijah on Mt. Carmel in 1 Kings 18).
Return to BC Encylopaedia Index page