Abiram - son of Eliab character design sheet
---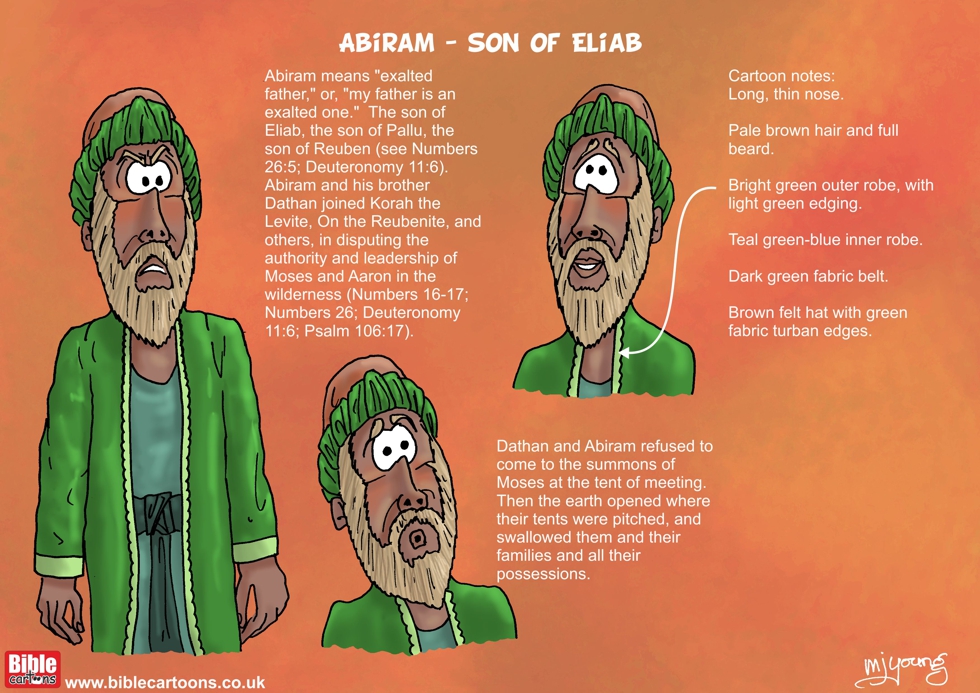 This is my character sheet, or design specification, for Abiram – son of Eliab, who was a member of a rebellion against the leadership of Moses and Aaron after the Exodus and during the wilderness years.
The purpose of this sheet is to keep a record of the attributes or characteristics of my drawing, so that I can draw a similar-looking cartoon in all future scenes showing Abiram. I have included a brief personal history on the sheet as well.
I first drew my version of Dathan in March 2021, with the "Numbers 16 – Korah's rebellion – Scene 01 – Korah opposes Moses" picture.
Personal History
Abiram means "exalted father," or, "my father is an exalted one."
Abiram and Dathan (his brother) trace their ancestry back to Reuben, the first born son of Jacob/Israel. They were the sons of Eliab, who was the son of Pallu, who was the son of Reuben (Numbers 26:5; Deuteronomy 11:6).
These brothers, along with On son of Peleth, Korah son of Izhah & 250 other men joined together to oppose Moses' leadership of Israel, after the Exodus out of Egypt. After refusing to be summoned by Moses, the two brothers, Korah and their families and possessions were swallowed up when the earth cracked open a moment after Moses spoke about it! (see Numbers 16:31-33)
Return to BC Encylopaedia Index page