Bible Book:
Psalms
Bible Book Code:
1901700501
Scene no:
1 of 1
Bible Reference & Cartoon Description
Psalms 17:1-15 (ANIV)
1 [A prayer of David.]
Hear, O Lord, my righteous plea;
listen to my cry.
Give ear to my prayer—
it does not rise from deceitful lips.
2 May my vindication come from you;
may your eyes see what is right.
3 Though you probe my heart and examine me at night,
though you test me, you will find nothing;
I have resolved that my mouth will not sin.
4 As for the deeds of men—
by the word of your lips
I have kept myself
from the ways of the violent.
5 My steps have held to your paths;
my feet have not slipped.
6 I call on you, O God, for you will answer me;
give ear to me and hear my prayer.
7 Show the wonder of your great love,
you who save by your right hand
those who take refuge in you from their foes.
8 Keep me as the apple of your eye;
hide me in the shadow of your wings
9 from the wicked who assail me,
from my mortal enemies who surround me.
10 They close up their callous hearts,
and their mouths speak with arrogance.
11 They have tracked me down, they now surround me,
with eyes alert, to throw me to the ground.
12 They are like a lion hungry for prey,
like a great lion crouching in cover.
13 Rise up, O Lord, confront them, bring them down;
rescue me from the wicked by your sword.
14 O Lord, by your hand save me from such men,
from men of this world whose reward is in this life.
You still the hunger of those you cherish;
their sons have plenty,
and they store up wealth for their children.
15 And I—in righteousness I shall see your face;
when I awake, I shall be satisfied with seeing your likeness.
DRAWING NOTES:
TIME OF DAY:
Unspecified in Bible Text. I have set the scene in the late morning.
LIGHTING NOTES:
Warm sunlight from high above and left illuminates this scene. Shadows are cast to the right of objects and people.
CHARACTERS PRESENT:
A man walking along a steep, treacherous arête (a sharp, narrow ridge found in mountains).
A lion (Panthera leo).
RESEARCH/ADDITIONAL NOTES:
Psalm 17 is an example of a Lament, which is a cry out for help in a situation of distress or frustration. There are more lamentation psalms than any other type.
This Bible Cartoon focuses on verse 5, "My steps have held to your paths; my feet have not slipped." And verse 12, "They are like a lion hungry for prey, like a great lion crouching in cover." Clearly I have drawn a lion crouching under a rocky outcrop, ready to pounce on the man, who is balancing as he scrambles over an arête, which is a sharp, narrow ridge of rock, usually found high up in mountains, and which often exposes a person to the wind and weather blowing up from further down the mountain slopes.
In reference to verse 5, we can see that it would be quite easy for the man to slip, and fall away from the path of the Lord, but, by his own attention and concentration, and also by the grace of God, we hope he will not do so!
Here is the scene without the figure and lion in the foreground.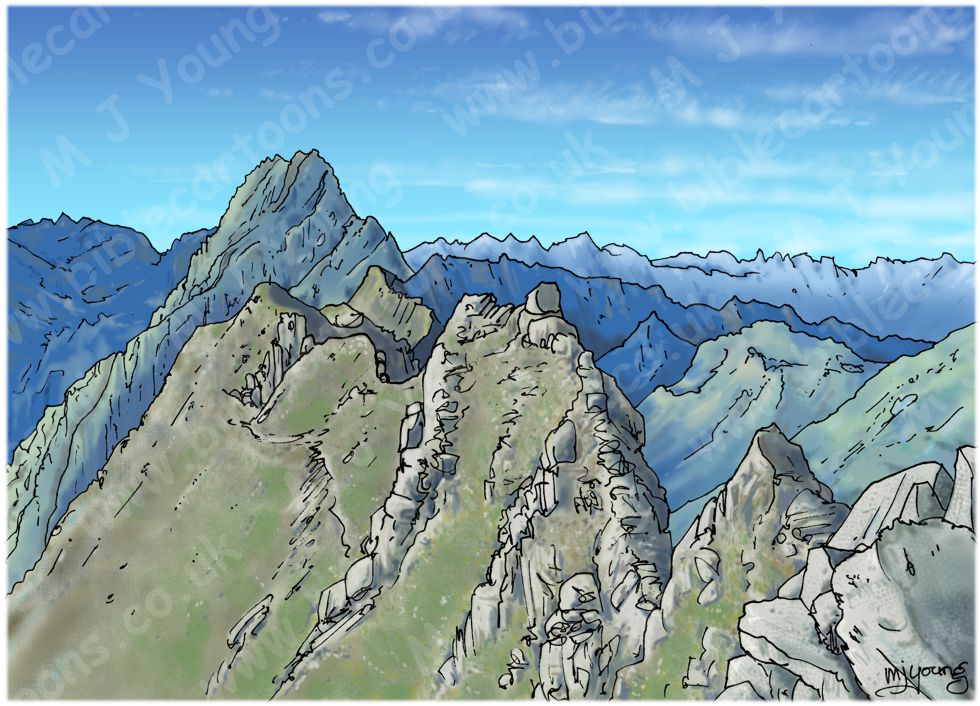 Psalm 17 – My steps have held to your paths – Landscape