Bible Book:
Psalms
Bible Book Code:
1911910501
Scene no:
1 of 7
Bible Reference & Cartoon Description
Psalms 119:105 (ANIV)
Your word is a lamp to my feet and a light for my path.
DRAWING NOTES:
TIME OF DAY:
Night.
LIGHTING NOTES:
The torch held by the front runner provides the main source of yellow-white light for this scene.
CHARACTERS PRESENT:
A man running along a beach at night, carrying a torch, followed by children running behind him.
RESEARCH/ADDITIONAL NOTES:
Psalm 119 is an example of a Wisdom psalm, which probe life's mysteries to teach the congregation about itself & God.
This scene was drawn on 12th July 2012, in the run up to the Olympics in London (excuse the pun.) In it's original form I produced a greyscale drawing – a black & white, pen & ink drawing, using only shades of black, white & grey (see below). This is the same picture, with various shades of blue & yellow introduced.
Here's the scene in the original greyscale form.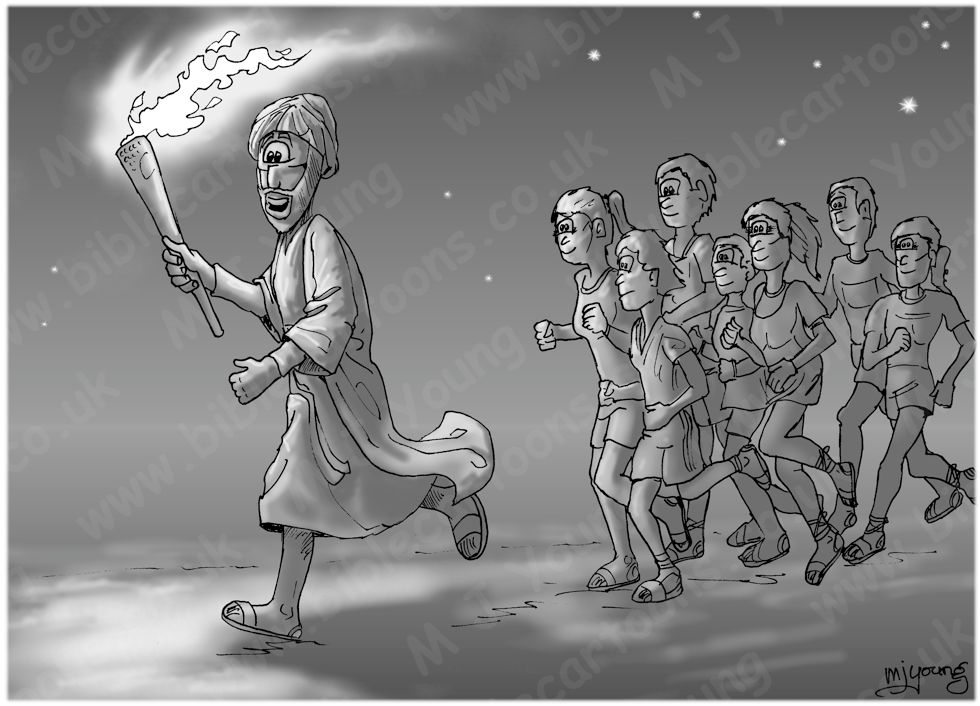 Psalm 119 – Olympic Torch Bearer 980×706px – Greyscale
Although intended to celebrate the Olympic torch, this scene is also a depiction of the Bible (God's Word) which similarly illuminates a Christian's path & helps us to run confidently into the future.

Follow this link to see the greyscale version on the Free Stuff page:
Greyscale version of Psalm 119 – Olympic Torch Bearer
You will need to scroll down that page to see the picture!