Bible Book:
Proverbs
Bible Book Code:
2000700201
Scene no:
2 of 2
Bible Reference & Cartoon Description
Proverbs 7:24-27 (NLT)
24 Listen to me, my sons, and pay attention to my words. 25 Don't let your hearts stray away toward her [the adulteress]. Don't wander down her wayward path. 26 For she has been the ruin of many;
numerous men have been her victims. 27 Her house is the road to the grave. [1] Her bedroom is the den of death.
[1]
Hebrew, to Sheol.
DRAWING NOTES:
TIME OF DAY:
Verse 9 of this chapter sets the scene at twilight.
LIGHTING NOTES:
Unspecific – candle or torch light from above & the sides of the scene.
CHARACTERS PRESENT:
A simpleminded young man who lacked common sense & an immoral woman, or adulteress.
RESEARCH/ADDITIONAL NOTES:
As in the previous scene: notice also that the woman has Delphinium (Violet Larkspur) on her pillow. All parts of the plant contain the alkaloid delphinidin which is highly toxic. If ingested in large quantities this toxin causes death. The flowers look pretty & attractive on the outside, but are poisonous & deadly on the inside. That is a flower metaphor for the adulterous woman, who's attentions bring potential death to the young man.
As verse 27 states: 'Her house is the road to the grave. Her bedroom is the den of death.' I wanted to show the true nature of the danger the simpleminded young man is in. We see this scene with "spiritual eyes" & it becomes visible: the woman is death, represented by her skull head. Her bedroom is the den of death: the bedposts are transformed into bat-winged, skull heads; the flowing drapes are now transformed into curling, intense flames of hell. Notice that they are curling around the young man, ready to destroy him.
Here's the scene in greyscale form, which I create before I colour up a scene, to get the tone (light and shade) right.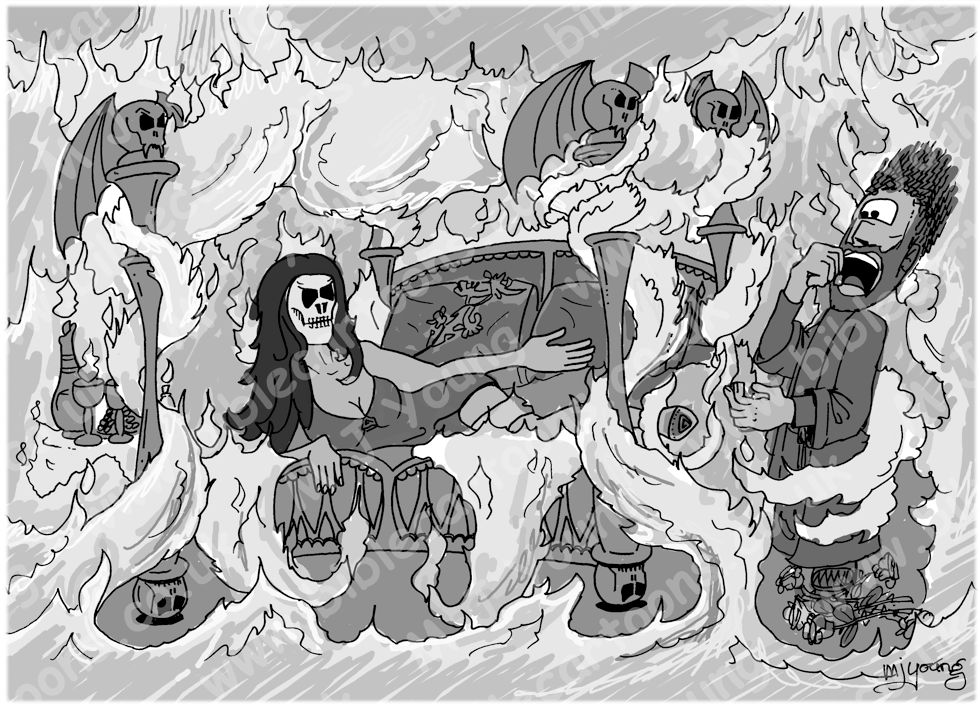 Proverbs 07v01-23 – Fool and Adultress – Scene 02 – Den of Death – Greyscale

Close-up of the man's reaction.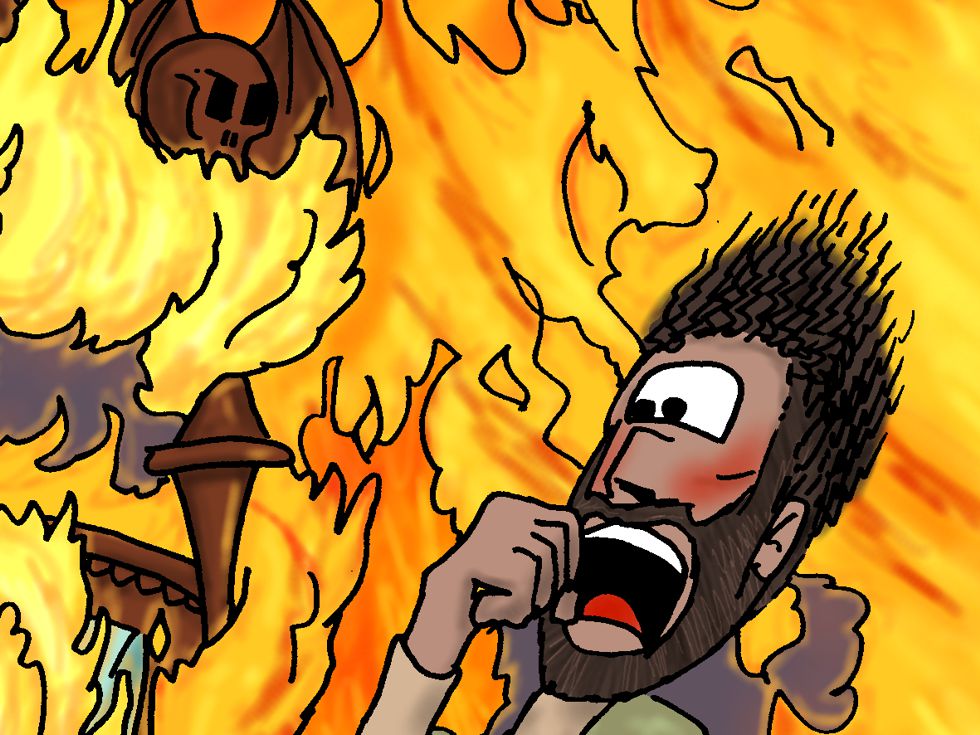 Proverbs 07v01-23 – Fool and Adultress – Scene 02 – Den of Death – PARTIAL