Bible Book:
Matthew
Bible Book Code:
4001801201
Scene no:
2 of 5
Bible Reference & Cartoon Description
Matthew 18:10-14 (NLT)
10 "See that you do not look down on one of these little ones. For I tell you that their angels in heaven always see the face of my Father in heaven. [1]
12 "What do you think? If a man owns a hundred sheep, and one of them wanders away, will he not leave the ninety-nine on the hills and go to look for the one that wandered off? 13 And if he finds it, I tell you the truth, he is happier about that one sheep than about the ninety-nine that did not wander off. 14 In the same way your Father in heaven is not willing that any of these little ones should be lost."
[1]
Some manuscripts, heaven. 11 The Son of man came to save what was lost.
DRAWING NOTES:
TIME OF DAY:
Late morning.
LIGHTING NOTES:
Light comes from the sun high on the right hand side of this picture, virtually overhead.
CHARACTERS PRESENT:
Shepherd.
RESEARCH/ADDITIONAL NOTES:
This is the second scene in the series, The Parable of the Lost Sheep. I found three reference photographs on the internet for the landscape, & amalgamated various bits of them to create this fictional scene. The photographs are of Nahal Zohar, which is a wadi (riverbed, mostly dried up in summer) in southern Israel , on the border between northeastern edge Negev and Judean Desert.
Here's the scene without the figure.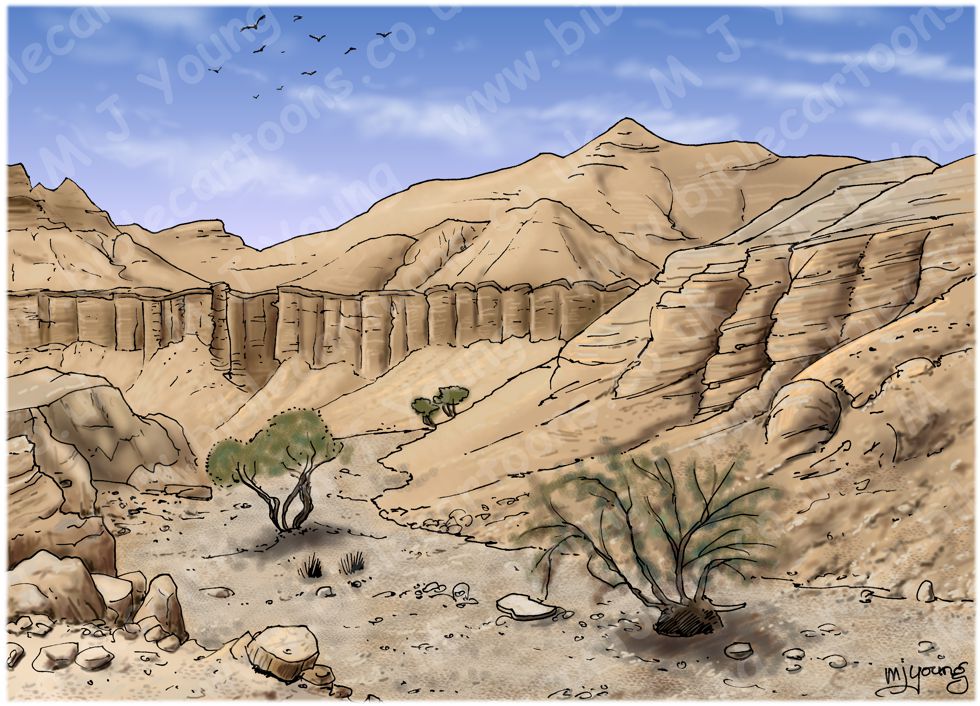 Matthew 18 – Parable of lost sheep – Scene 02 – Searching – Landscape