Bible Book:
Mark
Bible Book Code:
4101601001
Scene no:
7 of 7
Bible Reference & Cartoon Description
Mark 16:10-11 (NLT)
[Longer Ending of Mark]
10 She [Mary Magdalene] went to the disciples, who were grieving and weeping. 11 But when she told them that Jesus was alive and she had seen him, they didn't believe her.
DRAWING NOTES:
TIME OF DAY:
This scene must be later in the morning of Easter Sunday, since Mary Magdalene had encountered the risen Jesus at sunrise, & then had to walk/run back to where the disciples were in Jerusalem. Therefore this scene is set in the early morning.
LIGHTING NOTES:
Light from the early morning sun can be seen on the wall behind Mary Magdalene.
There is an unseen oil lamp to the right of the disciples, which gives a warm yellow glow to the people nearest the right hand side of the table.
CHARACTERS PRESENT:
From left to right (back row): Mary Magdalene (with arm raised), Thomas/Didymus (aka Doubting Thomas), Simon/Peter, John (son of Zebedee), A serving woman carrying a tray of fruit, James (son of Zebedee), Andrew.
From left to right (front row, backs of characters): Matthew/Levi, Bartholomew/Nathaniel, Simon the zealot.
RESEARCH/ADDITIONAL NOTES:
This scene forms part of the Easter series, from Mark's Gospel.
In this scene we can see Mary Magdalene having just run into the upper room in which the disciples are staying. I have drawn her with an upraised arm, she is saying "Jesus has risen!" I have drawn various expressions to this amazing news on the faces of the people in the room, see below. No matter what the initial reaction of the disciples was (doubt, shock, etc) there were soon to learn the truth: that Jesus had indeed risen from the grave, just as he promised them he would. This is the most remarkable, amazing, life-affirming news that has ever happen on this earth. No wonder we celebrate Easter!

A note about facial expressions.
I wanted to indicate a number of responses to Mary's incredible news, including doubt, disbelief, hope, etc.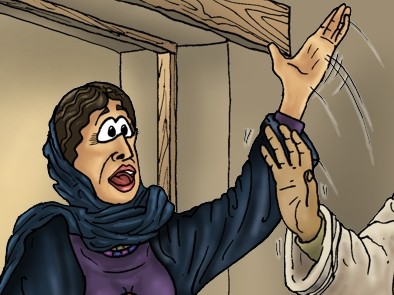 Mark 16 – Resurrection of Jesus – Scene 07 – Disbelief – PARTIAL 01
Close-up of Mary Magdalene, showing her expression of joy, amazement, hope, confidence, etc.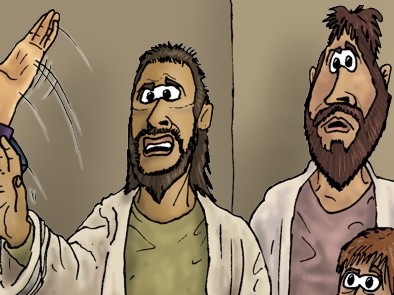 Mark 16 – Resurrection of Jesus – Scene 07 – Disbelief – PARTIAL 02
Close-up of Thomas/Didymus (standing next to Mary, with his hand upraised) who has an expression of disbelief – after all, he was described as "doubting Thomas"!
Next to Thomas/Didymus is Simon/Peter, who's expression shows a little surprise, shock & the dawning of hope… "Could it be true; has Jesus come back to life, as he said he would?"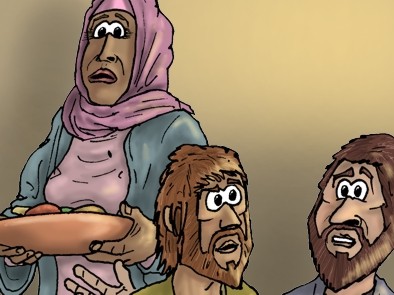 Mark 16 – Resurrection of Jesus – Scene 07 – Disbelief – PARTIAL 03
Close-up James (son of Zebedee & brother of John) who looks like he is having a bit of an argument with Andrew (brother of Simon/Peter)! James & John were called Boanerges (which means Sons of Thunder) by Jesus (see Mark 3:17), so I like to show then looking stern, cross, argumentative, etc whenever possible! Andrew's expression is a little startled – perhaps by James, or else at the sudden arrival of Mary & her astonishing news!
The serving woman (with the tray of fruit) looks pretty perplexed too!

A note about pottery.
I wanted to make sure the pottery I drew in this scene was accurate & representative of that found in a home in 1st Century Palestine. I found a good archeological article on the internet entitled "Excavation of a village house in Nazareth" which has a useful photograph of pottery from the site. I have used it to form the basis of my earthenware seen on the table in my scene, before the disciples.
[Source: http://www.bible-archaeology.info/nazareth.htm]