Bible Book:
John
Bible Book Code:
4300200801
Scene no:
3 of 4
Bible Reference & Cartoon Description
John 2:8 (ANIV)
Then he [Jesus] told them [the servants], "Now draw some out and take it to the master of the banquet."
DRAWING NOTES:
TIME OF DAY:
Unspecified by the Bible narrative. I have set this scene in the mid afternoon (a few moments after the previous scene).
LIGHTING NOTES:
The sun (unseen & on the right) is high in the sky, casting shadows to the left of figures & objects.
CHARACTERS PRESENT:
In the foreground are two servants pouring out the water miraculously transformed into wine, into a jug.
On the left is the master of the banquet (in rich, yellow robes), having a servant pouring him some of the wine from a jug. He is talking to someone at his table, unseen in the picture.
Un-named wedding guests (with their backs to the viewer) sitting on the same table as the master of the banquet.
RESEARCH/ADDITIONAL NOTES:
This scene takes place moments after the last picture. It shows two of the servants pouring out wine from a large water jar. They look surprised/amazed as they do so! As I indicated in the previous scene, the filled water jars would be very heavy, hence I have 2 servants pouring out wine from a single jar.
On the left is the master of the banquet, being served wine by a servant. As verse 9 points out, he did not realise the miraculous nature of the wine.
I decided to add the rose flower arrangements in the foreground, & climbing roses on either side of the archway in the background, to suggest that this event happened at a wedding.
"Master of the banquet" was a position of honour; one of his primary duties was to regulate the distribution of wine to prevent excess that would (especially in a Jewish context) ruin the party. At least in Greek banquets, guests elected this person to preside over the entertainment and to control the level of dilution for the wine; thus some observers might have held him partly responsible for the host's running out of wine prematurely.
[Source: Bible Background Commentary]
Here is the scene without the figures in the foreground.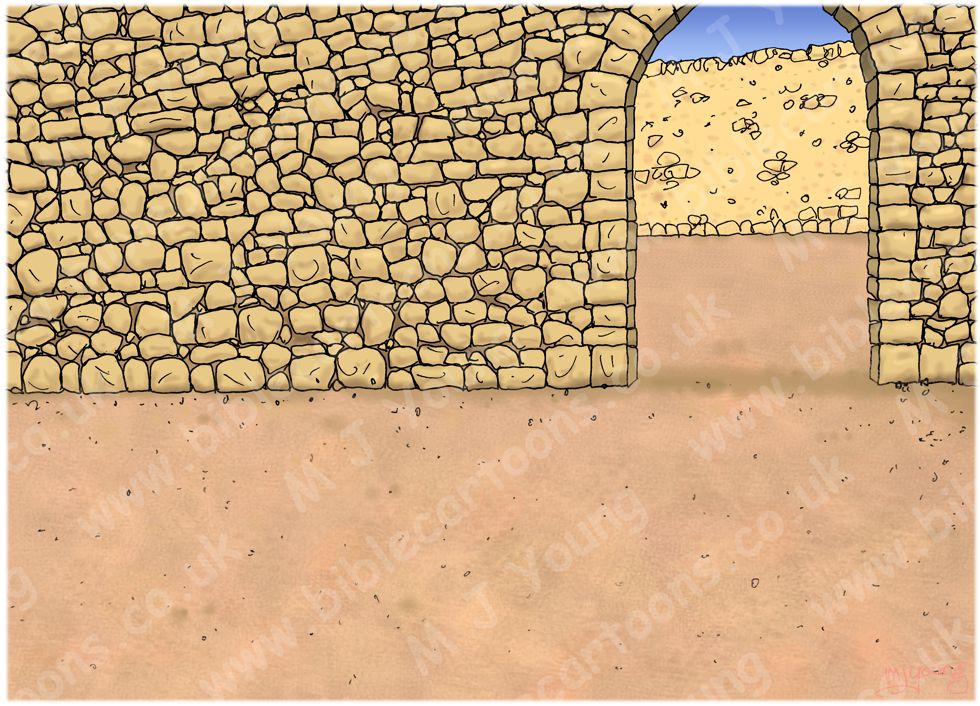 John 02 – Wedding at Cana – Scene 03 – Draw some wine out – Background
Here is the original pencil sketch I drew to design this scene.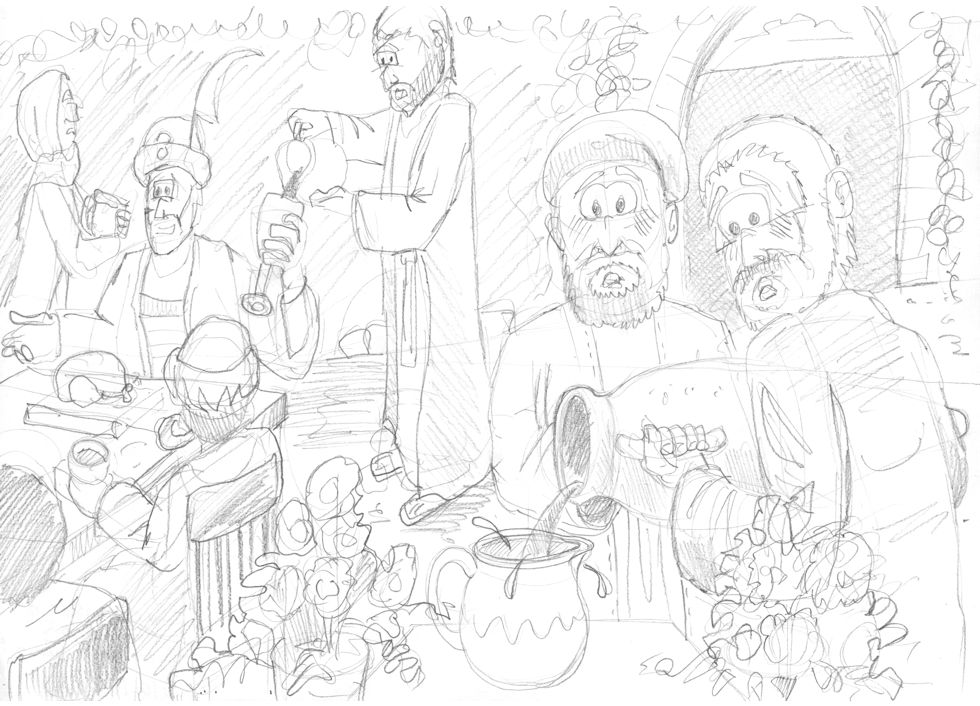 John 02 – Wedding at Cana – Scene 03 – Draw some wine out – Greyscale