Bible Book:
Exodus
Bible Book Code:
0201202901
Scene no:
11 of 11
Bible Reference & Cartoon Description
Exodus 12:29-30 (ANIV)
29 At midnight the Lord struck down all the firstborn in Egypt, from the firstborn of Pharaoh, who sat on the throne, to the firstborn of the prisoner, who was in the dungeon, and the firstborn of all the livestock as well. 30 Pharaoh and all his officials and all the Egyptians got up during the night, and there was loud wailing in Egypt, for there was not a house without someone dead.
DRAWING NOTES:
TIME OF DAY:
At Midnight.
LIGHTING NOTES:
The scene is lit by the moon, which is high in the sky. There is warm lamp or fire light spilling out of an Egyptian home as well.
CHARACTERS PRESENT:
Various Egyptian parents, holding their dead first born children in a village. There are also some distant figures in another village, on the horizon, standing on their roof tops & grieving.
We can also see a donkey & it's foal in a courtyard on the left of the picture. And a cow with its calf on the right of the scene. The scriptures tell us that the first born of both humans & animals died, which you can see in this scene. The donkey & cow are nuzzling their dead offspring.
RESEARCH/ADDITIONAL NOTES:
This scene is entirely made up from my imagination, although I looked at reference photographs for the donkey, cow & olive tree in the centre of the picture.
I like monochromatic scenes. The dominant blue/violet colour unites the various elements of the scene into a single whole. I think the scene is rather sad… as I have had to depict all that loss & grief.
See the blog entry relating to this scene (December 2010) to see a close up of the grieving parents in the foreground.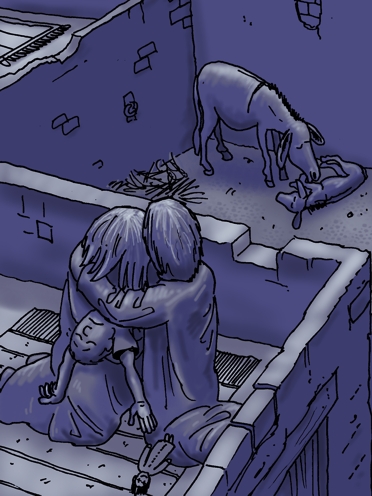 Exodus 09 – the ten plagues of Egypt – Plague on the first born – PARTIAL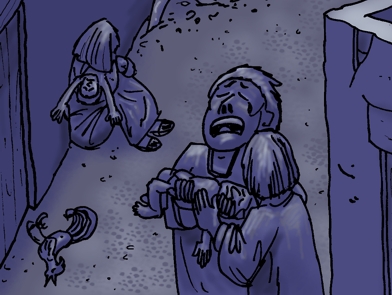 Exodus 09 – the ten plagues of Egypt – Plague on the first born – PARTIAL 02
---
Bible Doctrine Notes
12:29-42

HISTORY

, Deliverance (3.32D)
The Exodus events delivered the Hebrew people from slavery in Egypt, and into the creation of a new nation. The events became the primary evidence of God's ability and will in intervening in history for the nation of Israel. The exodus was not limited to Israelites; other nationals left with them, showing again God's universal purpose and interest.