Bible Book:
1 Thessalonians
Bible Book Code:
5200500401
Scene no:
1 of 1
Bible Reference & Cartoon Description
1 Thessalonians 5:4-11 (ANIV)
4 But you, brothers, are not in darkness so that this day should surprise you like a thief. 5 You are all sons of the light and sons of the day. We do not belong to the night or to the darkness. 6 So then, let us not be like others, who are asleep, but let us be alert and self-controlled. 7 For those who sleep, sleep at night, and those who get drunk, get drunk at night. 8 But since we belong to the day, let us be self-controlled, putting on faith and love as a breastplate, and the hope of salvation as a helmet. 9 For God did not appoint us to suffer wrath but to receive salvation through our Lord Jesus Christ. 10 He died for us so that, whether we are awake or asleep, we may live together with him. 11 Therefore encourage one another and build each other up, just as in fact you are doing.
DRAWING NOTES:
TIME OF DAY:
Unspecified in Bible text.
LIGHTING NOTES:
The background figures (monochromatic) are lit from above, the lamp illuminates the 2 Christian figures in the foreground.
CHARACTERS PRESENT:
Two Christians in foreground, various unbelievers getting drunk in the background.
RESEARCH/ADDITIONAL NOTES:
This is my fairly literal interpretation of the Apostle Paul's comments in 1 Thessalonians 5:4-11. I particularly wanted to pick up on Paul's contrast between the lifestyle & activities of Christian & non-Christians. I did this by illustrating a group of people in a tavern/pub getting drunk, with two figures obviously not part of that group, in the foreground. I further separated these two groups by showing the foreground figures in full colour, whilst having the background figures in monochrome (single colour, with shadows & highlights) which sets the two groups apart, based on colouring style.
My scene picks out verse 7 "For those who sleep, sleep at night, and those who get drunk, get drunk at night." The rowdy behaviour of the people in the background represents non-Christians getting drunk.
In case you are wondering what the figures in the background look like, here they are without the foreground figures present: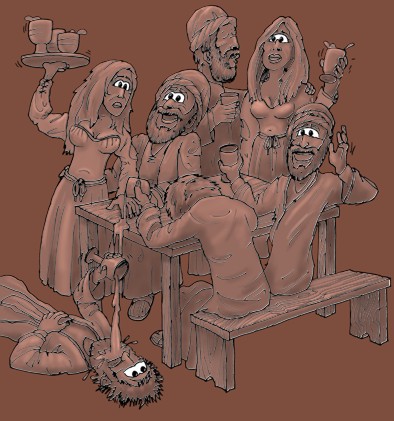 2 Thessalonians 05 – Personal watchfulness – Scene 02 – Self-control (Backgnd Figures)

The apostle Paul tells the Thessalonians Christian church in verse 4, "But you, brothers, are not in darkness…" then in verse 5 he continues "You are all sons of the light and sons of the day." That's why I illustrated the Christian couple in the foreground with a daylight-like grow surrounding them.
My intention is not to present a judgmental piece of artwork, rather it is to contrast between the two approaches to life, based on the encouraging words of the apostle Paul to the church in Thessalonica.
Verse 4 "this day" refers to "The Day of the Lord" (see 1 Thessalonians 5 verse 1) which is the second coming of Jesus at the end of history.
I read in a Bible Commentary an interesting point (that I had not noticed before) that every chapter in Paul's first letter to the Thessalonian church ends with a reference to the return of Jesus Christ (see 1 Thessalonians 1:10; 2:19; 3:13; 4:13-18, 5:23).