More fun needed on Bible Cartoons web pages!
---
Posted 27 Mar 2018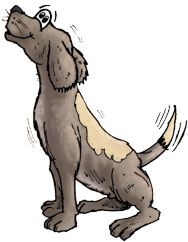 The dog from Acts 02 – Pentecost – Scene 12 – Sharing

Follow this link to see this Bible Cartoon on the BC Gallery page, with download & purchase options:
Bible Cartoon: Acts 02 – Pentecost – Scene 12 – Sharing


I've decided there needs to be more "Ohhh!" and "Ahhh!" when people see the Bible Cartoons!
I've spent some of yesterday and all of today adding little pictures to the bottom of some of the Bible Cartoon pages. I've looked through the cartoons and isolated little elements that would lend themselves to this idea of adding "Ohhh!" and "Ahhh!" to the cartoons. Generally I have isolated cute little animals, flowers, dogs, etc, to add to web page bases, but have also added lizards, people, fish, objects, etc and put them at the bottom of the relevant pages.
Although the objects that have been isolated appear at the bottom of the page they are from, but it occurs to me that I can also add these objects to other articles, in other places on the BC website. I could put a cute, furry animal at the bottom of a blog for instance… anything to get the "Ohhh!" and "Ahhh!" factor increasing!
here are a few examples of the images I'm talking about, with links to their respective pages, so you can see them in situ.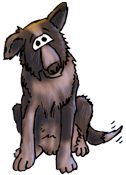 The dog from Mark 14 – Trial of Jesus – Scene 01 – In the high priest's courtyard




The baby from Exodus 02 – Moses flees to Midian – Scene 04 – Moses marries




The foolish man, from Matthew 07 – Parable of wise and foolish builders – Scene 06 – Standing on the rock


Comments
Comments are turned off for this article
---
Go to Blog Archive page