Hosea goes green on Bible Cartoons!
---
Posted 18 Sep 2015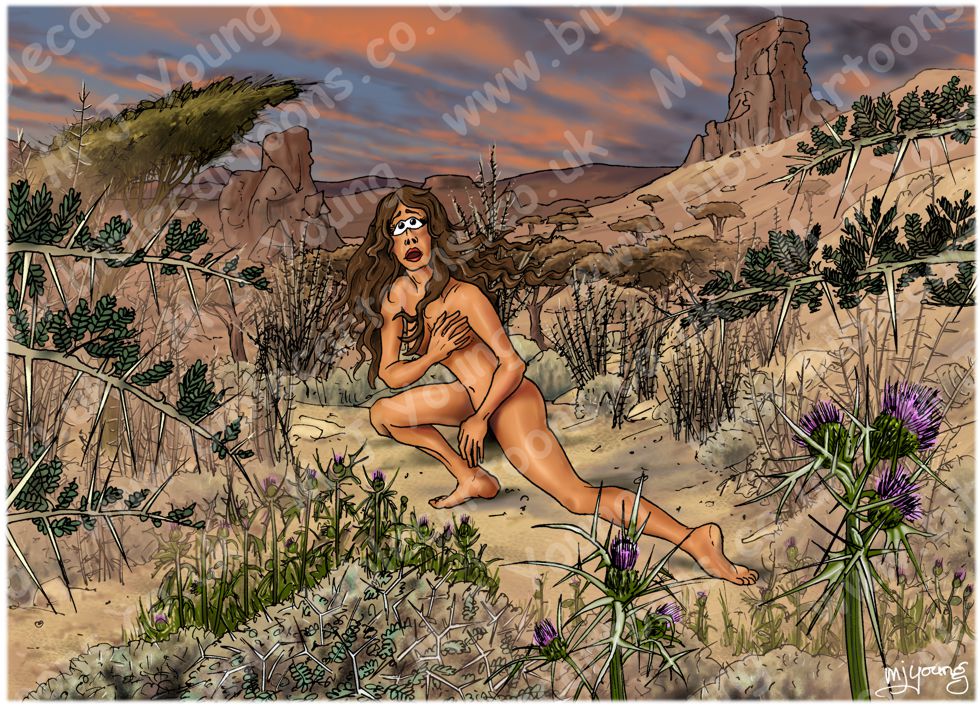 Hosea 02 – Restored via punishment – Scene 01 – Israel's punishment

Follow this link to see this Bible Cartoon on the BC Gallery page, with download & purchase options:
Bible Cartoon: Hosea 02 – Restored via punishment – Scene 01 – Israel's punishment

I've just finished the very first Bible Cartoon I've ever drawn for the Bible book "Hosea". That means that on the website "Search by Bible Book" page, the box which has been red (indicating that there are no cartoons in that book) has now turned green – hurray!
The book of Hosea is all about Israel's unfaithfulness to God, & what the Lord has to say about that, using the prophet Hosea. Chapter 2 is the beginning of the Lord's assessment of Israel's behaviour. The Lord likens Israel to a woman & He says He will strip her naked & make her like a desert. That created a scene in my imagination, & I set to drawing it. I wanted the woman (the personification of the country of Israel) to be surrounded by thorn bushes. I have done a lot of research about the plants of the Holy Lands, & soon found some species that would work well in this scene. I have arranged the thorny bushes so as to hem the "woman" in, as the Lord intends to do to the nation of Israel, in this metaphor of an adulterous person.
I have carefully placed the woman's hair & hands & have added shadows in vital parts of the scene to preserve modesty, but wanted to show the shocked surprise of the "woman" & her nakedness, as well. I was trying to convey the woman's shocked expression as she suddenly finds herself naked in a hostile desert; she has fallen to the ground, covering herself as best she can.
Comments
Comments are turned off for this article
---
Go to Blog Archive page