Camel, needle and Jesus - what's most important to us?
---
Posted 01 Mar 2018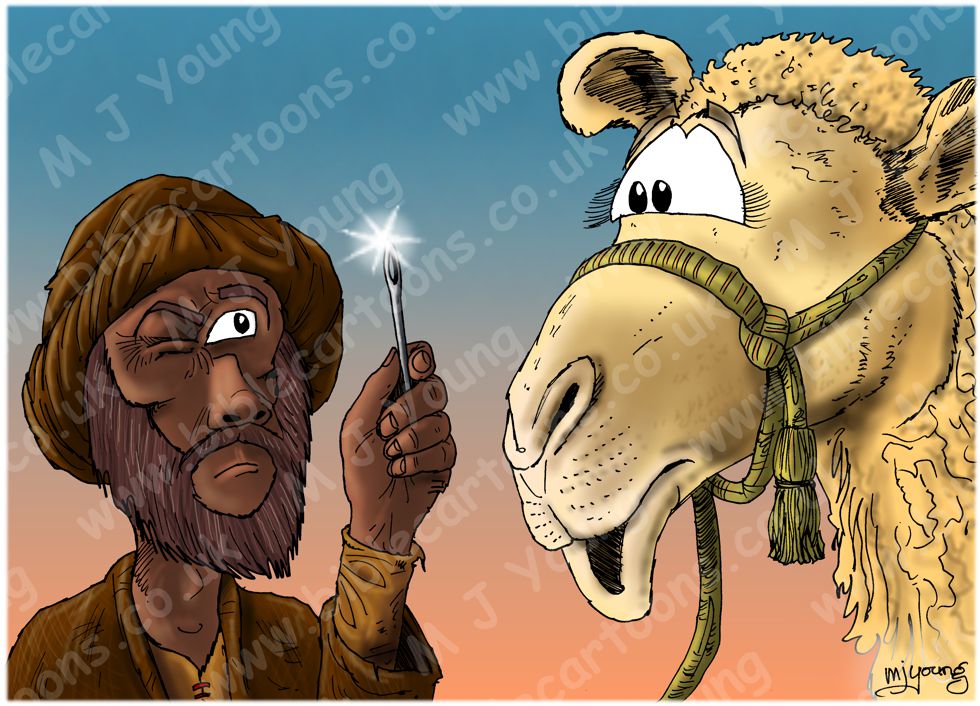 Matthew 19 – The rich young man – Scene 03 – Camel

Follow this link to see this Bible Cartoon on the BC Gallery page, with download & purchase options:
Bible Cartoon: Matthew 19 – The rich young man – Scene 03 – Camel


Mark 10:25-27 (NLT)
[Jesus said], 25 "It is easier for a camel to go through the eye of a needle than for a rich person to enter the Kingdom of God!"
26 The disciples were astounded. "Then who in the world can be saved?" they asked.
27 Jesus looked at them intently and said, "Humanly speaking, it is impossible. But not with God. Everything is possible with God."
I like the Bible Knowledge Commentary notes relating to this passage – they make good sense to me:
"When Jesus told the disciples that it is hard… for the rich to enter God's kingdom, they were amazed (Greek, ethambounto, "surprised"; cf. 1:27; 10:32) because in Judaism riches were a mark of God's favour and thus an advantage, not a barrier, in relation to God's kingdom. Only in the Synoptic Gospels (Matthew, Mark and Luke) did Jesus address the Twelve as children (cf. John 13:33 [1]), reflecting their spiritual immaturity.
In light of their surprise Jesus repeated and clarified His original statement. If the words "for those who trust in riches" (NIV marg.) are omitted, Mark 10:24 (which is unique to Mark) applies to everybody who is confronted with the demands of God's kingdom. If included, they explain the rich man's difficulty and expose the danger of trusting in riches.
The humorous comparison (v. 25) employs a memorable Jewish proverb to depict the impossible. It is easier by comparison for a camel, the largest animal in Palestine at that time, to go through the eye of a common sewing needle (the smallest opening) than for a rich man who trusts in his riches to enter God's kingdom.
10:26-27. Jesus' statement (v. 25) greatly amazed (Greek, exeplessonto, "astounded, struck out of their senses, overwhelmed"; cf. 1:22; 6:2; 7:37; 11:18) the disciples. They carried it to its logical conclusion: If it is impossible for a rich man to enter God's kingdom, Who then can be saved? (delivered to life eternal; cf. 10:17, 30)
Jesus offset their concern by declaring that salvation is impossible with men—beyond their human merit or achievement—but not with God. It is not beyond His power to bring about because all things necessary for people's salvation—rich and poor alike—are possible with God (cf. Job 42:2 [2]). What people cannot effect, God can and does by His grace (cf. Eph. 2:8-10 [3])."
[Source: Bible Knowledge Commentary]

So it seems that wealth, of itself, may be THE barrier to us gaining eternal life, in an individual person's case where wealth is our idol or god. Of course there may be some other idol in our lives which acts as a barrier to us gaining eternal life. I guess we would have to consider what is most important to us, individually, in order to figure out what that particular thing is. No doubt it would relate to what we cherish most and hold most dear, over and above the Lord Jesus Christ.
Having cherished possessions; important people in our lives; etc is not a problem, UNLESS they are higher in our esteem than Jesus is… then they ARE a barrier to us wholeheartedly devoting ourselves to Him and His kingdom. The question is: what is central and of most importance to us, we have a very real problem if ANY THING or ANYONE is more important or more central to our security and significance than Jesus is.

Footnotes:
[1]
John 13:33 (NLT)
33 Dear children, how brief are these moments before I must go away and leave you! Then, though you search for me, you cannot come to me—just as I told the Jewish leaders.
[2]
Job 42:2 (NLT)
2 "I know that you can do anything, and no one can stop you…"
[3]
Ephesians 2:8-10 (NLT)
8 God saved you by his special favour when you believed. And you can't take credit for this; it is a gift from God. 9 Salvation is not a reward for the good things we have done, so none of us can boast about it. 10 For we are God's masterpiece. He has created us anew in Christ Jesus, so that we can do the good things he planned for us long ago.
Comments
Comments are turned off for this article
---
Go to Blog Archive page