2016 Bible motto for Bible Cartoons
---
Posted 06 Jan 2016
I think I have our motto for Bible Cartoons for 2016. We've been considering what the Lord might want us to do & be in 2016, & this particular Bible verse has been "buzzing" around in my mind for a number of days, so I think this is it:
"Whoever wants to be my disciple must deny themselves and take up their cross daily and follow me."
This powerful directive from Jesus comes in Matthew 16:24-27, Mark 8:34-38 & Luke 9:23-26.
I'm not sure how this will impact us, but already I have a few ideas. I'm certain that it WILL impact us.
Part of the process of denying self, taking up cross, & following Jesus, will involve a "possession purge". We've already "earmarked" some CD's, DVD's, books & clothes for recycling. I like to refer to that as "travelling lighter within this world" ! There will be much more "stuff" I'm sure we can recycle & bless other people with in the months ahead.
Although "possession purge" & house clear up is helpful, I expect the biggest changes will be in my heart, which will lead to changes in my various roles, including Follower of Christ, husband & artist.
I'm not sure how this motto will "play out" in terms of Bible Cartoons itself, but I am sure there will be an impact, & a positive one at that. Provided I manage to get closer to Jesus & live more in accordance with his love & what the Bible reveals, then I'm sure Bible Cartoons will benefit as well. I'm very keen to see what Jesus will require of me, & what opportunities He will open up for us. Provided He gets the glory, & we follow closely His directed path, I don't mind too much what happens!

The full quote from Jesus reads:
Luke 9:23-26 (NIV)
Jesus Predicts His Death
23 Then he said to them all: "Whoever wants to be my disciple must deny themselves and take up their cross daily and follow me. 24 For whoever wants to save their life will lose it, but whoever loses their life for me will save it. 25 What good is it for someone to gain the whole world, and yet lose or forfeit their very self? 26 Whoever is ashamed of me and my words, the Son of Man will be ashamed of them when he comes in his glory and in the glory of the Father and of the holy angels.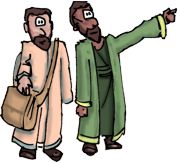 Comments
Comments are turned off for this article
---
Go to Blog Archive page