Facebook advert: The Crucifixion - "It is finished!"
---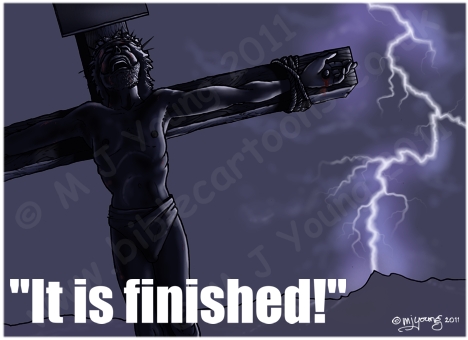 John 19 – The Crucifixion – "It is finished!"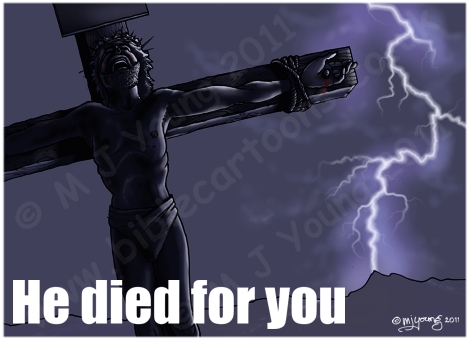 John 19 – The Crucifixion – He died for you
During the run up to Easter 2011, we have been advertising on Facebook, to make people aware of the Bible Cartoons Project (BCP) & to highlight the Easter cards & Easter cartoons we have available.
Facebook adverts are only very small, typically the image/photo/cartoon you see on one is only 99 × 72 pixels, which isn't a lot! It can be quite hard to make out what the image is showing! So I thought it would be a good idea to show them larger here.
This particular advert image shows Jesus hanging on the cross, with the darkness all around him. Matthew's gospel tells us that from the 6th hour (12 noon) until the 9th hour (3pm) darkness came over the land. (Matthew 27:45, Mark 15:33, Luke 23:44, whilst John's gospel doesn't mention this darkness.) Similarly, there is no mention of lightning, but I have added a bolt of it to provide stark & dramatic lighting to the scene.
A friend suggested the "He died for you" text – so I thought I'd show a version of the illustration with that text as well (see below.)
Perhaps this image would make a dramatic poster advertising a church's Easter service or march of witness? If you want to purchase it for that purpose (without the watermark) then follow the link below, & click on one of the "add to cart" buttons, & use the illustration in this way.

John 19 – The Crucifixion – It is finished (Dark version)