Bible Book:
2 Corinthians
Bible Book Code:
4701200701
Scene no:
1 of 1
Bible Reference & Cartoon Description
Corinthians 12:7-10 (ANIV)
7 To keep me from becoming conceited because of these surpassingly great revelations, there was given me a thorn in my flesh, a messenger of Satan, to torment me. 8 Three times I pleaded with the Lord to take it away from me. 9 But he said to me, "My grace is sufficient for you, for my power is made perfect in weakness." Therefore I will boast all the more gladly about my weaknesses, so that Christ's power may rest on me. 10 That is why, for Christ's sake, I delight in weaknesses, in insults, in hardships, in persecutions, in difficulties. For when I am weak, then I am strong.
DRAWING NOTES:
TIME OF DAY:
Not specified in the text.
LIGHTING NOTES:
The lighting for this scene is diffused, coming from in front of the figure & above him. There is a second source of light behind the figure, providing the halo of colour & light that silhouettes the thorn.
CHARACTERS PRESENT:
The apostle Paul.
RESEARCH/ADDITIONAL NOTES:
There was no special research necessary for this scene.
Commentators have suggested a number of different scenarios to explain Paul's term "Thorn in the flesh": (1) Paul was afflicted with a serious illness, (2) Paul was imprisoned in Ephesus, an event to which he might have been alluding when he wrote of fighting "wild beasts in Ephesus" (see 1 Corinthians 15:23-31), (3) Paul had feared for his life during the riot instigated by the Ephesian silversmiths (see Acts 19:31).
In terms of physical afflictions, some commentators think Paul might have suffered from severe ear ache, or head ache, like migraine, or some other form of ailment. Still other commentators say that Paul was using the term "thorn in my flesh" to refer to the false teacher who had gone into the Corinthian church & stirred up trouble , strife & discord with his Satan-inspired teachings (See 2 Corinthians 11:13-15, for Paul's description of this false teacher.)
My illustration is simply a picture of a thorn in the side of Paul. It is obviously a very literal interpretation of the thing Paul describes – I don't suggest for one moment that Paul actually had anything like this sticking out of his side! The thorn has barbs which make it difficult or impossible to remove. The lurid, sickly greens of the thorn provide a strong colour contrast with Paul's skin.

Here's the same scene, with a blue background.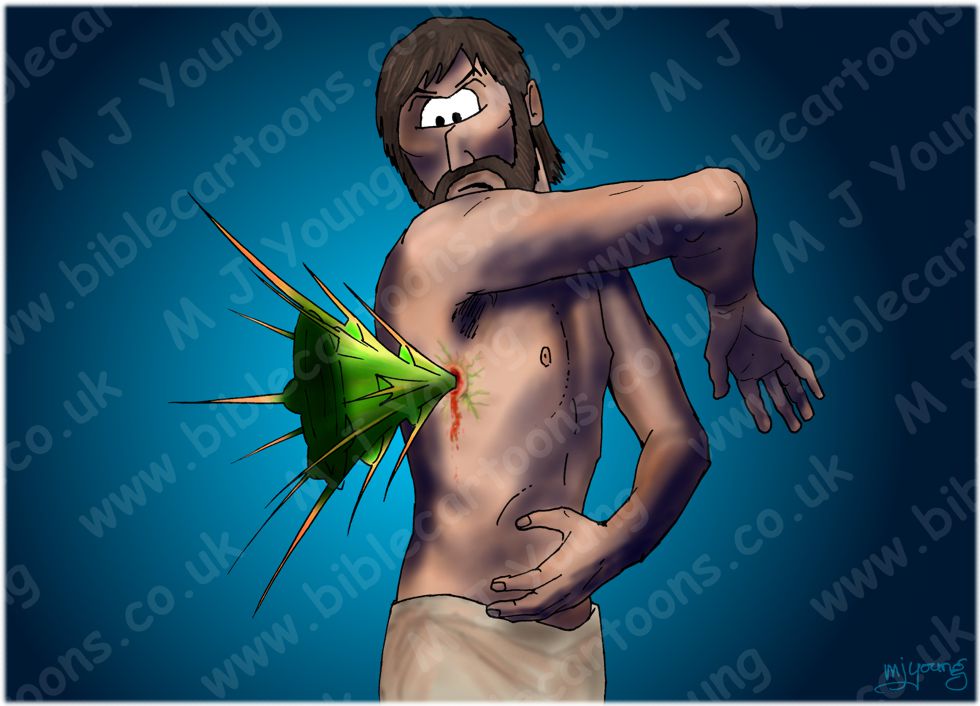 2 Corinthians 12 – Thorn in the flesh – blue

Here's the same scene, with a purple background.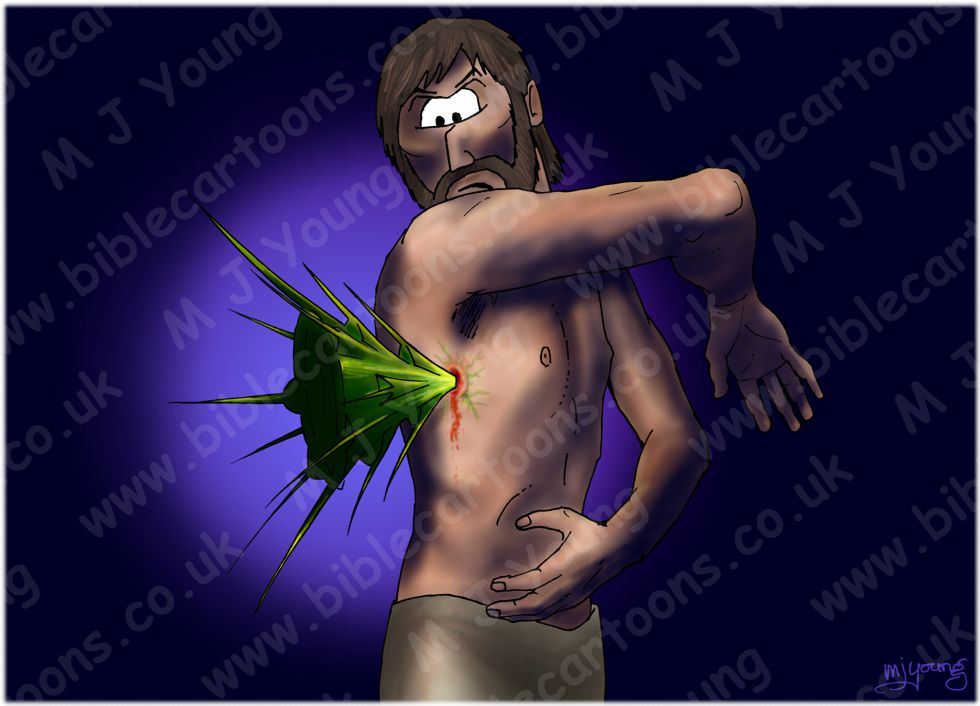 2 Corinthians 12 – Thorn in the flesh – purple

Here's the same scene, with a green background.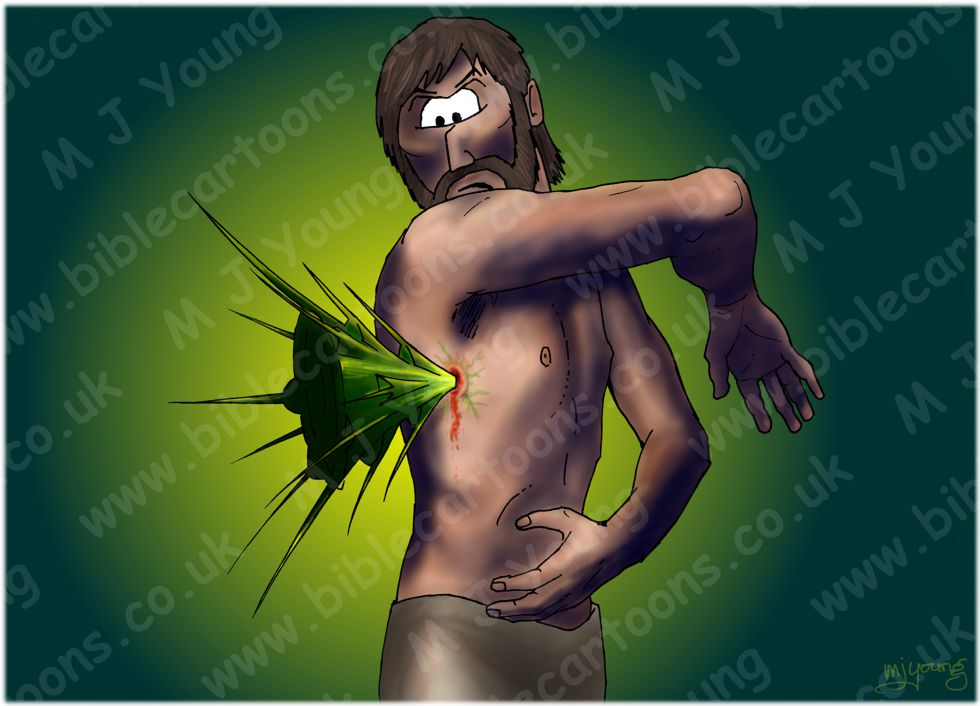 2 Corinthians 12 – Thorn in the flesh – green

Click the blue box below to read my BC Blog article, with more comments about this cartoon.
Blog article: Thorn in the flesh