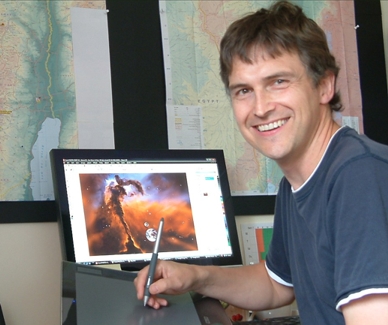 Photo of me in the studio, drawing on Wacom graphics tablet. Maps of Israel on the wall - I've stuck labels all over them relating to locations mentioned in the Bible!
I was born at an early age (!), & grew up in the small village of Orlinbury, Northamptonshire, England, Great Britain.
Apparently I often had a pencil in my hand and occupied my time drawing when I was very young… nothing much has changed in the intervening years!
My family emigrated to Western Australia in the 60's… twice!
I am very happily married & live in the Midlands of Great Britain.
Education
Educated at Nene College (now University of Northampton) I gained a Bachelor of Science Combined Studies Degree, majoring in Earth Science. After several years spent as a penniless pursuer of personal pleasure, I returned to Nene College & achieved success in an Art Foundation Course. Since then I have been employed as a Graphic Designer. In 2007 I left the security of employment & struck out on my own, as a full-time artist, cartoonist, designer & seeker of truth!
Interests
Apart from the obvious interest in art, I have a wide scope of other interests, including running, walking, reading (Christian, sci-fi, fantasy & science), cinema, TV & Film & home computing. I like a wide range of film genres, including adventure, comedy, sci-fi, period drama, etc, although I don't like horror movies. I have a strong sense of curiosity & a healthy awe & sense of wonder for our world & what lies both in the microscopic & telescopic! I like aviation, space, the sciences & technology, whilst enjoying my artistic pursuits… who says you have to chose between science or art, I like them both!
I am a born-again Christian & attend Bingley Baptist church with my lovely wife, in West Yorkshire, UK.
I enjoy an ever-developing personal relationship with Jesus the Christ… something which is readily available to each & every one of us.
Martin Young
Bible Cartoon Artist