Bible Book:
Proverbs
Bible Book Code:
2000800101
Scene no:
1 of 1
Bible Reference & Cartoon Description
Proverbs 8:1-2 (ANIV)
Wisdom's call
1 Does not wisdom call out?
Does not understanding raise her voice?
2 On the heights along the way,
where the paths meet, she takes her stand;
DRAWING NOTES:
TIME OF DAY:
Not specified in the Bible. I have set this scene in the morning.
LIGHTING NOTES:
Sunlight (above and to the left) casts shadows to the right of figures and objects.
CHARACTERS PRESENT:
Lady Wisdom is standing on an orange-brown rock, calling out to the people below her.
Various people walking.
RESEARCH/ADDITIONAL NOTES:
When king Solomon (among others) wrote the book of Proverbs he personified various characters in it. Wisdom is characterised as a woman. In the scene above she is standing on a rock, overlooking two pathways that meet and lead towards a town. On the rock Lady Wisdom calls to people, offering her wisdom to anyone who would like it.
Notice the cave in the rock cliff of the background. I found photograph reference on the internet for the Banias falls, in the Golan heights of Israel, which this scene is based on.
You can see the landscape without the figures below.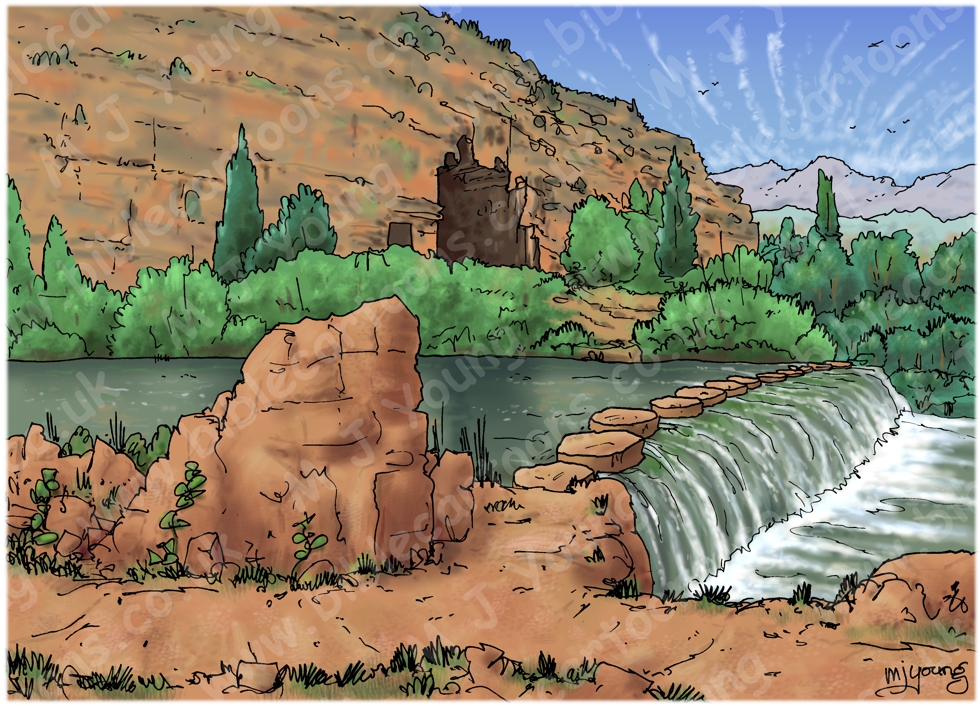 Proverbs 8 – Lady Wisdom calls – Scene 01 – Where paths meet – Landscape