Bible Book:
Nehemiah
Bible Book Code:
1600300202
Scene no:
3 of 4
Bible Reference & Cartoon Description
Nehemiah 3:2b (ANIV)
[The men of Jericho built the adjoining section,] and Zaccur son of Imri built next to them.
DRAWING NOTES:
TIME OF DAY:
The text doesn't specify a time of day, so I've set it at about mid morning.
LIGHTING NOTES:
Sunlight, coming from high above (East) illuminates the scene.
CHARACTERS PRESENT:
Zaccur son of Imri is the young man with the donkey on the left of the scene.
Various other people clearing rubble & carrying stone to the walls being rebuilt.
RESEARCH/ADDITIONAL NOTES:
This scene shows Zaccur son of Imri leading his donkey (with a large stone on its back)towards the next section of the northern walls of Jerusalem. Other people with Zaccur are clearing rubble from the original walls of Jerusalem.
The name Zaccur means mindful in Hebrew, whilse the name Imri means speaking, exalting, bitter, a lamb.
Behind the donkey there is a primitive wooden crane, something which I imagine the Israelites would have been able to construct, and/or have access to this level of technology at the time of Nehemiah. It which would have been used to helped them move heavier stones especially as the walls grew higher as they repaired them.
In the background is the temple mount & the north side of the second temple can be seen on top.

Here's the scene without the figures or donkey in the foreground.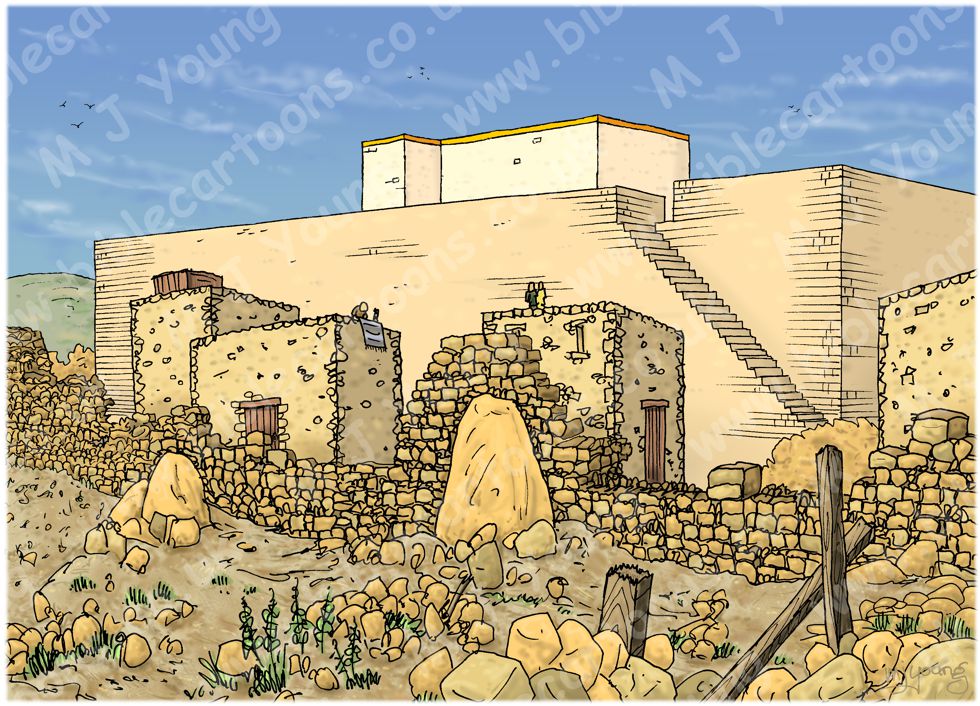 Nehemiah 03 – Rebuilding Jerusalem's walls – Scene 03 – Zaccur repairs walls – Background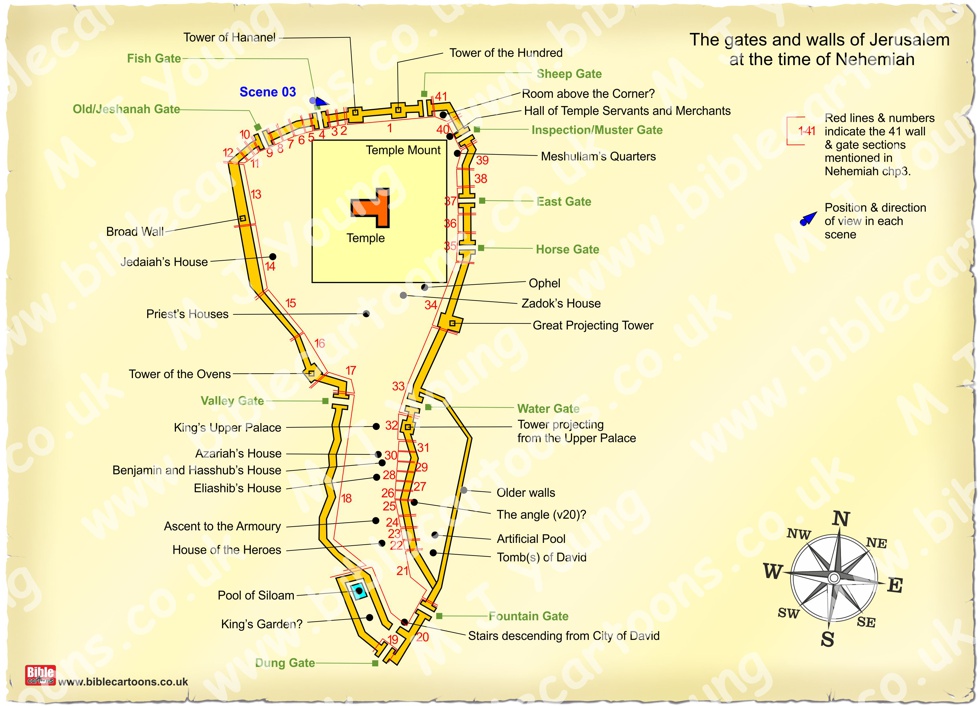 Map of the walls & gates of Jerusalem at the time of Nehemiah
The blue dot & arrow on the map shows the position of the viewer & their direction of view in the scene above.