Bible Book:
Nehemiah
Bible Book Code:
1600300201
Scene no:
2 of 4
Bible Reference & Cartoon Description
Nehemiah 3:2a (ANIV)
The men of Jericho built the adjoining section, [and Zaccur son of Imri built next to them.]
DRAWING NOTES:
TIME OF DAY:
The text doesn't specify a time of day, so I've set it at about mid morning.
LIGHTING NOTES:
Sunlight, coming from high above (East) illuminates the scene.
CHARACTERS PRESENT:
The men of Jericho.
Oxen.
RESEARCH/ADDITIONAL NOTES:
This scene shows the men of Jericho hard at work, clearing rubble from the original walls of Jerusalem. They are using a team of Oxen to pull larger stones towards the wall, in their efforts to build it.
I imagine that some large rocks, which couldn't be uprooted by the original builders of the walls surrounding Jerusalem, may have been incorporated into the fortifications. For this reason I have drawn 2-3 large slabs of limestone bedrock, which have simply been built around by the original wall builders.
Nehemiah 4 verse 10 informs us, "Meanwhile, the people in Judah said, "The strength of the laborers is giving out, and there is so much rubble that we cannot rebuild the wall." Clearly there was a LOT of rubble lying around the roots of the walls of Jerusalem. Notice that I have drawn a lot that rubble in my scene. I have also added weeds & vegetation under & around the rubble of the walls, pulled down by the armies of Nebuchadnezzar II, which was over 140 years earlier… plenty of time for weeds to grow up & around the rubble I think!
Looking back along the broken down wall we can see the Tower of the Hananel (closest) & part of the Tower of Hundred (on the extreme left hand side of the picture). There are various houses, more or less intact behind the broken down walls. Behind them we can see the left most portion of the Temple Mount, on which stands the second Temple (not visible in this scene).

Here's the scene without the figures or oxen in the foreground.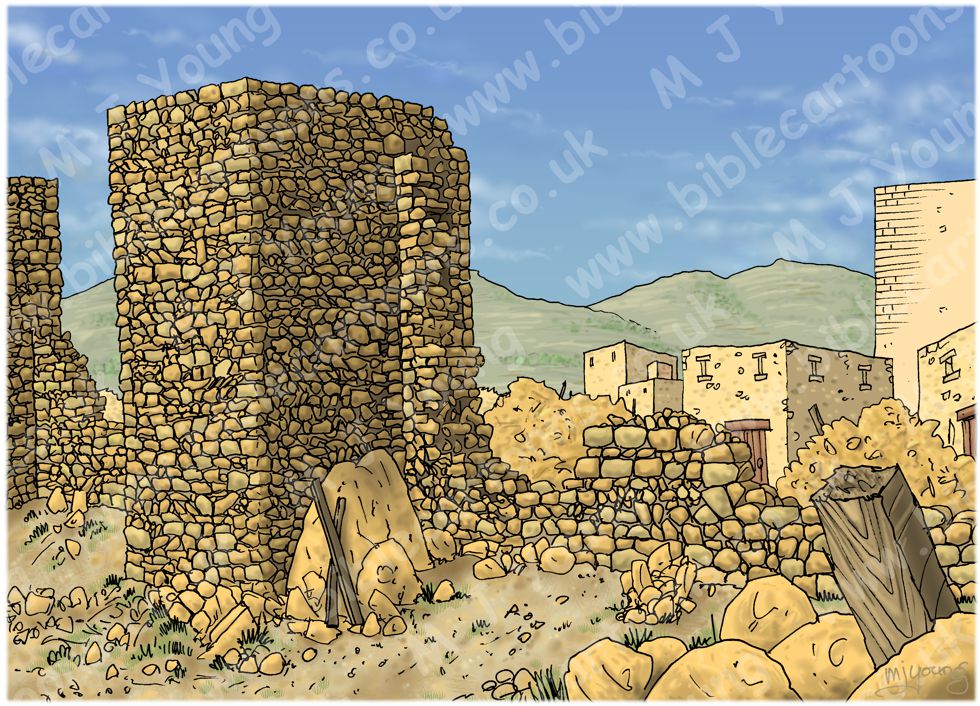 Nehemiah 03 – Rebuilding Jerusalem's walls – Scene 02 – Men of Jericho repair walls – Background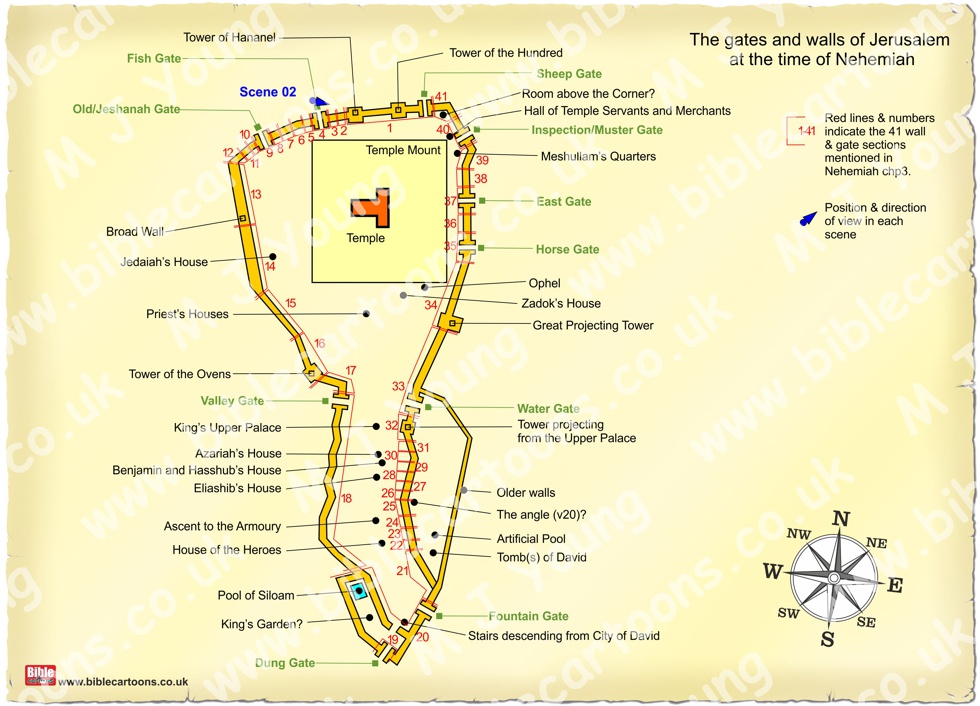 Map of the walls & gates of Jerusalem at the time of Nehemiah
The blue dot & arrow on the map shows the position of the viewer & their direction of view in the scene above.