Bible Book:
Matthew
Bible Book Code:
4002603001
Scene no:
7 of 7
Bible Reference & Cartoon Description
Matthew 26:30 (ANIV)
When they had sung a hymn, they went out to the Mount of Olives.
DRAWING NOTES:
TIME OF DAY:
Evening.
LIGHTING NOTES:
An oil lamp (above the characters & out of view) provides a warm yellow glow that illuminates this scene.
CHARACTERS PRESENT:
From left to right (back row): Andrew, Philip, Simon/Peter, Simon the zealot, Jesus, James (son of Zebedee), John (son of Zebedee), Thaddeus/Judas (son of James), Judas Iscariot (pulling door curtain aside & leaving the upper room).
In the front row, from left to right: Matthew/Levi the tax collector, with their backs to the viewer: Thomas/Didymus ("doubting Thomas"), James/Cleopas (son of Alphaeus), Bartholomew/Nathaniel.
RESEARCH/ADDITIONAL NOTES:
This is the final scene in the narrative of the Lord's Supper. The picture shows Jesus & 11 of his closest disciples/apostles singing together. Shortly after this they all left to go to the Mount of Olives, which was out of one of the east gates of the city of Jerusalem, and up a hill side, from which there is a good view of the city.
Notice that I have drawn Judas Iscariot pulling aside the door curtain & going outside. I deliberately showed him leaving the group early, & heading out into the darkness… both physically, & metaphorically! Matthew's gospel doesn't record his leaving the group as I have drawn him, but only John's gospel (chp 13, verse 30) actually tells us this.
The colours I used for this scene are taken from the first picture I drew in this set, which was Scene 5 – Bread.
Here's the scene without the foreground or main group of figures, but still showing Judas Iscariot leaving Jesus & the other disciples.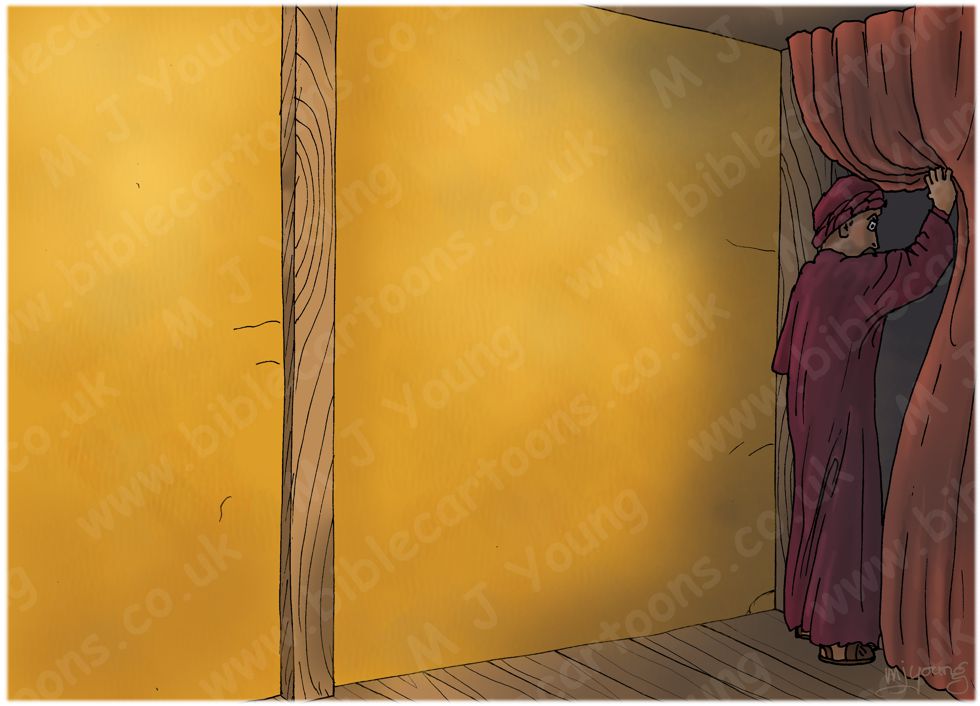 Matthew 26 – The Lord's Supper – Scene 07 – Departure Hymn – Judas Iscariot background